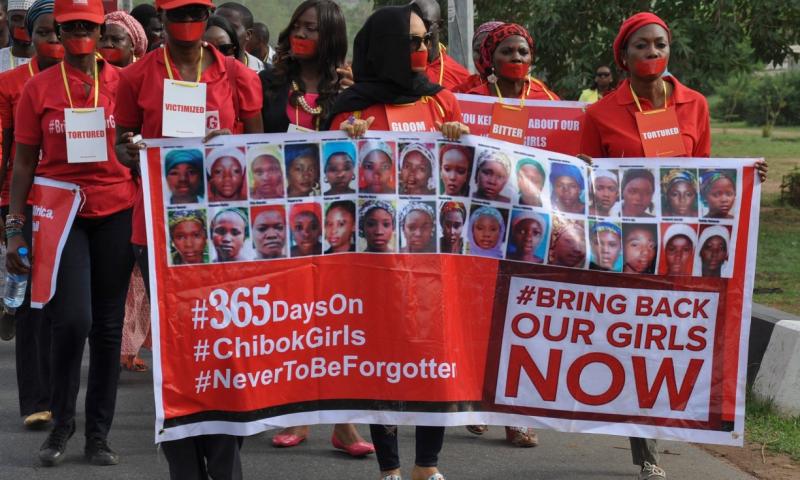 Relatives of the Chibok schoolgirls abducted by Boko Haram held a silent rally to mark the first anniversary of their kidnapping.
As crowds gathered across Nigeria to mark the anniversary, some relatives marched in a silent rally in the capital, Abuja, sticking red tape across their mouths to express the voicelessness of their missing daughters. They were amongst the 276 teenage girls taken by Boko Haram militants on 14 April 2014 from their school in Chibok in northeastern Nigeria.
Chibok is a predominantly Christian village and most of the girls were Christians, members of the Church of the Brethren. They were taken from their dormitories at around 10pm, after seven Toyota Hilux trucks, loaded with armed men, rolled into the school compound. Some of the men set fire to buildings, while others overpowered the security guards, stormed the dormitories and forced the students into the trucks at gunpoint. They were driven away into the vast Sambisa Forest.
Approximately 57 girls escaped from captivity after the abduction, leaving about 219 unaccounted for, although there is uncertainty about the exact numbers. Amnesty International reports that 2,000 women and girls have been abducted in Nigeria since the start of 2014.
Where are the girls?
There have been a few rumoured sightings of some of the girls since their abduction, but none has been confirmed. In a video released in May, a man identified as Boko Haram leader Abubakar Shekau claimed that the missing girls had been converted to Islam and would be sold as slaves. It is thought that they have been forced to into marriage with Boko Haram militants.
Dr Rebecca Dali, who runs the Centre for Caring, Empowerment and Peace Initiatives, said: "We don't know about their fate. If Boko Haram married them off, as they claimed, and took them as their wives, some of them may be killed by now. Because in recent weeks, as the Army advances against them, witnesses report that militants have slaughtered lots of their wives. They said they don't want infidels to marry their wives. We fear that some Chibok girls may be included. We don't know whether we will get them all back, but we hope that the new President will do his best to bring back some of them alive."
Nigeria's Army Chief, Lieutenant General Kenneth Minimah, said that despite recent territorial gains against Boko Haram, there is no sign of the girls: "In all the liberated areas we have also made enquiries, but when the Boko Haram fighters flee they take their dependents with them."
A military offensive supported by troops from neighbouring countries, most notable Chad, has at last begun to expel Boko Haram from major towns in the north.
President Buhari's statement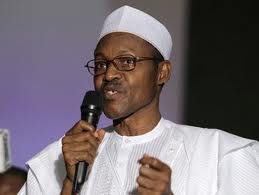 Nigeria's president elect, Muhammadu Buhari, issued a statement on Monday 13 April to mark the anniversary of the kidnapping, in which he said that it may not be possible to rescue the schoolgirls. Below is an extract from his statement.
"Today we remember the kidnapping of 276 girls from a school in Chibok one year ago. This crime has rightly caused outrage both in Nigeria and across the world. Today is a time to reflect on the pain and suffering of the victims, their friends and families. Our thoughts and prayers, and that of the whole Nigerian Nation, are with you today.
"I want to assure all of them, and particularly the parents, that when my new Administration takes office at the end of May, we will do everything we can to defeat Boko Haram. We will act differently from the Government we replace: we hear the anguish of our citizens and intend to respond accordingly.
"This new approach must also begin with honesty. We do not know if the Chibok girls can be rescued. Their whereabouts remain unknown. As much as I wish to, I cannot promise that we can find them. But I say to every parent, family member and friend of the children that my Government will do everything in its power to bring them home.
"What I can pledge, with absolute certainty, is that starting on the first day of my Administration Boko Haram will know the strength of our collective will and commitment to rid this nation of terror, and bring back peace and normalcy to all the affected areas."
Elections
The general elections at the end of March 2015 ushered in a new government under retired major general Muhammadu Buhari, who ruled Nigeria from 1983 to 1985 after taking power in a military coup.
A majority of Nigerians of all faiths had expressed dissatisfaction with President Goodluck Jonathan's government because of corruption and failure to end Boko Haram's insurgency. Many Nigerians feel hopeful because of the election of a new President who is known to be a strong, anti-corruption leader, who in his acceptance speech pledged to end Boko Haram's insurgency.
Muhammadu Buhari is a devout Muslim who, during his military rule, expressed the will to Islamise the country to the last corner. In 2001 he said, "I will continue to show openly and inside me the total commitment to the Sharia movement that is sweeping all over Nigeria. God willing, we will not stop the agitation for the total implementation of the Sharia in the country. Muslims in Nigeria should redouble their efforts in the promotion of the full implementation of Sharia law all over the country. There will be bloodshed should Sharia be stopped from being the law in Northern Nigeria."
However, Buhari has since run for president and lost three times, and there has been a change in his rhetoric. During his recent campaign he defended freedom of religion, saying: "One critical freedom that every government must strive to protect is the liberty for citizens to exercise their respective faiths, Christians and Muslims or others, in a lawful manner without fear or hindrance and to prosecute those who use religion as an excuse to destroy homes, schools and places of worship."
Rev Gideon Para-Mallam, regional secretary of the International Fellowship of Evangelical Students, said: "The Buhari we've confronted in 2015 is not the same Buhari we have seen in the past. He met with Christian leaders and assured them that he has no Islamic agenda. This was reiterated in his campaign speeches."
Christian groups congratulated President-elect Buhari and praised the outgoing President Jonathan for relinquishing power peacefully. Buhari's vice-presidential running mate, Yemi Osinbajo, is pastor of the Redeemed Church of God, a large Pentecostal church in southern Nigeria, and a coalition of southwestern clergy had endorsed Buhari.
Samuel Yaga, whose daughter Rebecca is among the missing Chibok girls, commented, "Buhari is a strong man, a military man. I know that had Buhari been president when our girls were abducted, they wouldn't have been gone so long. I really believe that. I'm eagerly and honestly hoping for Buhari to bring them back."
(Guardian, Nigerian Bulletin, World Watch Monitor)
Share this