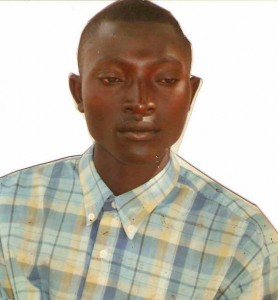 Islamic extremists killed five Christians in a roadside ambush on 29 August. They were members of a church in Foron near Jos in Plateau State.
The five Christians killed were Pam Gyang (33 – pictured), Felix John (32), Jimmy Tiger (28), Ishaku Gyang (40) and Dachung Monday (20). Rev Pam Jang Pam, the pastor of their church (the Church of Christ in Nations) said the assailants were a combined band of ethnic Fulani herdsmen and Islamic extremist mercenaries. The pastor said they also wounded Yohanna Gyang (21), Gyang Habila (35) and two other unidentified Christians, including a pregnant woman. Pastor Pam said the incessant killing of local Christians has greatly affected the church. He implored security agencies to "discharge their duties with the fear of God" and appealed to the government to "please do something about these attacks on us. The church is tired of these attacks."
Pam Gyang is survived by his pregnant widow Yop Gyang (28) and their two daughters and son. "I don't have much to say except to praise God for His sustaining grace in our lives," Yop Gyang said. "My husband is a friend, and I'm already missing him. But what can I do but thank God for his life. I pray that through his death those who killed him will get to know Jesus as their saviour."
Emmanuel Sunday (19), who survived the attack, was riding his motorbike near Jos when gunmen stopped him and asked him his religion. He saw a group of Christians, whom the gunmen had ordered out of a mini-bus, lying on the ground. He said, "The gunmen asked me about my religion, and when I told them I was a Christian, they asked me to join a group of people already ordered to lie down by the side of the road. I did as I was ordered to do, and then one of the men came and searched me and took money from me, including my mobile phone."
A final year student at the Government Science and Technical College in Bukuru, near Jos, Emmanuel Sunday said the gunmen had also taken the belongings of the others lying on the roadside. "It was when the gunmen started shooting and killing those of us that were Christians grouped together that I ran into a nearby maize farm, because it was already dark," he said. "They shot wildly at me, but I escaped unhurt, except the injuries I sustained while running in the bush." He ran for two hours before making his way back to his village.
Islamic extremist groups from outside Nigeria are suspected of aiding and inciting ethnic Fulani herdsmen who have property disputes with Christian farmers in Plateau state, a volatile area between Nigeria's predominantly Muslim north and Christian/animist south. Christian leaders in Nigeria assert the vast majority of so-called "sectarian violence" is Muslim aggression that Nigeria's Islamist media portray as Muslim-Christian clashes. They say that in the rare instances of impoverished rural Christians coming into possession of weapons, they use them only in self-defence. In contrast, Nigerian Muslim extremists are heavily armed by outside Islamic terrorist groups.
Is the Boko Haram threat receding?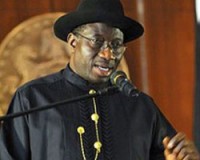 On 30 August, Nigeria's President Goodluck Jonathan declared that the extremist Islamist group Boko Haram has been progressively weakened by the security strategy put in place by the government. He said the measures taken by his administration had resulted in a significant reduction in the occurrence of terrorist attacks and that the federal government would keep on doing everything possible to further enhance security in all parts of the country. The President made this statement at an audience with the outgoing Representative of the Delegation of the European Union to Nigeria and the Economic Community of West African States, Mr David Mac Rae.
The News Agency of Nigeria quoted President Jonathan as saying: "As a government, we are doing everything possible to improve our country on all fronts. We are consistently adapting our security architecture to deal with terrorism, which has become a challenge to the whole world. Boko Haram is being progressively weakened but we are not resting on our oars. We will continue to do everything possible to achieve greater security for all who reside within our borders."
In contrast, on 1 September the BBC reported that attacks have increased recently, despite a massive military deployment to the areas worst affected by Islamist militants. The army has encouraged the formation of vigilante groups to help tackle the Islamists, but Boko Haram is taking revenge against such groups, leading to increased violence.
Security officials reported that on 30 August, the day when President Jonathan made his statement, suspected Boko Haram militants ambushed more than 100 members of a vigilante group, killing at least 24 members. Another 34 people are missing and there are fears that the death toll could rise. The vigilante youths had been on a mission to capture Boko Haram militants when they were ambushed by militants disguised in military uniforms and driving patrol vehicles captured from the security agencies.
The attack occurred near the town of Monguno in Borno state, northeastern Nigeria, about 160km north-east of the state capital Maiduguri, where Boko Haram was founded. The previous week, at least 20 vigilantes were killed in two separate attacks in Borno.
Boko Haram is fighting for the creation of a strict Islamic state in Nigeria and aims to remove Christians from the north of the country. In 2009 the group declared jihad on the government, and in 2010 it reportedly formalised links with Al Qaeda of the Islamic Maghreb. Since launching military operations in 2009, Boko Haram has killed several thousand Nigerians, its main targets being churches and institutions such as universities, the police, secular courts and even liberal mosques. In May, President Goodluck Jonathan declared an emergency in three north-eastern states, including Borno, saying the group threatened Nigeria's existence.
Nigeria's army has announced that it killed Boko Haram's leader Abubakar Shekau in July, but this has not been confirmed.
(BBC, Guardian Nigeria, Morning Star News)
Share this