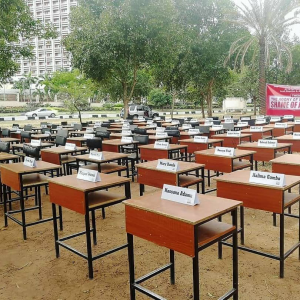 Five years after Boko Haram militants abducted 276 schoolgirls from Chibok in northeast Nigeria, 112 remain missing. On Sunday 14 April, their parents and supporters marked the fifth anniversary of the kidnapping by holding vigils and the Bring Back Our Girls campaign group staged a poignant installation in a park in Lagos, by setting up 112 desks, each with a name card for one of the missing students.
The Chibok schoolgirls, now in their late teens and early twenties, were abducted during a terrorist raid on the Government Girls' Secondary School in the village of Chibok in Borno state on 14 April 2014. Most were from Christian families; at least two hundred of the girls belonged to the EYN (Church of the Brethren in Nigeria).
Of the 276 girls kidnapped, 57 escaped and the remaining 219 were driven away to the remote Sambisa Forest, close to the border with Cameroon. One girl who escaped in May 2016 reported that six others had died and that the rest were married to Boko Haram commanders. Two groups of girls were released following negotiations (21 in October 2016 and 82 in May 2017) and Nigerian Army soldiers found three girls in the Sambisa Forest (in November 2016, January 2017 and January 2018).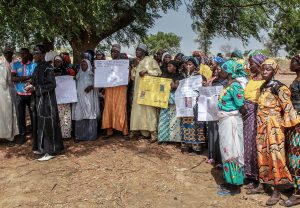 Parents of the missing young women gathered on Sunday at the site of the school in Chibok to pray for the return of their daughters – the photo shows them at the gathering, holding pictures of the missing students.
"They are losing hope," said local spokesman Allen Manasa. At least at least a dozen of the girls' parents have died during the intervening years, either from stress-related illnesses or killed by Boko Haram.
President Muhammadu Buhari's government has been widely criticised for its failure to secure the release of the missing students. He tweeted on Sunday, "We will not rest until all the remaining girls are back and reunited with their families. I made this promise when I became President, and I will keep it… We will never give up on our missing daughters, including Leah Sharibu; and all the other people held hostage by Boko Haram. In the last four years our security agencies have successfully rescued thousands of captives, and they will not relent until every captive is free."
Reintegration into society can be very difficult for women who return from Boko Haram captivity, especially if they have babies, as they are often falsely perceived as collaborators and are seen as tainted by their Boko Haram marriages.
Yana Galang, whose daughter Rifkatu was 16 when she was kidnapped and is one of the 112 still missing, told CNN that the young women who remain in captivity are stigmatised as "bad girls" who chose to stay with Boko Haram, reflecting the terrorists' claims that the remaining girls had made the choice to stay with them. "We are social pariahs," she said.
Many of the released Chibok students have picked up their education and are being sponsored by the government to study at the American University of Nigeria in Yola, where a special programme was designed to enable them to catch up and prepare them to advance to university studies if they choose.
Bring Back Our Girls campaign group criticises government
The Bring Back Our Girls campaign group published a statement on Facebook on 14 April 2019 titled "The Shame of a Nation", heavily criticising the government's failure to recover the missing young women. The following is an extract from the statement.
Today marks 5 years since the tragic abduction of 276 Chibok girls from the Government Girls' Secondary School, Chibok, Nigeria. Nothing prepared our Movement for the shameful reality that 112 of our Chibok Girls would have their freedom, dignity and dreams taken away for 5 agonising years, because their government has failed to do everything necessary to give them justice of rescue.
None of us, who are not biological parents of the 112 remaining girls, can accurately imagine what their parents and families must feel on a day like this. We however know that one thing they have uniformly expressed is the deepest level of disappointment at the way that the tragedy – the abduction of their daughters and the grief of parents – have been badly managed by two successive governments…
Today, five years after, the President Muhammadu Buhari administration has persisted to deny Chibok girls and their parents the speedy action of rescue promised. Even worse, it has denied them the simple and basic respect of providing updates on the status of the federal government effort, if any at all to rescue them. It is condemnable that the same President, who made the abduction of Chibok girls the epicenter of his campaign in the 2015 Presidential elections, no longer remembers that 112 children of his poor citizens are still languishing in the den of terrorists despite his many pledges to rescue them…
The Federal Government blatantly refused to publish or act on the reports of the June 2014 General M Sabo Presidential Committee on Abduction of the Chibok Girls. What is the Buhari administration hiding? 
What happened to the committee announced on the 14 January 2016 by President Muhammadu Buhari to again look into the abduction of our Chibok girls? Has that Committee ever met? What were its findings? 
This administration must know that Nigerian citizens view this evident unwillingness to publish these reports as indicative of an attempt to cover up the truth on the Chibok girls saga and the failures to give them justice.
Today, our core demand remains the same, relevant today as it has been on each of the 1811 days that we have daily turned up at the Unity Fountain pressuring two consecutive Presidents of Nigeria to rescue the remaining 112 Chibok girls, Leah Sharibu, Alice [Ngaddah] and others. For as long as they remain in captivity, we BBOG shall continue to carry them in our hearts and make our voices resound and re-echo our cries of five years:
Mr President #BringBackOurGirls now and alive!
Mr President, this is a shameful legacy. No more excuses.
Bring Back Our Girls, now and alive!
One case among many
The Chibok case is only one of countless cases of teenagers and young women abducted by Boko Haram terrorists in northern Nigeria, forcibly converted to Islam and married to Muslim men or kept as slaves. According to a UNICEF report, Boko Haram abducted more than 1,000 children between 2013 and April 2018.
Anietie Ewang, Nigeria researcher at Human Rights Watch, commented: "Boko Haram continues to prey on women and girls as spoils of war despite claims by the Nigerian government that it has defeated the group."
(Bring Back Our Girls [Facebook]/CNN/Human Rights Watch/New York Times/World Watch Monitor)
Share this