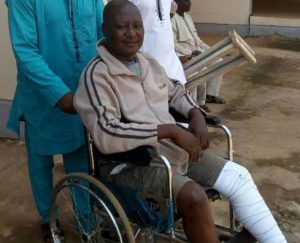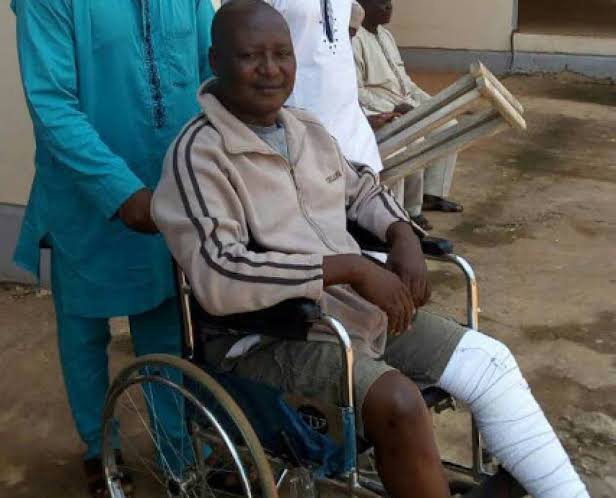 Family and friends of Luka Binniyat are deeply concerned about his health. The award-winning Christian journalist has been detained since early November and is suffering from a worsening leg infection.
On Monday 10 January, Luka was pictured being pushed in a wheelchair in prison. His wife Gladys said that she has been unable to see her husband for over a week. "He called me on Monday using the official prison number to my surprise and said that the prison officers in the clinic said that he should buy crutches," she said. "I bought the crutches and I have taken them to the prison, yet they didn't allow me to see him. I am very disturbed over his health condition."
The concerns about Luka's health have grown since his wife's visit to the prison in early January when she said that she couldn't see him because he was too sick to come to the visiting room. Gladys said he is suffering from severe leg pain which might have been made worse by the poor living conditions in the prison. She also lamented the treatment given to him at the prison clinic, stating: "They just bandaged his legs and he gave them money to buy drugs which he used." It is understood that Luka has not been examined by a doctor.
Luka was denied bail in mid-November and was transferred to a maximum security prison. Several bail hearings since have been adjourned.
Background
Luka regularly reported on the attacks by Muslim Fulani militants on Christians in Kaduna state and was spokesperson for the Southern Kaduna Peoples Union. He was arrested on 4 November 2021 at its offices by members of the Kaduna State Investigation Bureau acting on the orders of Samuel Aruwan, the Kaduna state Commissioner for Internal Security in connection with an article he had written the previous month for The Epoch Times, an online newspaper based in the United States.
In the article,  Luka criticised the government's inadequate response to attacks on communities in three Local Government Areas of southern Kaduna in September 2021, in which at least 49 people died and 27 were abducted. He has been charged with sending a false message under Section 24 (b) of the Cybercrimes Act and if convicted could be fined or sentenced to three year's imprisonment.
Mr Aruwan issued a statement in which he claimed to have been defamed in the article, in a quote attributed to Senator Danjuma La'ah, who represents Kaduna South in the National Assembly, and who subsequently denied having made the comment.
The article was also critical of Kaduna State Governor Nasir el-Rufai, an ethnic Fulani, pointing out that since being elected governor in 2015, his government has not arrested a single Fulani leader in connection with the numerous attacks which have resulted in the death of hundreds of Christian farmers in Southern Kaduna.
(Christian Solidarity Worldwide, Middle Belt Times, Punch. World eNews Online)
Share this