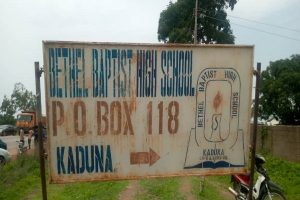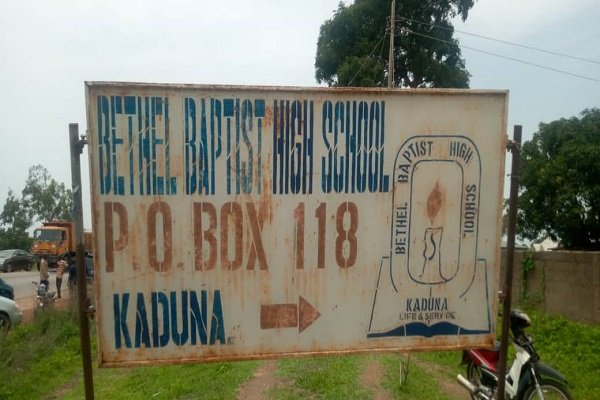 Gunmen kidnapped around 140 students at a Christian secondary school in Kaduna state on Monday 5 July. Local residents reported that armed attackers, shooting wildly, breached the walls of Bethel Baptist High School in Maraban Rido, on the outskirts of Kaduna city, at about 2 am and took the students away from the school hostel at gunpoint.
UPDATE (12 July): The kidnappers released one boy, Abraham Aniya, who was reported to be sick. He was found by security forces in a forest area and brought to a police clinic.
On Wednesday 7 July, parents of the abducted students said the kidnappers had warned that their children could starve unless the parents supplied them with food. The kidnappers reportedly promised that the children would be safe if parents delivered rice, beans, palm oil, salt and stock cubes, and said a ransom demand would follow.
Many suspect that Fulani militants carried out the attack, which was the fourth mass school kidnapping in Kaduna state since December. Local resident Christopher Kantoma told Morning Star News in a text message, "It is another sad moment as Fulani bandits/gunmen attacked Bethel Baptist High School, Kaduna, today."
Bethel school has 180 students, of whom around 165 are boarders; it is believed that most of the boarders were abducted but that around 25 escaped, with at least 140 students taken away into the bush. Teacher Emmanuel Paul told Agence France-Presse (AFP), "The kidnappers took away 140 students, only 25 students escaped. We still have no idea where the students were taken."
The Commissioner for Police Kaduna State Command said in a statement on 5 July that 26 students and a female teacher had been rescued by a joint team of army, air force and police operatives, and that the team was searching for the remaining hostages. Police said gunmen "overpowered the school's security guards and made their way into the students' hostel where they abducted an unspecified number of students into the forest". They said special units had been sent to rescue the missing children.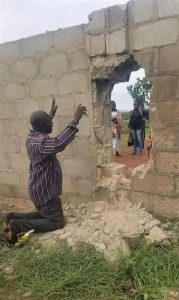 Parents were devastated to receive phone calls early in the morning on Monday 5 July, informing them that their children had been abducted, and gathered at the school, wailing and praying. Parent John Evans told Nigerian media, "Just this morning at about six o'clock, I received a phone call that kidnappers have entered the school, and that all our children were taken, including my daughter. We rushed down to the school, and it was confirmed that they are all gone." Another parent, a widow, reportedly has four children among the hostages.
Baptist minister Joseph Hayab, who is Kaduna state chairman of the Christian Association of Nigeria, said his son was among those who escaped but that efforts were still underway to determine the total number of students missing. "Right now I'm speechless," he told Morning Star News. "The school is an educational ministry of my church. This is a very, very sad situation for us."
Elijah Brown, general secretary and CEO of the Baptist World Alliance, told Christianity Today, "Today is a day of mourning, as we grieve over what is the most serious attack and greatest tragedy to impact the Baptist community in Nigeria. I echo the words of a Baptist leader from Kaduna, 'Our church is in serious pain.'"
On Tuesday 6 July, Rev Yahaya Adamu Jangado, who is the proprietor of the school, told media that the militants had been in touch with the school. "Today by the grace of God we had a call from the bandits and they assured us that our children are well and doing okay," he said. "In fact, we had the privilege of speaking with few of them. They counted themselves in the jungle and they gave us information that they are 121 and when we put the number together with what we have recovered, we discovered that the number is exactly the same with the number of students we have in the hostel."
Series of kidnappings
The attack was the latest in a series of recent attacks on schools and colleges, often attempts by militant Islamist groups to fund their activities through ransom payments. More than 1,000 students have been taken captive across northern Nigeria since December, with between 150 and 200 still missing, some as young as three.
Shortly after the attack on Bethel Baptist High School, militants attempted a mass kidnapping at nearby Faith Academy, a secondary school belonging to the Living Faith Church Worldwide. They managed to breach the perimeter fence but were repelled by soldiers. The Kaduna State Schools Quality Assurance Authority has since ordered the closure of 13 schools it deems "vulnerable", most of them Christian schools.
Kaduna state governor Nasir el Rufai has stated that ransoms are used to fund Boko Haram and their extremist agenda and that he will not negotiate with kidnappers. In an interview published on 3 July, he told BBC Pidgin that he had temporarily withdrawn his own children from their school due to safety concerns.
A statement from the Christian Association of Nigeria dated 6 July said that President Buhari had "lost grip on the leadership of this nation, especially in his ability to provide security for citizens" and should "seek foreign assistance before it is too late", and asked the President to caution Governor el Rufai against "talking more than acting".
(Agence France-Presse, BBC, Christianity Today, Christian Solidarity Worldwide, Daily Trust, Morning Star News, Open Doors, Religious Liberty Prayer Bulletin, Reuters, The Nation)
Share this