Militants from Boko Haram faction Islamic State West Africa Province (ISWAP) have threatened to kill abducted pastor Bulus Yikura of the Church of the Brethren in Nigeria (EYN) if a ransom is not paid by Wednesday 3 March. ISWAP released a video in which Pastor Bulus reportedly stated, "I have been given a one-week ultimatum today, February 24". The photo is a screenshot from the video.
Pastor Bulus was abducted in a Christmas Eve attack on Pemi village in Borno State, northeast Nigeria, about 20 km from Chibok. During the attack, the militants kidnapped seven people and killed at least eleven others, as well burning down several homes and the EYN church building (EYN stands for Ekklesiyar Yan'uwa a Nigeria, the Brethren Church in Nigeria).
News of the ultimatum came in a video sent to Nigerian online news outlet HumAngle, in which Pastor Bulus pleads for the government and Christian leaders to secure his release.
"I'm calling on President Muhammadu Buhari and the governor of Borno to help me, because I have been given a one-week ultimatum today, February 24," Pastor Bulus reportedly says in the video. "If you want me alive, I beg you in your capacity as president, the governor and our local government chairman to save me from this suffering. I'm calling on the EYN Church of the Brethren President to intervene and secure my release. Please pray for me. Today is the last day I will have the opportunity to call on you in your capacity as my parents and relatives in the country. Anyone who has the intention should help and save me. Please release me from this pain." HumAngle reported that the pastor also appealed to the Christian Association of Nigeria, saying that he has no powers to free himself but depends on them.
The video is the third to be released in which Pastor Bulus pleads for intervention from President Buhari, Governor Babagana Zulum of Borno State and church leaders. The first video was released a few days after his abduction and the second in early January.
January video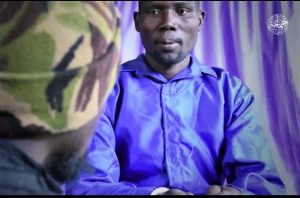 January's video (from which the photo, left, is a screenshot) begins with the Islamic State logo and identifies itself as coming from ISWAP. Morning Star News reports that it shows Pastor Bulus appealing to Christian leaders and government officials to secure his release from his captors, referring to ISWAP as Boko Haram. The video is believed to have been forwarded to his family and then sent to Morning Star News by a concerned Christian in Borno state.
In the video, a captor in military camouflage asks Pastor Bulus his name and occupation and then asks him, "What is your message to your brethren?"
Pastor Bulus says, "I'm calling on my brethren, my relatives, parents, my church, LCC [Local Church Council] Pemi 1, the DCC [District Church Council], and the GCC [General Church Council]; that is our headquarters. I'm calling on the office of the president of my church, officials of Chibok Local Government Council, the Borno state governor, and the president of Nigeria, Muhammadu Buhari, to please help get me released from captivity.
"With your help I believe I will be able to get out of here where I'm being held captive. Please help secure my release from Boko Haram captivity – whatever may be their demands, if it is not beyond your power, and I know their demands wouldn't be beyond you. I know our God is powerful and His mighty presence is here; with your support I will definitely leave this place I'm being held because I know you can meet their demands.
"Whether it is Nigeria's president, our governor, including the leadership of our Christian faith, it is not beyond your power to get me out of here. However, if this is the end of my life, then praise be to God. It is my prayer that God help us all. That's all I have to say, and may you all heed to my plea."
Mass abductions
Terrorists and criminals throughout the north and Middle Belt of Nigeria carry out abductions for ransom and ideological reasons, and the authorities have failed to find an effective way to deal with them. Islamist groups like Boko Haram are opposed to secular education and target secondary school students, while other terrorist groups and criminals kidnap individuals as well as school students for ransom. So many secondary schools have been attacked in northern Nigeria that some have had to close for security reasons. Nigerian authorities use the term "bandits" to cover all kidnappers, armed robbers and Islamist militants.
Several mass abductions of secondary school students have made the news headlines in recent months. On 26 February, 279 students were kidnapped from the Government Girls Science Secondary School in Jangebe, Zamfara state. They were released on 2 March, following negotiations.
On 17 February, twenty-seven boys and their teachers were abducted from the Government Science College in Kagara, Niger state. All were released on 27 February except for a boy named Benjamin Habila, who had been killed.
On 11 December 2020, 344 boys were abducted from the Government Science Secondary School in Kankara, Katsina State. They were released a week later, following negotiations.
(BBC, HumAngle, Morning Star News)
Share this