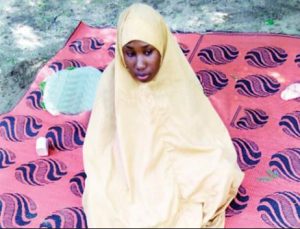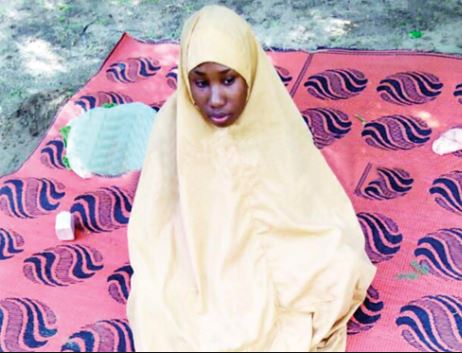 An audio recording and a photograph of kidnapped Christian school girl Leah Sharibu were published by the Nigerian online newspaper "The Cable" on August 27. In the 35-second recording Leah can be heard speaking calmly in Hausa (her mother tongue), asking for her release. The audio file was accompanied by a photograph of Leah, the first proof of life since her abduction, which shows her wearing a light brown hijab and sitting on a mat.
She says on the audio: "I am Leah Sharibu, the girl that was abducted in GGSS Dapchi. I am calling on the government and people of goodwill to intervene to get me out of my current situation. I also plead to the members of the public to help my mother, my father, my younger brother and relatives. Kindly help me out of my predicament. I am begging you to treat me with compassion, I am calling on the government, particularly, the president to pity me and get me out of this serious situation. Thank you."
Leah's family has confirmed that the voice on the tape is hers. According to the BBC, Nathan Sharibu was delighted to hear his daughter's voice. He reportedly said: "It really is her voice. Before, I thought she wasn't even alive. I'm really encouraged that I heard the words of my favourite daughter. The federal government and the Yobe State government kept us in the dark about her status. There was no information from them, but now that we heard her voice, it has really strengthened us. Leah's mother has been crying since watching the picture of her daughter on television, but I consoled her that since Leah is alive, God will get her out of captivity one day."
A spokesman for President Muhammadu Buhari told CNN that intelligence personnel are analysing the voice recording, and that officials would issue a statement after studying it. There is hope that the proofs of life were a requirement for negotiation efforts between the government and Islamic militants to be renewed on Leah's behalf.
Leah is one of a group of 110 girls abducted by Boko Haram in February 2018 from their school in Dapchi, Yobe state in northeast Nigeria. Five girls died while in detention, but the other 104 girls are Muslims and were released in March. 15-year-old Leah is a Christian and the militants said they would only release her if she converted to Islam, which she refused.
112 of the Chibok girls who were abducted from their school by Boko Haram in April 2014 are also still unaccounted for. The terrorists have kidnapped thousands of Nigerians in recent years.
(Christian Solidarity Worldwide/Morning Star News/The Cable/BBC/CNN/ Punch)
Share this