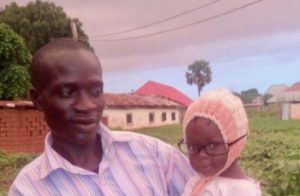 Many Nigerian Christians have been killed in recent months, including young children, as attacks by militant Muslim Fulani herdsmen continue across the country. Fulani attacks are now spreading as far south as Delta state, where herdsmen shot and stabbed a pastor to death on Good Friday (see below).
In Plateau state, Fulani herdsmen killed a pastor and three members of his congregation, including a 10-year-old boy, in an attack on Ngbra Zongo village, Bassa county, on 7 April. The herdsmen shot and killed Matthew Tagwai (34, pictured), pastor of an Evangelical Church Winning All congregation, in his home. He leaves a widow, Rose Matthew (27), who is seven months pregnant, and daughters Esther (5) and Joy (2). Rose was among the recipients of Covid-19 aid distributed by Church in Chains partner Stefanos Foundation this week.
Three members of Pastor Matthew's congregation were shot dead in their homes: Duh Abba (38), Ishaku Abba (10) and Dih Sunday (21). Two other Christians – Abbayo Ki (45) and Monday Adamas (19) – were injured during the attack and have been treated in hospital.
A survivor of the attack, Moses Gata, told Morning Star News that the attackers were ethnic Fulani and that they were speaking Fulfulde, the herdsmen's language. Local resident Andy Yakubu said that during the week before the attack, Fulani herdsmen had been attacking different villages. He asked, "For how long shall we continue to beg the government and the security agencies to come to the aid of our people?"
Evangelical Church Winning All general secretary Rev Yunusa Nmadu Jr told Morning Star News, "The continuing attacks on harmless and unsuspecting Christian communities without concrete, strategic response from our duty-bearers to protect our people leaves much to be desired."
Rose Matthew said she was not at home when the attackers arrived, having travelled to the town of Kwall to stay overnight. Her husband had planned to collect her next morning, but instead Rose learned that the Fulani had attacked the village and that her husband was among the dead.
"So I asked them to show me the body of my husband and they took me there," she reported. "I saw that he was truly dead, then I prayed. The people then brought a coffin and placed the body in it… Before this incident, my husband wanted to rent a house here in Kwall as a result of the constant attacks going on in our communities and he said it is better that I come over here and stay for like two days before going back to see him because it is better he stays back alone and we stay here in Kwall for our safety. But as he was making such plans, this incident suddenly happened and his life was cut short… Now I am just here, waiting to see what God will do with me. I don't know what to do. My husband was my strength. Now I totally depend on God to see what He will do with me. My first child is now in Jos. She will be six years old in May. She is staying with my older sister."
Recent attacks
On 19 April in Kaduna state, over one hundred Fulani herdsmen stormed Anguwan Magaji village in Kauru county and killed four Christians. They also razed 38 houses and burnt food stores and grain supplies. Herdsmen had killed a local farmer on his way to his farm earlier in the month. Also in Kaduna state, on 16 April Fulani herdsmen killed Christian student Sebastine Stephen, who had returned to his home in Gbagyi Villa, a suburb of Kaduna city, after coronavirus closed his college in northwest Nigeria. He was raising the alarm about an approaching gang of over fifty armed Fulani when they shot him and then entered a nearby house and kidnapped a Christian couple.
On 14 April in Plateau state, Fulani herdsmen killed nine Christians including six children and a pregnant woman in Hura-Maiyanga village (pictured) in Bassa county. A dozen herdsmen armed with rifles and machetes surrounded the village and attacked it with shouts of "Allahu Akbar". Two other villagers were injured and 33 houses were torched. On 11 April, four armed herdsmen attacked a Christian farmer in Maiduna village in Plateau's Bokkos county and shot him dead. On 31 March and 1 April, 13 Christians were killed in attacks on Plateau villages Ancha, Nkiedow-hro and Hukke.
On 13 April in Benue state, Fulani herdsmen ambushed two Christians in Agatu county and decapitated them. The previous week, two Christians had been hospitalised after herdsmen attacked them. In March, Fulani herdsmen killed 16 Christians and kidnapped several others in Benue's Kwande and Guma counties.
On 10 April in Delta state, two armed Fulani herdsmen shot and stabbed pastor Stephen Akpor at Breakthrough Cathedral in Ibusa. It was Good Friday. The pastor lived on the church premises and was praying with members of his church when the attackers shot him several times and then stabbed him to death. He is survived by his wife and five children. Herdsmen had killed a Christian farmer in Oshimili county on 9 April.
On 24 March in Niger state, Fulani herdsmen killed at least twenty people and displaced 3,000 in two predominantly Christian villages, Galkogo and Zumba, in Shiroro county. Fulani herdsmen also raided and looted Global Glorious Mission in Gofa, Shiroro county, on 22 March, forcing missionaries and students to flee, while in the same county herdsmen raided a mission station in Maruba on 2 March and kidnapped four missionaries, three staff members and a student at the mission school. The head teacher needed hospital treatment for gunshot wounds.
Genocide warning
On 5 April, Morning Star News reported that Muslim Fulani herdsmen had killed more than sixty Nigerian Christians since 1 March.
On 30 January, human rights group Christian Solidarity International (CSI) issued a genocide warning for Nigeria and called on the Permanent Member of the United Nations Security Council to take action. CSI issued the call in response to "a rising tide of violence directed against Nigerian Christians and others classified as 'infidels' by Islamist militants in the country's north and middle belt regions".
John Eibner, chairman of CSI's International Management, said in a statement: "The increasingly violent attacks and the failure of the Nigerian government to prevent them and punish the perpetrators are alarming. CSI therefore calls on the permanent members of the UN Security Council to take swift action to uphold this commitment to genocide prevention in Nigeria."
He said that Islamist militias have murdered 6,000 Christians since 2015, "according to the most conservative estimates from Nigerian Christian sources".
(Barnabas Fund/Christian Solidarity International/Morning Star News/Religious Liberty Prayer Bulletin/Stefanos Foundation)
Share this