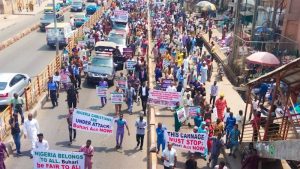 The Christian Association of Nigeria (CAN) reports that around five million Christians took part in prayer walks in 28 of Nigeria's 36 states on Sunday 2 February. Participants carried placards protesting about the recent upsurge in killings and abductions and calling on the federal government ("FG" on placards) to end the violence.
CAN had called for three days of fasting and prayer, culminating in a nationwide prayer walk, in response to the upsurge in attacks on Christians in the northeast and Middle Belt of the country by Boko Haram and Islamic State West Africa Province terrorists and armed Fulani militants.
On Day 1 (Friday 31 January), CAN called on Nigerian Christians to confess and repent of their sins. On Day 2, participants were urged to call on God to pour out his spirit for revival. On Day 3, CAN called for Christians to take part in local prayer walks and ask God to fight their battles.
CAN president Samson Ayokunle told Christianity Today, "Though we have protested before, this event took a new dimension. With one voice, we said 'no' to killings, 'no' to security negligence, and 'no' to the persecution of Christians in Nigeria. It is a wake-up call to the government."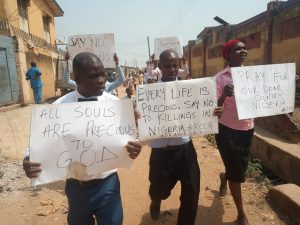 Pastor Enoch Adeboye, General Overseer of the Redeemed Christian Church of God (a Pentecostal denomination that has at least 14 million members in Nigeria), led a prayer walk in Lagos. Calling for an end to the bloodshed, he stressed that whether Christian or Muslim, "every life is precious to God". After delivering his Sunday sermon from Psalm 18 on God as a stronghold who delivers his people from their enemies, he led a five-kilometre walk to a cemetery, carrying a placard stating, "All Souls are Precious to God".
The fact that Dr Adeboye has spoken out is seen as significant. He has had a reputation for refraining from criticising government inaction, and counts Nigerian Vice President Yemi Osinbajo as a member of his congregation.
"For [Adeboye] to stick his neck out, when the government respects him, will surely cause them to take notice," commented Gideon Para-Mallam, the Africa ambassador for the International Fellowship of Evangelical Students. "That he – and others – would say, 'We need to be a part of this,' is significant."
Other high-profile church leaders who joined the prayer walks included Obed Dashan (council vice president of the Church of Christ in Nations, a denomination that claims 8 million members), Anglican archbishop Benjamin Kwashi, Soja Bewarang (chairman of CAN in Plateau state, who spoke at the 2016 Church in Chains conference) and Stephen Baba (president of the Evangelical Church Winning All, which claims 10 million members), who stated: "Our very existence as Christians in our dear nation Nigeria has never been at stake as it is now."
Many protestors called on the government to replace ineffective security chiefs in order to find and prosecute the perpetrators and their sponsors. "When people are not performing the duties for which they are employed or appointed, they must give way for others to come in," said John Ibenu, CAN chairman for the Kogi state. "CAN will not tolerate ineptitude and will not be silent, because we must be the voice of the voiceless and down trodden".
World Evangelical Alliance urges government to end attacks
The World Evangelical Alliance has denounced the violence against Nigerian Christians and has questioned the efforts of the Nigerian government. In a statement signed by Secretary General Ephraim Tendero, the Alliance said, "We urge President Buhari and the Nigerian government to put an end to these attacks, to decisively combat the prevailing impunity for killings, and to ensure institutional accountability."
It asked President Buhari "to strengthen his efforts to liberate the hostages held by Boko Haram and the Islamic State in Nigeria. The release of Leah Sharibu, a Christian school girl held captive for almost two years, and other hostages has long been overdue". It also called on "Christians worldwide to join our Nigerian brothers and sisters in prayer and fasting for an end to the violence, for peace and security to prevail, and for wisdom for the Nigerian authorities."
(Christianity Today/Evangelical Focus/Guardian)
Share this