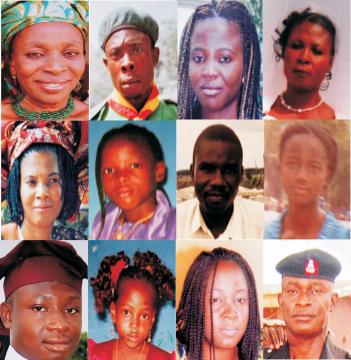 Anti-Christian violence continues to intensify in Nigeria, with attacks by the extreme Islamist Boko Haram group killing over 96 people (including those pictured) since Christmas Day, and more than 500 people in 2011, the majority of them Christians.
President Goodluck Jonathan has admitted that there are Boko Haram sympathisers in his government and security agencies, saying, "Some of them are in the executive arm of government, some of them are in the parliamentary/legislative arm of government, while some of them are even in the judiciary." Christian groups have accused the government of not doing enough to protect them, and President Jonathan has been criticised for his recent comment, quoted in Vanguard, a Lagos-based daily newspaper, on 25 Dec 2011: "The issue of bombing is one of the burdens we must live with. It will not last forever."
On Christmas Day 2011, a Boko Haram suicide car bomb exploded in the car park of St. Theresa's Catholic Church at Madalla, Niger state, 29km from the capital, Abuja, leaving at least 45 people dead and 73 others injured. It caused a massive fireball that incinerated 17 vehicles. Three of the dead were policemen on guard duty at the time of the attack. On the same day, Boko Haram bombed Mountain of Fire and Miracles Church in Jos, Plateau state. Nobody was killed until a policeman confronted the assailants and was shot dead. At about the same time, a Boko Haram suicide bomber killed three people at the Yobe State Command Headquarters of the Department of State Security Services in Damaturu. A bomb also exploded at a church in Gadaka, Yobe state, wounding several people.
On Friday 30 December four Muslims died in Maiduguri (capital of Borno State, in northeastern Nigeria) when a bomb planted by Boko Haram exploded outside their mosque after Friday prayers. The next day, President Goodluck Jonathan responded by declaring 15 local government areas of Borno, Plateau, Yobe and Niger states (the most violence-prone areas) to be under a state of emergency, sending tanks and soldiers to patrol the streets, and he temporarily closed Nigeria's borders with Cameroon, Chad and Niger.
ATTACKS CONTINUE IN 2012
Boko Haram responded on 2 January 2012 by issuing a statement that Christians living in the predominantly-Muslim north – particularly in the north-eastern states of Borno and Yobe – had three days to leave or face more violence. On 4 January, Boko Haram launched attacks in several northern states, and since then has claimed responsibility for killing at least 44 people in four states.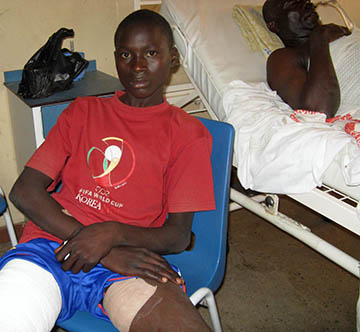 On Thursday 5 January, Boko Haram gunmen emerged from a mosque beside Gombe Deeper Life Bible Church in Gombe state, and shot Christians attending a weekly meeting. Nine people died (five instantly, four later in hospital) and 19 were injured including Jerry Johnson (pictured) who was shot in both legs. Chinyere Okoli, wife of Pastor Sunday Okoli, was slightly wounded by a bullet striking her head. She described the attack: "We had been in the church for about one hour and 30 minutes praying, when suddenly, we heard gunshots and bullets hitting us." After the attack, many Christians were seen at motorparks boarding vehicles to leave town. Another member of Deeper Life Bible Church had been shot dead on 11 December, while refuelling his car at a petrol station.
On Friday 6 January, attacks in the neighbouring Adamawa state left over 30 Christians dead. In Yola, capital of Adamawa state, eleven were killed and many others injured at Christ Apostolic Church. "There was blood all over the church hall – it was a very sorry sight," said local journalist Barnabas Manyan. Pastor Alfred Anoris described the attack: "The gunmen, numbering about six, stormed the church, killing three people outside the gate, and eight people inside, including Associate Pastor Joshua Olaniyi, while the service was on. The men were dressed in kaftans but had their faces covered. They carried out the act with the precision of professional killers. Many people were wounded and are in the hospital."
Earlier that day in Mubi, another town in Adamawa state, twelve people were killed when armed men shot a gathering of Christian traders holding a prayer session before opening their shops. The gunmen also shot at another group of Christians meeting at a town hall to arrange for the transport of relatives killed the previous day, bringing the total of those killed in Mubi to 21. Adamawa state has been placed under curfew, and security forces deployed.
On the following day, Saturday 7 January, Boko Haram members killed two Christian students of the University of Maiduguri in Borno state. Other attacks around the time included one on the Yobe state capital, Damaturu, when gunmen attacked a Christian compound, killing two people and wounding several others.
Christians in Yobe state, who are increasingly being forced out as a result of Boko Haram attacks, claim that Boko Haram plans to change tactics in order to circumvent the state of emergency: "We have learned that they have taken note of areas where people gather, have marked Christian houses and churches, and will be attacking house by house at night." While some Christians in northern Nigeria are of southern origin, the majority of Christians in Yobe, as in other northern and central states, are from indigenous tribes and have farmlands and houses that they do not want to leave. They say, "Our great, great, great grandparents were born here. It is our forefathers' land, yet we are being left with the choice of relocating to a safer area until things improve, or staying here to die."
Thousands of Christians, mostly southerners, have fled parts of north-eastern Nigeria, and there are also reports of northerners leaving their homes in southern areas, fearing reprisal attacks. Niger Delta militants have threatened retaliation against northern Muslims in the south if Boko Haram continues killing southerners in the north. A Christian in Yobe commented, "Now there is going to be reprisal in the east, which will trigger more violence and bloodshed. If that happens, if not for God's intervention, this country could be divided and indigenous Christians like us in Yobe will be in a terribly dangerous position." (BBC, Compass Direct, CSW, Religious Liberty Commission)
Share this