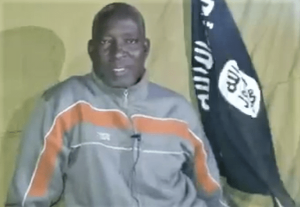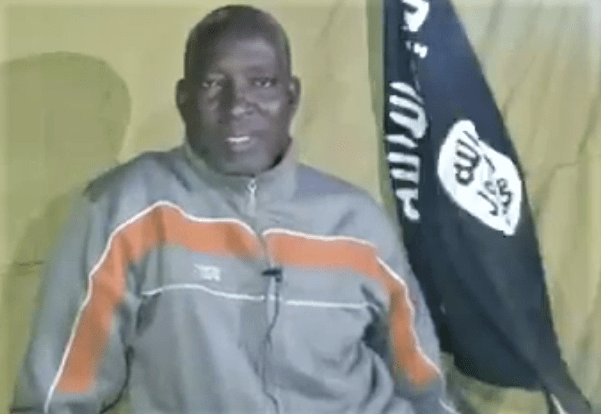 On 2 January, Rev Lawan Andimi (58), Adamawa state chairman of the Christian Association of Nigeria, was abducted during a Boko Haram raid on Michika town in northeast Nigeria. He is a pastor with the Ekklesiyar Yan'uwa a Nigeria (EYN – Church of the Brethren in Nigeria) and is married with nine children.
On 5 January, the terrorists sent a video of the pastor to Nigerian journalist and Boko Haram expert Ahmed Salkida, who released it on Twitter. The image is a still from the video, in which Pastor Lawan appeals to his colleagues to secure his release.
"I am appealing to my colleagues, reverends, particularly my [EYN] president, Rev Joel Billi, who is a strong man, a man of compassion and man of love," the pastor says. "He can do all his best to speak to [Adamawa's] governor… and other necessary agents for my release here."
Pastor Lawan adds, "I have never been discouraged, because all conditions that one finds himself is in the hands of God – God who made them to take care of me and to leave [me with] my life."
He says he has been treated well with food and a comfortable place to sleep, and concludes, "By the grace of God I will be together with my wife, my children and my colleagues… If the opportunity has not been granted, maybe it is the will of God. I want all people close and far, colleagues, to be patient. Don't cry, don't worry but thank God for everything."
Abduction
Pastor Lawan was abducted after terrorists descended on Michika in a convoy of vehicles and ransacked the town for food and valuables.
EYN General Secretary Rev Daniel Mbaya said that when the insurgents struck, Pastor Lawan, his wife and their children immediately fled from their home, but the pastor quickly returned, intending to get a car to help more people escape. The intensity of the attack increased, with sounds of loud gunfire coming from nearby, so Pastor Lawan's wife and children ran to the bush.
Pastor Daniel explained, "He then came out of the house, along with the church security guard, to flee. They noticed a Hylux van by the roadside and thought it was soldiers, so they moved on. The security guard first crossed the road and headed to the bush. He then turned to look out for the pastor, but noticed that he had disappeared!"
The following day, some women who had been in hiding told Pastor Daniel that they saw the pastor being dragged into the Hylux van and taken away.
Local MP Zakariah Nyampa issued a statement in which he said the army had killed most of the attackers: "When the Boko Haram attacked Michika on January 2, the army quickly swept into action, killing most of the terrorists, and pursued them towards Lassa River, where they lost one of their trucks to the Nigeria army. Our people had to run helter-skelter when they heard that the terrorists were approaching the town. We thank God for their lives, but the only civilian casualty is the missing pastor whose whereabouts are still unknown."
CAN president Rev Sansom Ayokunle issued a statement on 6 January in Abuja in which he urged the government to take necessary steps to rescue the pastor and all other captives held by the terrorists. He also called on the UN, the US, the UK and other countries to assist Nigeria in "securing our lives before it is too late. They should help our security agencies to live up to the expectations before the situation gets out of hand by stopping these killings and abductions with impunity."
Christians targeted over Christmas period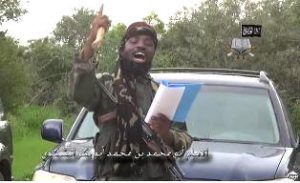 The attack on Michika is part of an upsurge in violence by both factions of Boko Haram – the Islamic State-affiliated ISWAP (Islamic State West Africa Province) and the Boko Haram group of long-time leader Abubakar Shekau (pictured).
On 22 December, two buses on Munguno road in Borno state were attacked by terrorists from one of the factions (it is not known which) who released Muslim passengers but held back Christians and killed two men, including a pastor from Deeper Life Bible Church. The militants abducted a relative of the pastor and two aid workers.
On 23 December, ISWAP militants killed several people when they used rocket-propelled grenades to attack the outskirts of Yobe state capital Damaturu for the third time in two months, as well as Biu town in southern Borno state.
On 24 December, the Shekau faction attacked Kwarangulum village, 16 km from Chibok, killing at least six people and injuring three. On the same day, two people were killed and approximately twelve were injured on the outskirts of Biu during the second attack on the town in less than 24 hours.
On Christmas Day, ISWAP killed eleven men they said they had "captured in the past weeks" in Borno State. On 26 December, they sent a video of the murders, produced by Islamic State's Amaq news agency, to journalist Ahmad Salkida. In the video, a member of the group's media unit said, "We killed them as revenge for the killing of our leaders, including Abu Bakr al-Baghdadi and [IS spokesman] Abul-Hasan al-Muhajir." Islamic State leader Abu Bakr al-Baghdadi was killed during a US raid in Syria in October. ISWAP claimed that all eleven victims were Christians, but it is believed that they included at least one Muslim. Ten were beheaded and one was shot.
On 26 December, the Shekau faction killed bride-to-be Martha Boulos, her sister Zainab and five friends in an ambush as they travelled from Maiduguri to the bride's home town in northern Adamawa state for the wedding, which was planned for 31 December. The terrorists stopped their vehicle and beheaded them on the side of the road.
(Christian Solidarity Worldwide/International Christian Concern/Morning Star News/Open Doors)
Share this