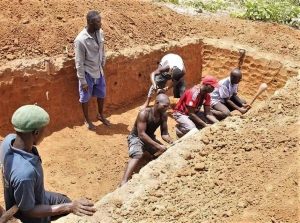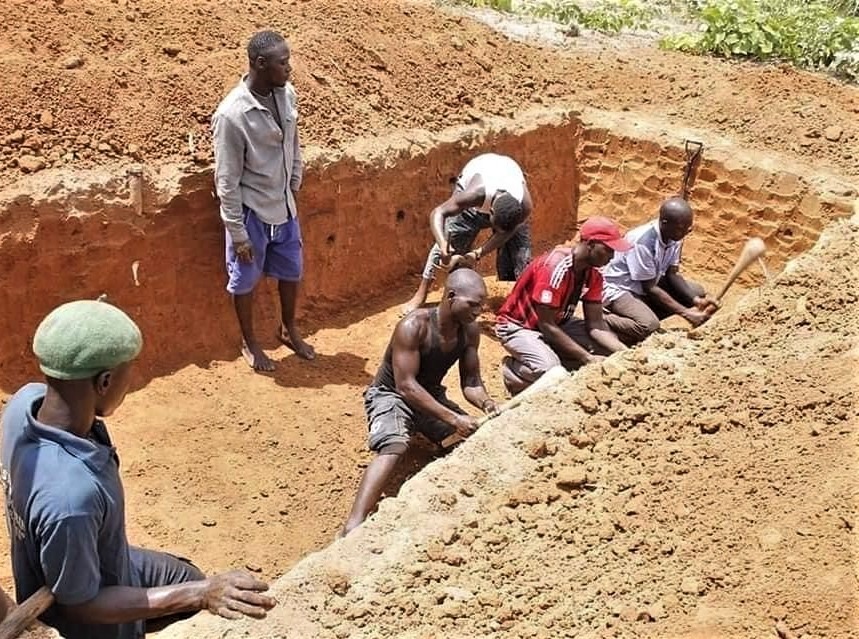 Between 11 and 13 May, Fulani herdsmen killed at least twenty-five Christian men, women and children in Kaduna State. The number of violent attacks in Nigeria's Middle Belt has increased during the Covid-19 lockdown as the terrorists are exploiting the fact that the authorities are focussed on ensuring that restrictions are adhered to.
Shortly before midnight on 11 May, a group of heavily armed militants on motorbikes descended on a Christian village, Gonan Rogo, massacring seventeen Christians. Twelve of the victims were killed in their homes while they were sleeping and five bodies were found in the bush, including a 70-year-old, seven children and a six-month-old baby.
Among the victims was the entire Yakubu household: Jonathan (40), Sheba (32) and their three children, Patience (13), Revelation (6) and Rejoice (4) were all brutally murdered.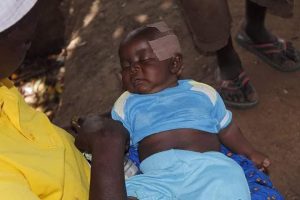 The herdsmen went from compound to compound leaving behind grisly scenes of bloodshed. Saraunia Lucky (25) was killed while holding her three-month-old daughter (pictured) in her arms. The bullet also struck the baby girl's head, but somehow she survived. The infant was rushed to hospital where the bullet was removed. She is now being looked after by her aunt, who said that she could only give her water, as it was not possible to purchase baby formula during the lockdown.
A further six Christians suffered serious gunshot and machete injuries in the attack and seven cattle were stolen.
Luka Binniyat, spokesman for the Southern Kaduna People's Union (SOKAPU), who surveyed the village the day after the attack, found several more villagers hacked to death. A grave was dug for the mass burial of the victims. Survivors told SOKAPU that a neighbouring Fulani community which had been in the area for forty years quietly left the night before the attack occurred.
Binniyat said: "It is therefore clear that while the Kaduna state government is enforcing the lockdown against COVID-19 with all its might, it has little or no interest in securing our law-abiding, defenceless communities against these unrelenting massacres and ethnic cleansing."
Following this attack, the Human Rights Writers Association of Nigeria called for Inspector General of Police Mohammed Adamu to resign or be removed and for the arrest and prosecution of the Fulani attackers.
Between 7 pm on 12 May and 7 am on 13 May, Fulani herdsmen also killed at least eight people in the predominantly Christian Kajuru County, Kaduna state, and injured several more. The herdsmen followed the same pattern, shooting most of the Christians in their homes in the villages of Makyali, Bakin Kogi and Idanu and killing those who tried to escape into the nearby bush.
CSW Nigeria has documented 11 attacks by Fulani militants across five Local Government Areas (LGAs) between the time the Covid-19 lockdown came into effect on 25 March, and the morning of 12 May. During that time, 38 people were killed and around 133 houses destroyed.
Pastor and missionary kidnapped in Kaduna State
On 9 May, herdsmen kidnapped Rev Reuben Danbala from Ungwan Badole, also known as Ungwan Mission, in Chikun County. Herdsmen had attacked the mission the previous night, killing three Christians. When Pastor Danbala returned to retrieve essential missions equipment the following day, he was abducted. Fulani kidnappers contacted Danbala's wife by phone on 10 May informing her that they were holding her husband captive.
On 5 May, herdsmen kidnapped a female missionary from Cameroon in Damishi village, Chikun County, in an attack on a Christian couple who she was staying with. Elisha Kureh and his wife Dupe were attacked by Fulani militants for the second time in three years. The Cameroonian missionary had been kidnapped by Fulani herdsmen in 2017, and one million naira (equivalent to €2,350) was paid to secure her release and that of three others. This time the herdsmen are demanding seven million naira (equivalent to €16,453) for her release.
Church building bombed in Kaduna state 
On 7 May, an Assemblies of God church building in Kabrasha village, Chikun County, was hit and destroyed by a bomb and nearby homes were damaged.
According to a military spokesman, government troops accidentally damaged the church building and three houses while pursuing Fulani herdsmen. It is suspected that the church building was destroyed by a bomb dropped from a military helicopter that had been hovering in the area for days.
In a statement, Peter Aboki, president of the Gbagyi Development Association, said that there were no casualties as the bomb hit around 2 pm when many villagers were working in farm fields.
He reported: "Hours after the incident, a group of people numbering about 100 passed through the village carrying guns. One of them was carrying a flag which is not a Nigerian flag, one other person was making some incantations in Arabic. We suspect that this flag could be an insurgent flag. For somebody to be carrying a flag other than the Nigeria flag means something."
Major General John Eneche said that the incident will be investigated by a panel in collaboration with the Kaduna State government, and that the owners of the buildings would be compensated.
Atrocities against Christians in Benue state
Between 2 May and 12 May, Fulani herdsmen in Benue State killed twelve Christians in the villages of Agasha, Saghev, Tarkende, Tse-Haaga, Ukusu and Yelewata, and injured at least five.
Major General Adeyemi Yekini of the military command in Benue state confirmed the attack in Agasha village, which began during the night of 11 May. He stated: "Operation Whirl Stroke troops on patrol in the area immediately mobilised to the scene, but the herdsmen had fled before their arrival." On 12 May, troops confronted the armed herdsmen at a makeshift camp near the Benue River and killed four of them. They recovered two AK-47 rifles, four magazines and sixty-five rounds of ammunition.
On 3 May, Ochogga Agbese was kidnapped from his home by armed herdsmen in Agila village, in Ado County. Abel Onazi, chairman of the Ado LGA, said the Christian was abducted at about 7 pm. "Cases of kidnappings in this area have been on the rise, and our people are living under the pressure of the activities of these armed herdsmen," he added.
In the current Church in Chains Global Guide Nigeria is listed in the severe persecution category. More Christians have been martyred in northern and central Nigeria in recent years than anywhere else in the world.
(Barnabas Fund/Christian Solidarity Worldwide/Morning Star News)
Share this