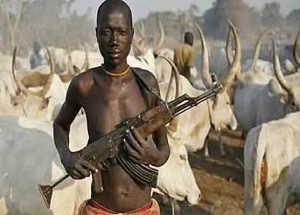 Muslim Fulani herdsmen attacked a cluster of predominantly Christian villages in Kaduna state in early August, killing 13 Christians and scattering members of three churches.
A survivor of the attacks said that the herdsmen killed two Christian women in Ninte village in the Jema'a Local Government Area on Monday 1 August, and that she knew of eight Christians killed in Gada Biyu on the following day. Local newspapers reported that nine people were killed in Gada Biyu, with an additional two men killed in Akwa'a on 3 August.
One of hundreds of Christians displaced from the area, Martha Yohanna of Alheri Baptist Church in Gada Biyu village, said: "On Monday 1 August at about noon in Ninte, the Fulani herdsmen attacked two Christian women and a man while they were on their farm. They cut them with machetes. A woman and her daughter-in-law were killed by the Fulani herdsmen while the man is still in the hospital as I talk with you."
On Tuesday 2 August, the Fulani herdsmen killed eight Christians in Gada Biyu, including five identified only as Friday, Akoro, Mamman, Danladi, and Jerry, she said. Her brother-in-law, 25-year-old Joseph, is missing and is presumed to have been killed by the Fulani. "It is over a week now that he has not been seen, and nothing has been heard about him," she said.
On Wednesday 3 August, security forces turned away the herdsmen but attackers returned to Gada Biyu at about 6 p.m. to burn down houses.
"They carried out the destruction for three hours," Martha said. "I escaped from Gada Biyu to Gidan Waya on Monday [1 August] when the Fulani came to attack the village at noon, and returned on Wednesday afternoon to retrieve some of our clothing. By the evening of that Wednesday, the Fulani herdsmen returned to my village to destroy our homes. They lit fire on some houses before policemen and soldiers were brought there to repel them."
Three churches in the village of Gada Biyu were displaced as a result of the attack: Alheri Baptist Church, Sabon Rai Baptist Church, and an Evangelical Church Winning All (ECWA) church.
"The three pastors escaped from the village during the attack, and since the attack have not returned to the village. My pastor, the Rev. Nathan Jaweson of Alheri Baptist Church, evacuated his family to Godogodo after the first attacks. However, he narrowly escaped being killed on Tuesday [2 August] as he swam across the river at Gada Biyu. He's currently living as a displaced person."
The pastor of the ECWA church has also fled to Godogodo, while the whereabouts of the pastor of Sabon Rai Baptist Church are unknown. Because of the attacks, the three churches of Gada Biyu held no worship services on Sunday 7 August. Alheri Baptist Church normally has about 300 members.
The attack on Gada Biyu village marks the Muslim Fulani herdsmen's fourth attack on Christian communities this year in the area.
Kaduna and Plateau states in the Middle Belt region of Nigeria have been plagued by such attacks for years, with Fulani leaders making unsubstantiated claims of cattle rustling by youths among the predominantly Christian farmers as the pretext for the killings. In recent years there are signs that Islamic extremist groups are arming and/or accompanying Muslim Fulani herdsmen and inciting them in their tribal and economic conflicts with Christian farmers. The assaults on unarmed Christians have reached central-eastern states such as Taraba and Benue, as well as more southern areas.
Church leaders say attacks on Christian communities by the herdsmen constitute a war "by Islam to eliminate Christianity" in Nigeria. The population is divided between mostly Christians in the south and mostly Muslims in the north, with a mixture of both in the Middle Belt. (Morning Star News)
Share this