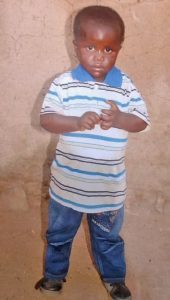 Muslim Fulani herdsmen in central Nigeria's Plateau state massacred twenty Christians as they slept just after midnight on Friday 8 September in Ancha village, Miango District, in Bassa Local Government Area.
Sati Ishaya (pictured) was one of those killed – nine were children, ranging in age from 3 months to 17 years. The dead included 19 Baptists and one Methodist, and came from three of Ancha's fifty households – one family lost all its members.
Police said the massacre was a reprisal attack following the discovery of the beheaded body of a Fulani boy from Ancha. However, a Christian from Ancha told Morning Star News that local residents cannot understand why they were targeted, as the Fulani boy was murdered in another village.
"The village where they claim one of them was killed is not part of our village, and we have never had any misunderstanding with them in the past," said John Bulus, secretary of Salama Baptist Church-Ancha, which lost 19 members.
US-based advocacy group International Christian Concern reported that the Fulani boy was killed in Hukkie village, 15 km away from Ancho, where he was caught up in a clash between Hukkie farmers and herdsmen who let their cattle graze on the farms and destroy crops. The farmers confronted the herdsmen, who started a fight.
Massacre
John Bulus was woken by the sound of gunshots shortly after midnight on 8 September and hurried outside, to see three people holding guns. They shot at him but missed and he ran indoors. "I heard sporadic gun shots all over the village," he said. "They were shooting everywhere in the village and this lasted for about 25 minutes."
He said the attackers were talking to each other in the Fulani language, and in the light of a bright moon he was able to recognise some of them as local Fulanis. However, villagers believe the herdsmen were accompanied by Islamic extremist militants.
About five minutes after the shooting stopped, the attackers gathered outside the village and left. Bulus and others went from house to house and found twenty people dead and six others seriously injured.
Plateau Commissioner of Police Peter Ogunyanwo told reporters that the murdered Fulani boy from Ancha had been reported missing on 3 August and his body was found on 5 September, three days before the massacre. He said, "We are investigating the matter, but from our findings so far, the attack was carried out by Fulani herdsmen to avenge the killing of a young boy." He added that five suspects had been arrested over the missing Fulani boy, but that no one had been detained over the Ancha massacre.
Fulani violence in Nigeria's Middle Belt
Nigeria's Middle Belt has seen much violence over the years as Muslim Fulani herdsmen compete with Christian farmers for fertile grazing land, often justifying their attacks with claims of cattle rustling by settled farmers. In recent years, thousands of Christians have been killed and their properties looted and burned, including hundreds of church buildings.
Long-running conflict has worsened, and it is suspected that the herdsmen have links with Boko Haram. The pattern of violence in the region – the use of military-grade weapons to drive Christians off the land, the destruction of Christian homes and churches and the call for the imposition of Sharia law – is now being seen as ethnic cleansing of the Middle Belt. President Muhammadu Buhari, who is a Fulani, ordered a crackdown on the herdsmen, but attacks continue.
According to International Christian Concern, between October 2016 and September 2017 Fulani militants attacked over twenty Christian villages, destroyed hundreds of Christian properties and killed over two hundred Christians.
International Criminal Court investigates armed Fulani attacks
The International Criminal Court (ICC) at The Hague in the Netherlands has begun investigating Fulani attacks on communities across Nigeria. The Human Rights Writers Association of Nigeria (HURIWA) sent a petition, Unlawful Homicide under Nigerian Laws and the Obligation of the Nigerian State to Enforce the Laws, dated 15 September 2016, asking the ICC "to investigate the incessant killings of farmers by armed Fulani herdsmen and the suspected support the Nigerian government provides for these killings to continue" and asking the ICC to take action to bring the perpetrators to international justice.
HURIWA said it received notification of the investigation in a letter from the ICC dated 15 August 2017, which noted, "It appears that your communication relates to a situation already under preliminary examination by the office of the prosecutor… Under Article 53 of the Rome Statue, the prosecutor must consider whether there is a reasonable basis to believe that crimes within jurisdiction of the court have been committed, the gravity of the crimes, whether national systems are investigating and prosecuting the relevant crimes, and the interest of justice… As soon as a decision is taken on whether there is a reasonable basis to proceed with an investigation, we will advise you promptly."
International Crisis Group criticises government response to violence
On 19 September, the International Crisis Group (ICG) published a report, "Herders against Farmers: Nigeria's Expanding Deadly Conflict", in which it says the response to Nigeria's Middle Belt crisis has been poor at federal and state levels. The ICG is a transnational NGO that carries out field research on violent conflict and advocates policies in response.
Explaining the background to the crisis, the report states, "Propelled by desertification, insecurity and the loss of grazing land to expanding settlements, the southward migration of Nigeria's herders is causing violent competition over land with local farmers. To prevent the crisis from escalating, the government should strengthen security for herders and farmers, implement conflict resolution mechanisms and establish grazing reserves."
Among its criticisms of the government's response, the ICG report states that it "typically deploys the federally controlled police, and sometimes the army, to areas reporting attacks or clashes. These forces, poorly deployed in rural areas, often lack logistics for rapid response, especially across difficult terrain." The report also states that there has been "feeble" judicial action: "Police occasionally arrest and prosecute both herders and vigilantes bearing firearms, but relatively few perpetrators of violence face justice. Impunity has encouraged actors to take matters into their own hands."
The report points out that Middle Belt violence has escalated in recent years, stating: "With an estimated death toll of approximately 2,500 people in 2016, these clashes are becoming as potentially dangerous as the Boko Haram insurgency in the north east."
(International Christian Concern/International Crisis Group/Morning Star News/National Daily/World Watch Monitor)
Share this