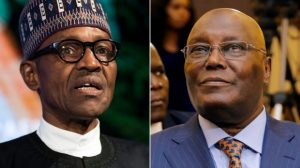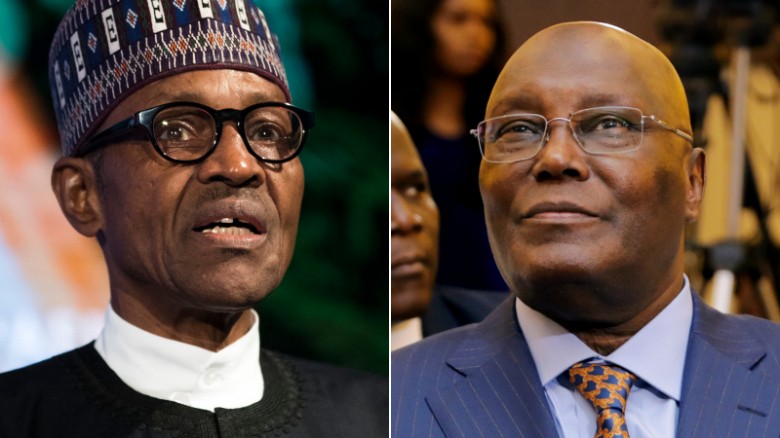 Christians in Nigeria's Middle Belt and the predominantly Muslim north are hoping for change but fearful of violence as they anticipate the postponed elections on Saturday 23 February. They hope that a change of leadership will stop the rising tide of extremist Muslim attacks against them, but they fear post-election violence if President Muhammadu Buhari loses. Tensions are high.
The frontrunners in the presidential race are President Buhari (76, pictured on the left) of the All Progressives Congress, who is seeking a second four-year term, and opposition candidate Atiku Abubakar (72) of the People's Democratic Party. They are blaming each other for the postponement, with accusations of conspiracy and sabotage for electoral advantage. Millions of Nigerians had returned to their home towns to vote, many at great cost, and preparations had been made across the vast nation.
The presidential and parliamentary elections were due to be held on Saturday 16 February but five hours before the polls were to open the Independent National Electoral Commission (INEC) announced that they would be postponed for what the INEC chairman Professor Mahmood Yakubu described as "logistical and operational concerns". A senior diplomat said eight states and the Federal Capital Territory had "distribution issues". The presidential and national assembly elections will now be held on 23 February and the governorship and state assembly elections on 9 March.
Buhari's presidency is widely considered to have been a failure, due to his inability to end Boko Haram violence in the north and Fulani attacks in the Middle Belt, to crack down on corruption and to revive the economy. While his administration was involved in negotiating the release of 103 of the kidnapped Chibok schoolgirls, it has been unable to secure the release of the remaining 112 Chibok schoolgirls who remain in Boko Haram captivity or of Christian schoolgirl, Leah Sharibu, held by a Boko Haram faction.
Analyst Elizabeth Kendal wrote in her Religious Liberty Prayer Bulletin on 13 February, "Buhari and his All Progressives Congress came to power promising to tackle corruption, improve security and revive the economy. Instead, corruption is widespread, security has deteriorated to crisis levels and consequently the economy has stagnated. The result is widespread disillusionment, displacement and despair." She concludes, "Buhari's presidency is widely acknowledged to have been a total disaster."
A Fulani Muslim from the north, President Buhari has centralised control of the military, police and security into Fulani hands. Rev Gideon Para-Mallam, a peace advocate in Jos, capital of Plateau State, said: "Many Christians are very disappointed with his administration when it comes to security for all and especially Christians in the Middle Belt, North East and North West. He tries to deny it but his appointments especially in the security apparatus are virtually filled with Muslims."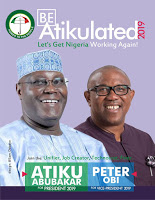 Atiku Abubakar is also a Fulani Muslim and if he wins the election security will remain under Muslim control and Christians will continue to feel vulnerable. Abubakar has chosen as running mate a devout Catholic, Peter Obi (57), who is ethnic Igbo. The Igbo are mostly Christians indigenous to the southeast, and many of them are protesting at their increasing marginalisation and calling for secession. Fulani Muslim youths have threatened Igbo living in the north of the country with ethnic cleansing and many Igbo now feel that they cannot live in a nation dominated by the Fulani.
Electoral violence
It is feared that if President Buhari loses, violence will erupt as it did when he lost to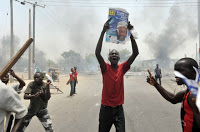 Goodluck Jonathon (a Christian from the south) in April 2011. Buhari claimed the polls had been rigged, triggering the worst outbreak of electoral violence in Nigeria's history. For three days Muslims rioted across the north, burning, looting and killing more than eight hundred Nigerians, mostly Christians.
In March 2015, Buhari ran for the presidency again, warning of violence if he did not win. Christians in the north and the volatile Middle Belt were fearful, but Buhari did win, partly thanks to running mate Yemi Osinbajo, a professor of law and Pentecostal pastor who influenced many Christians to vote for Buhari. (Osinbajo is standing as running mate again in 2019.) Outgoing president Goodluck Jonathon conceded defeat and appealed for calm.
Church leader Ibrahim Bakwe told Open Doors recently, "Every time elections approach, there is so much fear of the unknown among Christians, because they have been targeted so often."
Tensions are soaring, with hate-speech, doctored images and false accusations rife. Two offices of the Independent National Electoral Commission have been burnt to the ground, resulting in the loss of thousands of voter cards and hundreds of ballot boxes, and a shipping container full of voter card readers and other electoral materials has been burnt.
Boko Haram resurgence
When President Buhari was elected in 2015 he pledged to end Boko Haram violence, and he had some success, pushing the terrorists out of many towns and villages and retaking most of the territory Boko Haram held in the northeast. More recently, however, Boko Haram has been resurgent, due to its collaboration with Islamic State. Its militants killed more than 2,600 people in sixty attacks on military and civilian targets in 2018. According to the International Organisation for Migration, the rising violence has displaced over 59,000 people in the last three months.
The increase in attacks may make it difficult or impossible for many people to vote. Following several attacks in Adamawa state in early February, a local source told World Watch Monitor, "Christians say [Boko Haram] is trying to eliminate them from this area and that they have been forced to flee into the mountains. These events will make it nearly impossible for to vote."
Increasing Fulani attacks
Under President Buhari's watch, militant Fulani attacks have escalated throughout the Middle Belt region, as Muslim Fulani herdsmen increasingly use military-grade weapons to drive largely Christian farmers off fertile grazing land. Thousands of Christians have been killed and their properties looted and burned, including hundreds of church buildings. Christian survivors often flee from their villages to the surrounding cities, having lost land, homes and livelihoods.
In a major attack in June 2018, Fulani herdsman armed with sophisticated weapons attacked 15 communities, killing more than 230 people, displacing 11,500 others and leaving many injured.
(Christian Solidarity Worldwide/International Christian Concern/Irish Times/Open Doors/Religious Liberty Prayer Bulletin/World Watch Monitor)
Share this