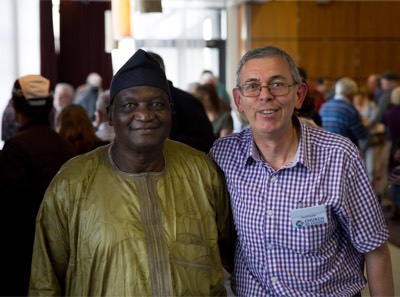 Rev Dr Soja Bewarang told delegates at Church in Chains' annual conference in Dublin that "The mystery of the Chibok girls [over 200 schoolgirls abducted by Boko Haram in April 2014] is the shame of Nigeria.
"It is a puzzle that has left more questions than answers. We cannot understand why soldiers who are searching for the girls have not allowed parents of the girls to accompany them to help identify the girls. We had thought that with the release of Amina [who was found in May 2016] she would be able to lead the military to find the girls but Amina herself is not helping matters; she keeps saying that she just wants to be with her husband [a Boko Haram fighter to whom she was forcibly married]. The majority of the girls are Christian and pastors in my church know some of their parents."
Rev Soja gave delegates at the conference a detailed, thought-provoking analysis of the Islamist extremism behind the ongoing persecution of Christians in Nigeria. Rev Soja is an experienced church leader who is currently chairman of the Plateau State chapter of the Christian Association of Nigeria, which acts as a voice for Nigerian Christians.
Sharia Law
The significance of Sharia law (in place in twelve states in northern Nigeria) was detailed by Rev Soja as he explained that under Sharia there is no separation between religion and state and that everything in society is centred around Islam. He said that Christians living under Sharia are forbidden to distribute Christian literature, pray or preach in public and are not free to build churches in Muslim-dominated areas. There are severe penalties for Christians who are deemed to speak out against Islam.
While Rev Soja warned that Christians everywhere should be concerned about Sharia law, he emphasised that "Jesus tells Christians to loves Muslims because He wants Muslims to join Christians in heaven. Christians in Nigeria do not hate Muslims."
Personal experience of persecution
Rev Soja spoke of his own experiences of persecution, telling how he was ambushed after leaving his church headquarters in Jos late one night – his car was hit by shots several times as he drove away to escape the attackers.
Rev Soja also showed pictures of several pastors from his church who were murdered because of their faith and spoke of the distress of having to conduct their funerals. He also spoke about a suicide bomb attack on his church in Jos: "Lives were lost and the Christian youth of my church were going to retaliate. I had to come and like Moses, stretch out my arms in front of them and say 'ÄòNo – this is not our Gospel' and because of the respect that the youth had for me, they listened to me."
The church in Nigeria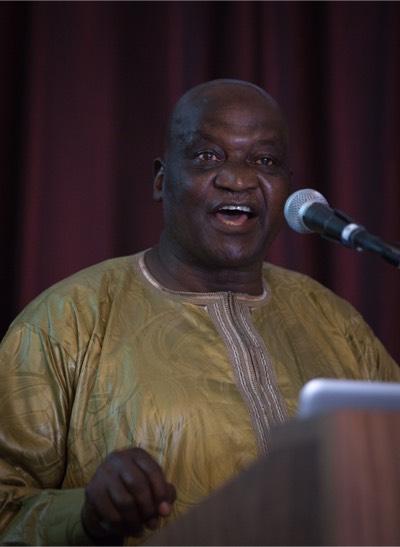 Rev Soja told the conference, "The church in Nigeria is growing and the spread of the gospel is waxing stronger and stronger in spite of all the challenges of persecution, Boko Haram and recent clashes between the nomadic Fulanis [Muslim] and farmers [mainly Christian].
"In June 2016, I was invited to dedicate a new Church of Christ in Nations Church building located 30 kilometres outside Yobe State, the home of Boko Haram. The Church with 400 members was established as the result of Christians driven out of Potiskum by persecution."

Rev Soja stated that the church in Nigeria is a vibrant and lively church with exuberant worship during services. He also described it as a very prayerful church which believes in the power of prayer, though with questionable theological grasp of what prayer is all about: "Most prayer meetings are now opportunities for members to present a shopping list before God under the mentality of 'give me this' or 'give me that' oh Lord! Some have used prayer as a tool or means to settle scores with their enemies, praying: "oh God destroy or kill my enemies".
Rev Soja said that the church in Nigeria is a very mission-minded church which is very committed to global evangelism both within and without Nigeria and is already in the forefront of sending missionaries to other parts of the world, though he cautioned that some churches were more concerned about church expansionism than going to spread the good news of the kingdom.
Other matters
Delegates at the conference also heard updates about Christian prisoners: Maryam Zargaran in Iran, Asia Bibi in Pakistan and Zhang Kai in China. There was also a round-up of Church in Chains news including how a Church in Chains report had formed the basis for the questioning of the Nigerian Chargás d'Affaires who appeared before the Oireachtas Committee on Foreign Affairs. Plans for the International Day of Prayer for the Persecuted Church on Sunday 20 November were announced and delegates were encouraged to talk to their church leaders about getting involved.
Share this