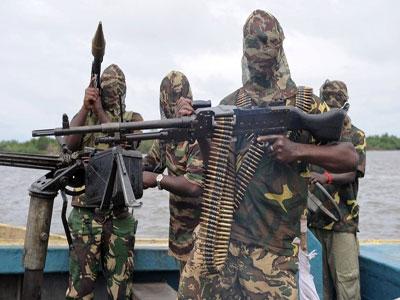 Boko Haram was formed in 2002 by Sheikh Mohammed Yusuf in Maiduguri, capital of the north-eastern Nigerian state of Borno. Originally formed to fight against government corruption and economic disparities between the north and the richer south, its aim now is to overthrow the government, create an Islamic state and impose strict sharia law. Borno, where Boko Haram has its base, is one of twelve northern states in which sharia is already in force. Christians are supposed to be exempt, but are often forced to comply.
After Mohammed Yusuf died in police custody on 31 July 2009, allegedly in an extra-judicial execution, Boko Haram declared jihad on the government, and they reportedly formalised links with Al Qaeda of the Islamic Maghreb in June 2010. Since then, Boko Haram has been sending militants to Somalia for military training under al-Shabaab, which is linked to al-Queda.
Boko Haram is sometimes described as the "Nigerian Taliban". It promotes a version of Islam that forbids Muslims from taking part in any political or social activity associated with Western society, including voting in elections, wearing shirts and trousers or receiving a secular education. Loosely translated from the Hausa language, Boko Haram means "western education is forbidden". Its official name is Jama'atu Ahlis Sunna Lidda'awati wal-Jihad, Arabic for "people committed to the propagation of the Prophet's teachings and jihad". It targets not just Christians but also non-fundamentalist and non-jihadist institutions including universities, the police, secular courts and even liberal mosques. The secretary-general of the Nigerian Supreme Council for Islamic Affairs, Dr Abdulateef Adegbite, has said that Muslim leaders do not support the activities of Boko Haram.
Boko Haram has been responsible for most of the recent attacks on Christians in Nigeria, although some violent attacks in remote rural areas have involved other Islamists, such as Fulani Muslim herdsmen. Boko Haram was responsible for Nigeria's first suicide bombing, on 16 June 2011, when eight people were killed and dozens wounded at Police Headquarters in the federal capital, Abuja. On 26 August 2011, another Boko Haram suicide bombing in Abuja, at the UN headquarters, killed 25 people. While some attacks such as these have been on government institutions, many more have been on churches, and Christians are suffering so much persecution at the hands of Boko Haram in northern Nigeria (which is predominantly Muslim) that thousands have fled to the Christian-majority south.
On 31 December 2011, President Goodluck Jonathan declared 15 local government areas of Borno, Plateau, Yobe and Niger states (the most violence-prone areas) to be under a state of emergency, sending tanks and soldiers to patrol the streets, and he temporarily closed Nigeria's borders with Cameroon, Chad and Niger. On 2 January 2012, Boko Haram responded by issuing a statement that Christians living in the north of Nigeria – particularly in the north-eastern states of Borno and Yobe – had three days to leave or face more violence. On 4 January, Boko Haram followed up its warning by launching a series of deadly attacks in several northern states.
BOKO HARAM STATEMENTS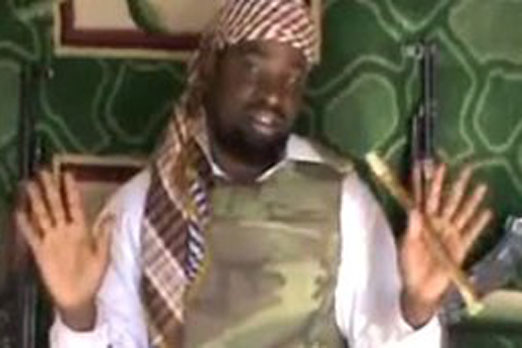 The current leader of Boko Haram, Abubakar Shekau (pictured), defended the attacks on Christians, in a video posted on YouTube, saying they are revenge for killings of Muslims. In the 15-minute video Mr Shekau, wearing a red and white turban, a bullet-proof vest and sitting in front of two Kalashnikov rifles, referred to the killing of Muslims in places like Jos, Kaduna, Zangon Kataf, Tafawa Balewa in recent years.
Some of these places have seen bitter communal clashes but news correspondents say they are often based on long-standing disputes over resources such as land, or are whipped up by politicians, rather than being based on religious differences.
In January 2012, a Boko Haram spokesman said, "We will consider negotiation only when we have brought the government to their knees. Once we see that things are being done according to the dictates of Allah, and our members are released [from prison], we will only put aside our arms – but we will not lay them down. You don't put down your arms in Islam, you only put them aside." He said that the group's members were spiritual followers of al-Qaeda and claimed that some had visited Saudi Arabia for training and funding.
On 4 March 2012, Boko Haram announced a "war" on Christians and said it would launch a series of coordinated attacks in order to annihilate the entire Christian community in northern Nigeria. A spokesman said, "We are going to put into action new efforts to strike fear into the Christians of the power of Islam by kidnapping their women."
President Goodluck Jonathan has admitted that there are Boko Haram sympathisers in the government, security agencies and judiciary. (BBC, Compass Direct News, Guardian, Religious Liberty Prayer Bulletin)
Share this