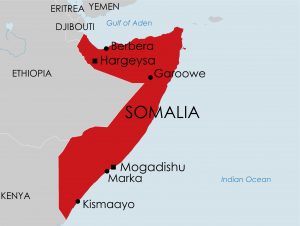 A Christian woman's husband divorced her when he found her hidden Bible, and her brothers beat her. The 32-year-old woman, who cannot be named for security reasons, is the mother of two girls aged 7 and 4 and comes from the city of Burao (Burco in Arabic) in Somalia's autonomous region of Somaliland. She is starting a new life far away from her family, following the traumatic incidents of the past months.
The Somali woman converted from Islam in 2016, when the pastor of a local underground church explained the gospel to her, but kept her new faith hidden because of the extreme risk to Somali converts from family, tribe and al-Shabaab terrorists.
She and her husband travelled to Kenya in May 2019 to obtain medical treatment for her father. They took him first to Nairobi Hospital and then to Kijabe Mission Hospital, where the woman found a Somali-language Bible. She requested a copy to read later in private, as she had never owned a Bible, and brought it home from the trip.
In June, her husband found the Bible hidden in a drawer that she usually kept locked. She said he confronted, threatened and divorced her.
"I told my husband that I found the Bible in Nairobi and wanted to read it," she told Morning Star News. "He just pronounced the word talaq [divorce] to me. I knew that our marriage had just been rendered null and void because I joined Christianity, so without wasting time I left the homestead. There and then he took our two daughters away from me and divorced me. He gave me a stern warning that I should not come close to the children, and that if I do, he will take the Bible to the Islamic court and I will be killed by stoning for becoming an apostate."
He told the woman's family that he had caught her in possession of a Somali-language Bible.
"My brothers beat me mercilessly with sticks as well as denying me food," she said. "I feared to report the case to the police or the local administration, because they will charge me with a criminal offence of apostasy in accordance with the sharia."
She moved away to a different location, hours from home, and later commented, "God has spared my life, and my fellow underground Christians in other regions of Somalia have received me and shared the little they have, but I am very traumatised."
An underground church leader who requested anonymity told Morning Star News that he hopes starting a micro-enterprise will help her overcome the poverty that faces Somali women who lose their husbands.
"Please pray for her to have wisdom, God's favour, growth of faith in Jesus, and means to start her own small business in her new region of residence," he said. "Also, pray for God's intervention in the Muslim community to lift the harsh treatment imposed on indigenous Christians, restricting the use of the Bible, and using sharia law to punish those who embrace the Christian faith."
This case typifies the plight of Christians in Somalia, where the few hundred Christians, almost all converts from Islam, face harassment, intimidation and murder (often by beheading) at the hands of tribal leaders, family members and al-Shabaab militants. Christians can only meet in extreme secrecy for fear that  neighbours will betray them to al-Shabaab.
Somalia's constitution establishes Islam as the state religion and requires that laws comply with Sharia principles, with no exceptions for non-Muslims. It prohibits the propagation of any other religion.
Read more about the situation facing Christians in Somalia.
(International Christian Concern/Morning Star News)
Share this