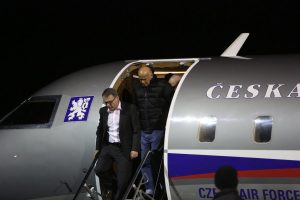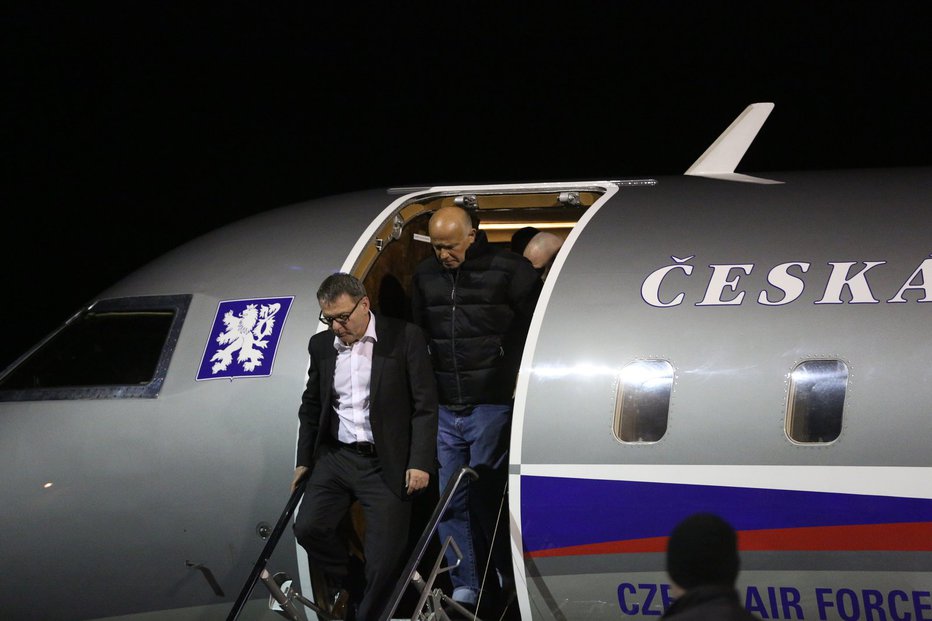 Czech Christian aid worker Petr Jasek (52) was released on 26 February, after spending 14 months in prison in Sudan. He then flew to Prague, accompanied by the Czech Foreign Minister.
On 28 January, a Khartoum judge had given him and two Sudanese Christians long prison sentences : Jasek had been sentenced to life for "espionage" and "waging war against the state", while Rev Hassan Abdelrahim Tawor and Abdulmonem Abdumawla, had been sentenced to twelve years for aiding him. They remain in prison; their lawyers appealed against the sentences on 9 February.
Jasek was pardoned and freed by President Omar al-Bashir after Czech Foreign Minister Lubomir Zaoralek visited Sudan to secure his release. President Bashir reportedly ordered the court to release him based on Sudan's Article 208, which gives the president powers to release anyone convicted of crimes that do not carry death penalty. In early February, the Czech and Sudanese governments agreed that the Czech Foreign Minister would visit Sudan on 26 February, and that Jasek would be released into his care and return to the Czech Republic with him.
On Saturday 25 February, Jasek was released into "house arrest" for one day, and on Sunday 26 February he left prison and returned to the Czech Republic with the Foreign Minister.
Prison
Jasek told reporters about his experience of sharing a cell with Islamic State convicts who beat and abused him: "The first two months were probably the most severe for me because I was placed in a cell together with members of the Islamic State, who humiliated me as a Christian. It then escalated into humiliation and physical beatings, and psychological torture and humiliation."
He was moved from prison to prison, five in total, each worse than the previous one, including a prison known as "the refrigerator" because prisoners were subjected to constant blasts of cold air. Foreign Minister Lubomir Zaoralek said, "The conditions were very heavy. I am convinced that he is really an extraordinarily brave guy. Most people could not stand it."
The Foreign Minister said that Khartoum was finally convinced that Jasek "had no intention to undermine" Sudan. He said, "We've tried from the first moment to intervene and help."
Jasek's friends said he looks remarkably well, though he has lost 25kg in weight. He said one of the hardest blows during his imprisonment was hearing that his father had died.
Release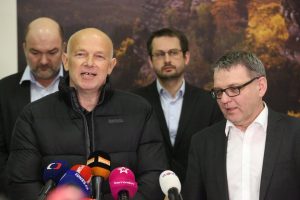 Jasek said he did not know for sure that he would be free to leave the prison and Sudan until about 4pm (local time) on Sunday afternoon.
In a press briefing at Prague's Kbely military airport shortly after landing, at about 11pm Czech time on Sunday evening, Jasek thanked all those involved in diplomatic efforts to secure his release. The Czech Republic broke off diplomatic relations with Sudan in protest at his arrest, so its Ambassador to Egypt represented the Czech government. Jasek also thanked the Swiss Ambassador to Sudan, who had attended every hearing.
Others who worked to get Jasek released include former US Congressman Mark Siljander (who has connections in Sudan and visited Khartoum to petition the authorities for the release of Jasek and his two co-defendants) and Ján Figel, EU Special Envoy for freedom of religion or belief outside the EU, who worked behind the scenes.
Jasek urged his supporters not to forget Rev Hassan Abdelrahim Tawor and Abdulmonem Abdumawla, still in Sudan's maximum security Kober prison.
After the press briefing, Jasek was taken to hospital, where he was reunited with his wife Wanda. A close relative described how Wanda was sitting on a crowded train when she got the news of his release, and how tears streamed down her face, to the surprise and then delight of other passengers.
(Middle East Concern, Morning Star News, World Watch Monitor)
Share this