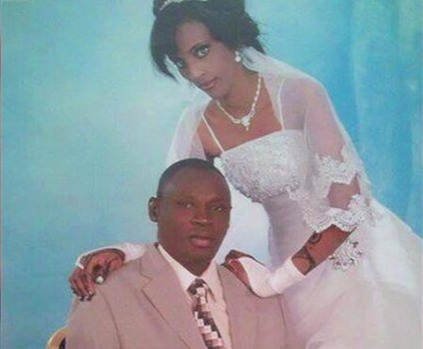 Meriam Yahia Ibrahim, a 27-year-old doctor from western Sudan who is eight months pregnant, was sentenced to death for apostasy by a judge in Khartoum on 15 May. She was also sentenced to 100 lashes for having sex with her husband, considered adultery in Islam because he is a Christian.
"The court has sentenced you to be hanged till you are dead," the judge told Ibrahim, who also has a 20-month-old son, Martin, after Islamist crowds shouted for the court to punish her.
The death sentence was originally pronounced on 11 May but Meriam was given three days in which to recant. During the court hearing on 15 May, an Islamic cleric spoke with her in a caged dock for about 30 minutes, after which she calmly told the judge: "I am a Christian and I never committed apostasy." Three witnesses from western Sudan had travelled to the hearing to testify that Meriam had always been a Christian, but were prevented from giving evidence.

"She is due to give birth any minute," said a lawyer at the Justice Centre Sudan, which is handling her case. "They will transfer her to different department to wait for her sentence. They will flog her 100 lashes as soon as she recovers from childbirth." The death sentence is not scheduled to be carried out until her unborn child is two years old.
He added, however, that lawyers plan to file an appeal of the sentence on Sunday 18 May, which would put off execution of the sentence, including the flogging, until there is a ruling.
Background
Meriam was born to an Ethiopian Christian mother and a Sudanese Muslim father. Her father left the family when she was 6 years old and her mother raised her as a Christian. However, Islamic law asserts that she was Muslim by birth because her father was Muslim.
Meriam married her husband, Daniel Wani, a Christian from South Sudan, in 2012. The case was brought by Meriam's brother who accused her of "adultery" because of her marriage to a Christian. Daniel was accused of proselytising a Muslim, and later Meriam was accused of apostasy.
Meriam has been held in Omdurman Federal Women's Prison since February with her 20-month-old son because the authorities regard the child as a Muslim and will not allow him to be raised by his Christian father.
Reaction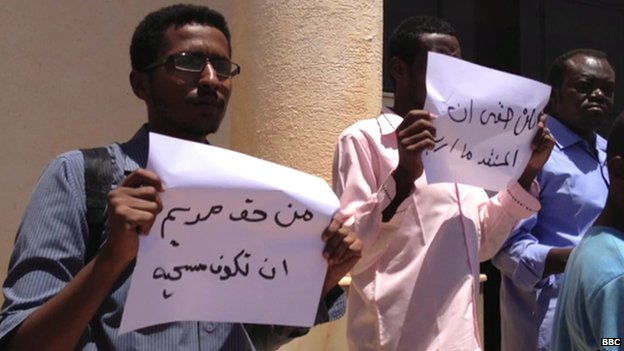 The case has attracted wide attention in Sudan. About 50 people chanting and holding posters stating "No to executing Meriam" (pictured) were confronted outside the court by a smaller group that supported the verdict, but there was no violence.
Diplomats from the embassies of the United States, Canada, the United Kingdom and the Netherlands attended the court and later issued a joint statement expressing "deep concern" over the case. "We call upon the government of Sudan to respect the right to freedom of religion, including one's right to change one's faith or beliefs," the embassies said in their statement.
Sudan's Information Minister Ahmed Bilal Osman insisted that Sudan is not unique in its law against apostasy. "In Saudi Arabia, in all the Muslim countries, it is not allowed at all for a Muslim to change his religion," he said.
Following the secession of South Sudan in 2011, President Omar al-Bashir has vowed to make Sudan a fully Islamic state. Government intimidation and harassment has forced hundreds of thousands of Christians of South Sudanese origin out of Sudan. Persecution of Christians includes arrest, interrogation and detention without charge, demolition of churches, closure of Christian institutions, confiscation of Christian literature and deportation of foreign Christian workers.
(BBC, The Independent, Morning Star News, RTÉ, World Watch Monitor)
Church in Chains has expressed its concerns about the case to the Sudanese Ambassador accredited to Ireland (based in London) and to Mr Joe Costello, Ireland's Minister for Trade and Development (Ireland sent €1 million to Sudan emergency aid in 2013).
Click here to read the letter to Mr Costello

Share this