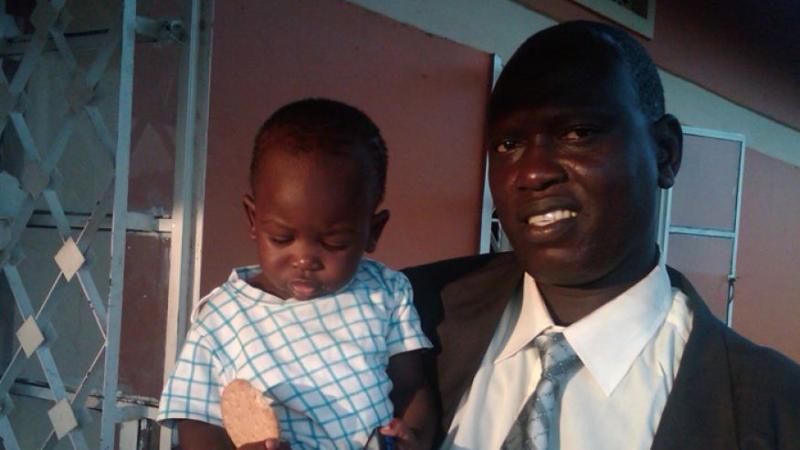 A court hearing on 31 May in Khartoum for two South Sudanese pastors facing the death penalty was adjourned to 1 June, and then until 15 June.
A defence lawyer said the judge indicated that the prosecution needed more time to prepare the case. The lawyer said the trial had been adjourned to give prosecutors more time to search for evidence and try to build a case against Pastor Yat Michael (49, pictured) and Pastor Peter Yein Reith (36). He added that a previous hearing on 19 May also yielded no solid evidence against them. Several charges have been brought against the pastors, some of which carry the death penalty.
After the hearing, the pastors were returned to prison in Omdurman, a city across the Nile from Khartoum. A relative of one of them expressed hope, saying: "According to the attorney, there is hope that they will be released."
Pastor Yat Michael was arrested on 21 December 2014 after visiting Khartoum Bahri Evangelical Church, which has been embroiled in a land dispute with the government, to preach and encourage the congregation. He is from Juba, the capital of South Sudan.
Pastor Peter Yein Reith (pictured below) was arrested on 11 January after submitting a letter from leaders of their denomination, the South Sudan Presbyterian Evangelical Church, inquiring about Pastor Yat Michael.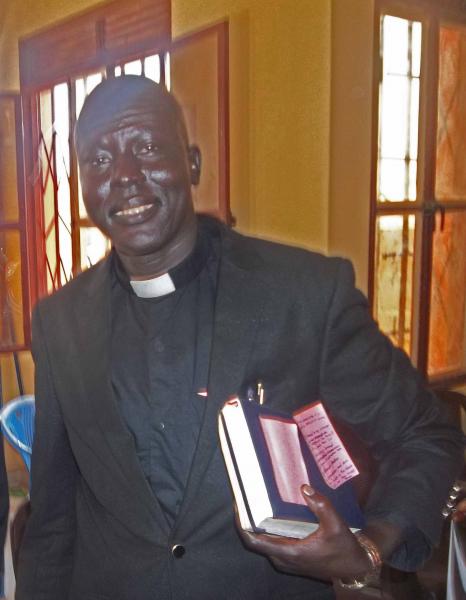 Their whereabouts were unknown for months following the arrests, which violates international human rights laws. Charges were secretly filed against them in March. At the end of April, they were taken from a police station in Khartoum to a detention centre, according to Pastor Yat Michael's wife.
"There is no evidence in the charges brought against the church leaders," the lawyer said. He described how a representative of Sudan's National Intelligence and Security Services (NISS) testified that the pastors were collecting information for a human rights group, citing as evidence a map of Sudan, especially the Darfur Region, which was found on their personal computers. "But anybody can go to the Internet and download a map of any country in the world," the lawyer said. "It is not a crime."
At the 19 May hearing, prosecutors reportedly showed a video of Pastor Yat Michael's sermon at Khartoum Bahri Evangelical Church. NISS agents reportedly said they took offence at his appeal for the church to stand firm in spite of arrests of church members and demolitions of their property.
Sources told Morning Star News that the charges appear to be based solely on the two pastors' nationality, race and faith. NISS officials are given broad powers to arrest Christians, black Africans, South Sudanese and other lowly regarded people in Sudan, which President Omar al-Bashir has pledged will be fully Arabic and Islamic. NISS officials have demanded $12,000 (€10,800) for the charges to be dropped, but local church leaders say they are fearful to pay lest it prompt the NISS to arrest more Christians for money.
Supporters of the pastors say their arrest is just the latest effort by the Islamist government in Khartoum to stamp out Christianity. "I'm fearful that they will execute these pastors for practicing their faith," said David Curry, CEO of Open Doors USA.
Khartoum Bahri Evangelical Church
Khartoum Bahri Evangelical Church was the subject of government harassment, arrests and demolition of part of its worship centre as Muslim investors took it over, and sources say that NISS officials are punishing the pastors for their support of the church.
On 2 December 2014, police in North Khartoum beat and arrested 38 church members and fined most of them. They were released later that night.
On 5 October 2013, police and security forces broke through the church fence aboard a truck and two Land Cruisers, to the sound of nearby Muslims shouting "Allahu Akbar" ("God is greater"). They beat and arrested Christians in the compound, and claimed that parts of the property belonged to a Muslim investor who was with them. All the arrested Christians were released later that day.
(Morning Star News, Fox News)
Share this