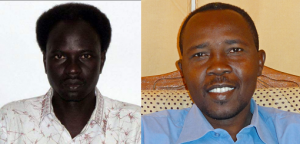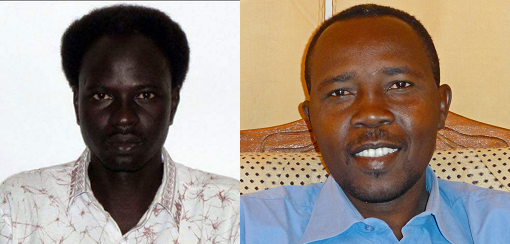 Two Sudanese Christians jailed with Czech Christian aid worker Petr Jasek were released from prison in Khartoum on 11 May after receiving a presidential pardon.
Abdumonem Abdumawla (left) and Rev Hassan Abdelrahim Tawor (right) were arrested in December 2015, along with Jasek, and charged with aiding and abetting him in alleged espionage, inciting hatred and spreading false information. In January 2017, they were sentenced to a total of twelve years in prison each, while Jasek received a life sentence for espionage (documenting persecution of Christians) and waging war against the state (a false allegation of funding rebel movements in South Kordofan, Blue Nile and Darfur).
Jasek was released on 26 February 2017 after receiving a presidential pardon, and returned to the Czech republic.
Background
The case against the three men arose from their support for a Sudanese student, Ali Omer, who needed treatment for severe burns suffered during anti-government demonstrations at a university in Omdurman.
Abdumawla, a Christian graduate from Darfur who worked in a mining exploration company in Khartoum, began collecting money to help his friend and fellow Darfuri, Ali Omer. Abdumawla contacted Tawor, a pastor in the Sudanese Church of Christ who comes from from South Kordofan, and he donated money for Omer's treatment.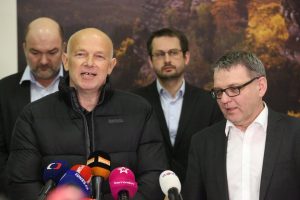 Jasek (pictured) travelled to Khartoum to give Omer $5,000 (€4660) at a meeting organised by Tawor and Abdumawla. Jasek has a twenty-year background in the medical field and has worked to provide care for persecuted Christians in Sudan and Nigeria.
On 10 December 2015, Jasek was stopped and arrested at Khartoum Airport as he attempted to leave Sudan. Security agents searching his bags found the receipt for his donation, signed by Tawor and Abdumawla. He explained that the money was for Omer's medical costs, but prosecutors alleged it was a donation to rebel groups in the southern regions of South Kordofan, Blue Nile and Darfur. He was found to be carrying electronic information about and photos of Omer's situation, and his computer, mobile phone and flash drives were confiscated.
Abdumawla was arrested on 17 December 2015 and Tawor the next day.
Ali Omer appeared as a trial witness on 12 December 2016 and testified that he had been injured with severe burns during anti-government demonstrations at an Omdurman university. He said his friend Abdumawla had collected funds for his medical treatment from various organisations and individuals, including Tawor. The defendants were accused of promoting Omer's case abroad to defame the government.
On 29 Jan 2017, a judge in Khartoum sentenced Jasek to life in prison for espionage and waging war against the state and sentenced Abdumawla and Tawor each to ten years in prison for aiding and abetting Jasek in espionage and two years in prison for inciting hatred between sects and propagation of false news, the sentences to be served consecutively. On 9 February 2017, lawyers appealed against the sentences.
On 26 February 2017, Jasek was pardoned and freed by President Omar al-Bashir after Czech Foreign Minister Lubomir Zaoralek visited Sudan to secure his release. He returned to the Czech Republic with the Foreign Minister.
South Kordofan
Most members of the Sudanese Church of Christ, including Tawor, have ethnic roots in the Nuba Mountains of Sudan's South Kordofan state, where the government is fighting an insurgency among groups resisting Khartoum's rule.
The Nuba and other Christians in Sudan face persecution as President Omar al-Bashir has vowed to introduce stricter sharia and to recognise only Islamic culture and the Arabic language.
Read more about the persecution of Christians in Sudan.
(Middle East Concern, Morning Star News, World Watch Monitor)
Share this