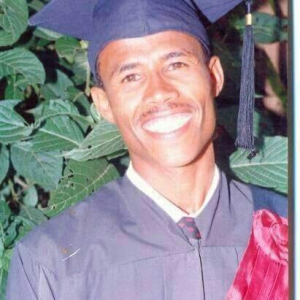 Aklilu Desbele (46) has been in prison in Eritrea since 2008 because of his commitment to sharing the gospel.
LATEST NEWS (FEBRUARY 2021): Aklilu was released from Mai Serwa prison on 1 February, one of 64 Christians released from Mai Serwa and Adi Abeito prisons, both near Asmara, on the same day.
Aklilu Desbele is known as a man of prayer, integrity and good humour, who was so committed to the gospel that his friends called him the "Fifth Gospel". An accountancy graduate from Asmara university, he was arrested in 2008 because of his faith and incarcerated in Assab military prison on the Red Sea coast in the southeast of the country.
Recently, Aklilu has been moved to Mai Serwa prison, where several Christians including Twen Theodros and Mussie Eyob are incarcerated. Mai Serwa is located 8 km northwest of the capital, Asmara. As well as buildings, this prison reportedly uses shipping containers, buried truck containers and zinc hangars as cells. In contrast to other prisons, however, some prisoners can receive food parcels, medical care and visitors.
Like many Christian prisoners in Eritrea, Aklilu has been offered freedom in exchange for renouncing his faith, but has refused. He has never been tried.
 Family
Akilu is single.
Read more about the persecution of Christians in Eritrea.
(Eritrean source/Release Eritrea/Office of the UN High Commissioner for Human Rights/Release International)