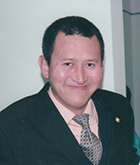 Bakhrom Kholmatov (43) is pastor of the Sunmin Sunbogym (Good News of Grace) Protestant Church in Khujand, capital of the Soghd region of northwest Tajikistan. He was arrested and imprisoned in April 2017 after secret police officers raided his church. In July he was sentenced to three years in prison for "singing extremist songs in church and so inciting religious hatred", and on 18 August the Soghd Regional Court upheld the sentence.
LATEST NEWS (DECEMBER 2019): Pastor Bakhrom was released from prison three months early, on 18 December.
On 10 April 2017, National Security Committee (NSC) secret police raided Pastor Bakhrom Kholmatov's church and found song books and Christian literature. They reportedly harassed and beat church members. The police summoned Pastor Bakhrom for questioning and then arrested him and charged him with criminal charges related to extremism.
Officials claimed that Christian songs found on his computer and the book More Than a Carpenter by Josh McDowell are "extremist materials". They alleged that religious "experts" recognised the songs Praise God, O Unbelieving Country, Army of Christ and Our Battle is Not Against Blood and Flesh as "extremist and calling people to overthrow the government".
Local Christians believe the secret police used the songs and literature against Pastor Bakhrom because they could not find anything illegal in the church. In Tajikistan, religious literature must undergo state censorship before it can be printed or imported and distributed, and anyone who violates this is liable to punishment.
As in other countries in Central Asia, Tajik officials often use accusations of extremism against unregistered churches and also to put pressure on registered churches to cooperate with the state. Sunmin Sunbogym Church was officially registered with the State Committee for Religious Affairs in 1993 as a "missionary centre", and under the terms of 2009's Religion Law, which required all registered religious communities to re-register, it re-registered on 23 October 2009. Affiliated congregations in the church network are also registered.
People close to the pastor have suggested he was arrested because the authorities want the building owned by his church. Several months before the raid, the pastor was called to a meeting and asked to sign documents transferring the building to someone else, but he refused. There were rumours in the past that some officials wanted to expropriate enterprises linked to the church – members of the network had built a modern hospital in the city of Buston, operated gyms teaching taekwondo and ran a secondary school. Church members reported that during interrogations after the raid they were told, "The purpose of conducting inspections is the closure of churches in Tajikistan and the confiscation of their property."
After Pastor Bakhrom's arrest he was held in secret police custody before being transferred to the Investigation Prison in Istaravshan, 80 km from his home in Khujand. He remained there until after his appeal hearing, and in October 2017 was moved to Yavan Prison in the southern Khatlon Region, 360 km from home.
Forum 18, a human rights organisation that promotes religious freedom, reports that in February 2017 the NSC, along with other law enforcement agencies and the State Committee for Religious Affairs, raided affiliated churches in the Soghd region, and that in March 2017 officials closed down an affiliated church in Konibodom, 80km east of Khujand, after interrogating and torturing church members. NSC officers also pressurised employers into dismissing members of Konibodom's congregation from their jobs.
Family
Pastor Bakhrom and his wife Gulnora have two sons, Firdavs (22) and Firus (20), and a daughter, Gulnoza (15). Officials have threatened members of the family and church, telling them to remain silent about the case, the court and the prisoner's condition. Gulnora was only allowed three visits to Bakhrom in 2018, in April, August and November. She has suffered from exhaustion, stress and high blood pressure due to her husband's imprisonment.
Bakhrom is from a Muslim background, and his mother and other relatives have stated that he should have remained Muslim and then he would not have ended up in prison.
TIMELINE
February 2017 Tajikistan's National Security Committee, along with other law enforcement agencies and the State Committee for Religious Affairs, raided churches in the Soghd region affiliated to Sunmin Sunbogym Church.
March 2017 Officials raided and closed down an affiliated church in Konibodom in Soghd.
10 April 2017 NSC secret police raided Sunmin Sunbogym Church and arrested Pastor Bakhrom Kholmatov. They charged him with extremism and imprisoned him.
July 2017 In early July, Pastor Bakhrom was sentenced to three years in prison for "singing extremist songs in church and so inciting religious hatred".
18 August 2017 Soghd Regional Court upheld Pastor Bakhrom's three-year sentence.
October 2017 Pastor Bakhrom was moved to Yavan Prison in the southern Khatlon Region, about 360 kilometres from Khujand. He was put in solitary confinement, which the authorities say is in accordance with the normal procedure in the Code on Execution of Punishments: Article 77 Part 2 states that convicts are placed in solitary confinement for 15 days before being released into the main prison. Members of his church say he will be allowed to receive parcels and visits from his family, and that he has his Bible with him and is allowed to read it.
November 2017 On 29 November, local Protestants – who asked not to be named for fear of state reprisals – told Forum 18 that Pastor Bakhrom will not appeal further against his sentence. They confirmed that his relatives are able to visit him in prison and give him food and clothes.
January 2018 Pastor Bakhrom's wife Gulnora fell ill at the prison, on her way to visit her husband. She was taken to a local hospital, where doctors diagnosed a hypertension crisis, and was later transferred to a hospital nearer home. Gulnora began suffering from high blood pressure when her husband was arrested. 
November 2018 Gulnora visited her husband in Yavan prison and reported, "Bakhrom is feeling well both physically and morally. He is aware that letters of encouragement to him from Christians from all over the world keep arriving, but the [prison authorities] do not give him letters."
December 2018 Forum 18 News Service reported that the head of  Yavan prison said Bakhrom "is a good guy, has exemplary behaviour, and there are no problems in the prison," and that the authorities had agreed to start letting him have his post. 
27 May 2019 A Tajik Christian who wishes to remain unnamed for fear of state reprisals told Forum 18 News Service that Pastor Bakhrom "was visited in prison recently, and is seemingly doing fine".
18 December 2019 Pastor Bakhrom was released from prison three months early. He was not due for release until March 2020.
(Forum 18, Open Doors, Release International, Voice of the Martyrs, World Watch Monitor)