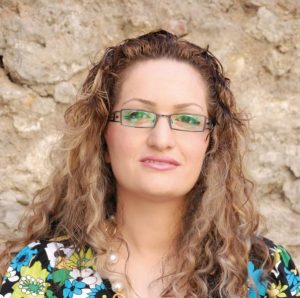 Maryam Naghash Zargaran (38) is an Iranian house church member who was arrested in January 2013 and charged with "propaganda against the Islamic regime". In July 2013, she was sentenced to four years' imprisonment.
LATEST NEWS (AUGUST 2017): Maryam was released from Evin prison on 1 August.
Maryam, also known as Nasim, is a convert from Islam who was involved in Pastor Saeed Abedini's orphanage project. She suffers from many serious health problems, notably heart disease, which has been exacerbated by the stress of prison conditions. Maryam underwent cardiovascular surgery in 2004 for atrial septal defect and had a heart attack in prison in September 2013.
During her imprisonment, Maryam has suffered from lumbar disc disease, arthritis, osteoporosis, anaemia, diabetes and high cholesterol, and has been denied adequate treatment. She has also suffered from depression during her imprisonment, and has been taking medication.
Family
Maryam's parents are elderly, and she is not married. Her family was harassed when she was first summoned to the intelligence office in February 2011, and had to supply the title deeds of the family home to bail her in 2013. For months, Maryam was denied the right to visits from her brother and sister.
TIMELINE
February 2011 Maryam was summoned to the intelligence office and interrogated over her involvement in house church activities.
January 2013 Maryam was summoned again to the intelligence office, arrested and charged with "conducting propaganda against the Islamic regime and acting against the national security". On the same day, security agents raided her home in Tehran and took her Christian books, computer and other belongings. After 22 days in detention, during which she was interrogated about the house church, Maryam was temporarily released on bail.
July 2013 A Revolutionary Court found Maryam guilty of waging an "anti-security agenda to spread Christianity in Iran in order to pervert Iranian society from the way of truth" and sentenced her to four years' imprisonment. The bases for the charge against her were stated as: converting from Islam to Christianity; active membership of an Assemblies of God church; establishment of a house church to attract youth to Christianity; contact with foreign Christian ministries for evangelism in Iran; and travelling to Turkey to attend Christian conferences. Maryam's sentence was approved in the appeals court and she was summoned to Evin prison on 15 July 2013 to serve her sentence.
29 September 2013 Maryam had a heart attack and was brought to Modares hospital for treatment.
November 2014 Maryam was granted four days' leave from prison, but on her return was strip-searched and sexually assaulted by female prison guards. Reports said this harassment was mentally damaging to her.
June 2015 The Ministry of Intelligence announced that it had been unaware of Maryam's case being processed in the judicial system, and stated that it took full responsibility for the case and would begin a review soon.
October 2015 Maryam was granted medical leave beginning on October 27, but after a few days was ordered back to prison mid-treatment because Tehran's Attorney General refused to extend her leave permit. The prison doctor had prescribed that Maryam be hospitalised for five days and receive physiotherapy.
26 May 2016 Maryam began a hunger strike to protest against the lack of adequate medical treatment. She refused liquids as well as solids, and would not allow prison medical staff to give her serum. During the spring, she had developed nausea and pain in her head and ears, suffered severe weight loss and was in desperate need of hospital treatment.
29 May 2016 Fellow prisoners on the women's political ward in Evin prison became so concerned for Maryam that they forewent Sunday visits in an act of solidarity. (Sunday is family visiting day.)
30 May 2016 Maryam was briefly taken to hospital, critically ill and reported to be unconscious. She was returned to prison without treatment, and began to drink water.
6 June 2016 Maryam was granted medical leave and taken to hospital, on deposit of a bond of 350 million toman (€105,000). Her sister Naeemeh said Maryam had lost a lot of weight and much of her hair, and could not walk unaided.
19 June 2016 Maryam was ordered to return to prison. As she was not well enough, her mother Zahra Pour-Nouhi Langroudi went to court in Tehran to seek an extension to her medical leave (the doctor's strong advice was that Maryam follow through the complete treatment). The prosecutor's office refused and threatened to retain the bond. On 27 June, members of Maryam's family escorted her back to Evin Prison.
5 July 2016 Maryam began another hunger strike, seeking immediate and unconditional release in view of the inadequate treatment of her health issues. Prison medical staff said her blood pressure was very low, that she had pains and numbness in her feet and that she was suffering psychologically as a consequence of her imprisonment.
20 July 2016 Prison officials examined Maryam and provided a medical report confirming the seriousness of her condition, but a court denied her demand for release, at the request of the Iranian Ministry of Intelligence.
31 July 2016 Maryam ended her hunger strike after prison authorities promised a fairer handling of her case.
August 2016 Prison authorities allowed Maryam to go home to receive medical treatment at the end of August. She had to return to Evin prison on 17 September.
6 December 2016 On returning to prison after a five-day medical leave, Maryam was informed that her prison sentence had been extended by 42 days to make up for time spent outside prison on medical leave.
24 March 2017 Mohabat news reported that Maryam's health had deteriorated during the previous week, that she was losing more weight and that she was in urgent need of specialist medical care.
1 August 2017 Maryam was released from prison.
Read more about the persecution of Christians in Iran.
(Elam, Middle East Concern, Mohabat News, Release International, Religious Liberty Prayer Bulletin)