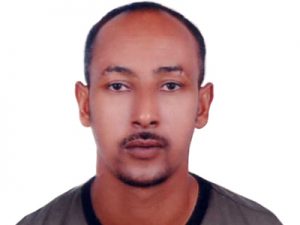 Mussie Eyob (40) is an Eritrean Christian who was arrested in Saudi Arabia in February 2011 for preaching outside a mosque in Jeddah. He was deported to Eritrea in November 2011 and has been in prison since then.
LATEST NEWS (FEBRUARY 2021): Mussie was released from Mai Serwa prison on 1 February, one of 64 Christians released from Mai Serwa and Adi Abeito prisons, both near Asmara, on the same day.
Mussie became a Christian in 2008. In 2011, while living in Saudi Arabia, he decided to preach the gospel, starting at the Eritrean Embassy. After three days he went to the local mosque (in Jeddah's Haya Roda district) to talk to the attendants about Christianity. On 12 February, he was arrested for preaching to Muslims (a capital offence in Saudi Arabia) and imprisoned.
The authorities were concerned that Mussie might be mentally ill and had psychiatric tests performed fifteen days after his arrest. Doctors confirmed his sanity and declared him fit for trial and sentencing. Mussie was transferred to the high-security Briman prison.
Following appeals from human rights groups and individuals, the Saudi authorities decided on deportation instead of execution. They transferred Mussie to a deportation centre on 10 July 2011 while arrangements were made to return him to Eritrea. (The organisation Release Eritrea, which led the campaign for Mussie's release, had suggested that he choose deportation to Ethiopia, but he chose to return to Eritrea.) At the beginning of November 2011, he was repatriated.
On arrival at Asmara airport, he was taken by Eritrean security and imprisoned. For a long time, nobody knew where he was being held, but eventually news emerged that he was in Me'etr prison camp in the remote northwest. Me'etr prison was opened in 2007 to house Christians arrested for their faith, and is run like a labour camp, with prisoners forced to work very hard. Food is inadequate and the climate is harsh (extremely hot and dry most of the year, with sandstorms from the desert). Mussie is currently in Mai Serwa prison in the suburbs of Asmara, where conditions are said to be better. Twen Theodros, Aklilu Desbele and several other Christians are also in Mai Serwa.
Family
Members of Mussie's family were able to visit him in Briman prison in Saudi Arabia on 20 March 2011. They were very concerned for his welfare and found that he had lost weight but was in relatively good spirits. He told them he was ready to die for his faith in Christ. Before his arrest Mussie supported his mother and sister, and it was reported that when he was in Me'etr prison he tried to help prisoners who were sick and weak.
Read more about the persecution of Christians in Eritrea.
(Release Eritrea, Release International)