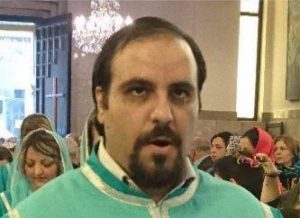 Sevada Aghasar is an Armenian Orthodox Christian who was imprisoned in Iran in July 2017 because of his Christian activities, notably his contacts with Christian converts from Islam. Sevada is serving a five-year sentence in Tehran's Evin Prison.
Sevada is a well-known musician and Christian songwriter and a member of the Armenian Orthodox church in Majidiyeh, a suburb of Tehran. Although he is a member of one of the historic, permitted churches, the authorities became suspicious that he was promoting Christianity through Facebook and that he was in contact with Christian converts from Islam, thus acting against national security.
"His crime," according to Farsi Christian News Network, "is witnessing to fellow Iranians and leading them to Jesus as well as teaching them to follow Jesus's teachings."
In August 2013, security officers arrested Sevada with his friends Ebrahim Firouzi (currently serving a five-year prison sentence) and Masoud Mirzaei, both converts from Islam, at Masoud's insurance office in Karaj, 50 km west of Tehran. Sevada and Ebrahim had gone to visit Masoud for Ebrahim to say goodbye before he was due to report to prison to begin serving a previous, one-year sentence. The security officers then went to Masoud's home, searched it and confiscated belongings including a computer.
Sevada, who is single, was able to contact his family briefly before being incarcerated in Evin Prison, where he was held until his release on bail in March 2014. (Masoud was also released.) A year later, Sevada appeared in court charged with "action against national security through collusion and gathering". He was sentenced to five years in prison but freed on bail pending an appeal. In July 2017, he was summoned to Evin Prison to begin serving his sentence.
Previous harassment
In 2012, Sevada was one of fifty Christians briefly detained and interrogated at a Christmas celebration at which most of the attendees were converts from Islam. Two of those present, Pastor Vruir Avanessian and Mostafa Bordbar, were taken away and imprisoned. The authorities searched Sevada's home, seized belongings and interrogated him in connection with the arrest of Mostafa, who was a convert from Islam.
Pastor Vruir, an Armenian, was sentenced to three years in prison. Mostafa was sentenced to ten years in prison but was acquitted and released after eleven months in prison.
Historic churches
While the government sees house churches as a major threat, being mainly composed of converts from Islam, the security organisations also observe members of the historic, permitted Armenian and Assyrian churches. These churches are not allowed to accept converts and their services must be conducted in the Armenian or Assyrian languages, not Farsi (Persian, the official language of Iran). They are not allowed to use or publish Bibles or other Christian books in Farsi. Mohabat News reports that spies inform the security organisations about the activities of the historic churches all over Iran.
Timeline
21 August 2013 Security guards arrested Sevada with Ebrahim Firouzi and Masoud Mirzaei at Masoud's insurance office in Karaj. Sevada was imprisoned in ward 350 of Evin Prison in Tehran.
2 March 2014 He was temporarily released on a very heavy bail.
8 March 2015 Sevada was tried in Branch 28 of the Islamic Revolutionary Court of Tehran. His trial followed immediately after Ebrahim Firouzi's, and like Ebrahim he was charged with "action against national security through collusion and gathering". Judge Maghiseh sentenced him to five years in prison but freed him on bail pending an appeal.
4 July 2017 Sevada was summoned to prison to begin serving his five-year sentence. He is in the 7th ward of Evin Prison.
Read more about the persecution of Christians in Iran.
(Farsi Christian News Network/International Christian Concern/Mohabat News)