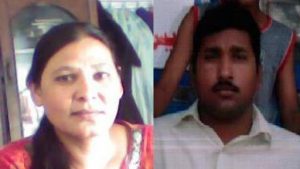 Shagufta Kausar (52) and Shafqat Emmanuel (49), a Pakistani married couple, were sentenced to death for blasphemy in April 2014 after Shagufta allegedly sent blasphemous text messages to a local cleric and a lawyer. Their appeal hearing was postponed repeatedly but they were eventually acquitted by the Pakistan High Court on 3 June 2021 and reunited with their children in a safe place.
LATEST NEWS (AUGUST 2021): In mid-August, Shagufta and Shafqat arrived to an undisclosed European country that has granted them and their family asylum. They had been released from prison in July following their acquittal of blasphemy by the Pakistan High Court on 3 June.
Shafqat is paralysed from the waist down, having fractured his spine in an accident in 2004. He has spent months in hospital because of extremely painful bedsores all over his body. Shagufta and Shafqat lived with their children in a church compound in Gojra, Punjab Province, and she supported the family by working as a cleaner. They are being held in different prisons about 250 km apart and have not seen each other since 2014: Shafqat is in Faisalabad District Jail, while Shagufta is in Multan Jail, where Asia Bibi was imprisoned – during the last phase of Asia's detention, they were cell neighbours. Shagufta and Shafqat are both reported to be suffering from depression. Their four children, who are being cared for by their paternal aunt, are unable to visit for safety reasons.
The case began in June 2013, when Muslim cleric Muhammad Hussain said he was leading prayers at a Gojra mosque when he received a blasphemous text from a phone allegedly registered in Shagufta's name. He said he showed the text to other clerics and then approached his lawyer. He and the lawyer claimed they both received further inflammatory messages, written in English.
Shagufta and Shafqat were arrested and charged with "insulting the Qur'an" and "insulting the Prophet". The couple's lawyer Nadeem Hassan said that to appease mobs led by Islamist clerics, the police tortured Shafqat into confessing before a judicial magistrate that he had sent the messages, but that he retracted his statement when lawyers requested the session judge to record his statement again. Shafqat told lawyers that the police tortured him in front of his wife and children and threatened to torture his wife if he did not confess. He said, "To save my wife, I confessed."
Shagufta said a friend of complainant Muhammad Hussain colluded with him to steal Shagufta's National Identity Card, used it to buy a SIM card in her name and used that to send the texts that would implicate the couple. Shagufta and Shafqat stated that Muhammad Hussain's motive was revenge after a minor quarrel between their children and their neighbours six months previously.
The messages were written in English, but Shagufta and Shafqat have said they could not have written the texts because they are illiterate. They are unable to write proper Urdu, let alone English.
Local police registered a blasphemy case against the couple on the complaint of Muhammad Hussain and lawyer Anwar Mansoor Goraya. Gojra City Police arrested Shagufta and Shafqat on 21 July 2013 and charged them with blasphemy under Sections 295-B (insulting the Koran, punishable by life imprisonment) and 295-C (insulting Mohammad, punishable by death). On 4 April 2014, a sessions court in Toba Tek Singh, Punjab Province, sentenced them to death.
Throughout the trial, the complainants' lawyers intimidated the judge by repeatedly proclaiming Quranic references calling for death to blasphemers. Nadeem Hassan said, "Judge Mian Amir Habib was clearly intimidated by advocate Touqir Ashraf and some other Islamist lawyers from Lahore who were representing the complainants. These men kept pressuring the judge during the entire trial, which was conducted in prison due to fears for the couple's security."
Farrukh Saif of the Farrukh Saif Foundation, an NGO involved in defending the couple, said: "There was no evidence that the text messages came from a phone owned by the couple. In the first place they had lost the phone some months before July 2013 and secondly there was no SIM card in their names."
Lawyer Nadeem Hassan said, "The police failed to recover the SIM allegedly registered in Shagufta's name from the couple's possession… Shagufta had told the police that her mobile phone had been lost for a month, and that she did not know who might have sent the alleged messages."
The couple's case has been taken up by Saiful Malook, the lawyer who secured Asia Bibi's acquittal in October 2018.
Appeal
Shagufta and Shafqat appealed to Lahore High Court on the grounds that the witnesses produced by the prosecution during the trial were related to the complainant and were therefore inimical towards the couple. The appeal stated: "Their statements require independent corroboration, which is lacking in this case."
They also appealed on the basis that there is no evidence that they purchased the SIM and that as they are both illiterate they could not have sent the messages, which were written in English. Their appeal hearing has been postponed repeatedly.
Family
Shagufta and Shafqat have four children, Zain (15), Danish (12), Joshua (10) and Sarah (9). The family lived in Gojra until the time of the blasphemy allegation, but for security reasons the children had to be moved to Toba Tek Singh after huge protests over the incident. They are now being cared for by their paternal aunt.
TIMELINE
18 June 2013 Blasphemous text messages were sent to a cleric and a lawyer from a phone allegedly registered in Shagufta Kausar's name.
21 July 2013 Shagufta and her husband Shafqat Emmanuel were arrested and charged with blasphemy.
4 April 2014 A sessions court in Toba Tek Singh, Punjab Province, sentenced Shagufta and Shafqat to death.
6 February 2016 Shafqat filed a petition in the Lahore High Court for bail, pleading: "I have developed bedsores and I may die in jail." He also said, "There are serious contradictions in witness accounts against me and my wife and we are hopeful of an acquittal on our appeal."
May 2019 Asia Bibi's lawyer Saiful Malook, who has taken up the couple's case, stated: "They did not get a fair trial. They are innocent." He visited Shagufta in April and reported, "Shagufta needs help from the world, she is constantly weeping that she cannot spend any more time there. And Shafqat is disabled on the bed, he can't move. The latest doctor's report indicates that his whole back is almost destroyed from the bed sores. He may die in prison."
June 2019 Lahore High Court set 25 June 2019 as the appeal hearing date for Shagufta and Shafqat.
March 2020 It was reported that a final verdict in the couple's case was expected to be read by the Lahore High Court on 8 April 2020. Shagufta and Shafqat's new defence lawyer Khalil Tahir Sandhu said he was "confident" of a positive outcome because "there is no clear evidence against the two of them". On 20 February, a judge reportedly ordered a fresh probe into what he called "dubious evidence" used to sentence them to death on blasphemy charges.
8 April 2020 Shagufta and Shafqat's appeal verdict was due to be read out by Lahore High Court but was postponed due to the Covid-19 crisis. No new date was given.
3 June 2020 Shagufta and Shafqat's appeal hearing, which had been rescheduled for 3 June, was postponed until 22 June 2020.
22 June 2020 Shagufta and Shafqat's appeal hearing was postponed again and rescheduled for 10 September 2020.
10 September 2020 The appeal hearing was adjourned because one of the two panel judges failed to appear. It was rescheduled for 24 September.
24 September 2020 Shagufta and Shafqat's case was called but the judges said they would hear the case the following week, without giving any reason for the postponement.
29 September 2020 A new date of 22 October 2020 was set for the appeal hearing.
17 October 2020 Lawyer Saiful Malook tweeted that the hearing was to be rescheduled because the bench was not available for 22 October.
21 October 2020 Saiful Malook tweeted that the hearing was rescheduled for 4 November 2020.
14 December 2020 Saiful Malook tweeted that the hearing, due to be held on 16 December, was to be rescheduled.
22 January 2021 The hearing was rescheduled for 15 February at Lahore High Court.
15 February 2021 The scheduled hearing was adjourned. A new date of 4 March was set.
8 March 2021 Saiful Malook tweeted that the appeal "is ordered to be heard on second week of April".
15 April 2021 Shagufta and Shafqat's appeal, scheduled to be heard on 15 April, was postponed because of an increase in Covid-19 cases. Amnesty International recently reported that Shafqat's health is rapidly deteriorating. His lawyer says he has multiple bed sores that are not being given adequate treatment and are increasingly painful. Shafqat was in a coma for three days in March, according to his family, but was not taken to the prison hospital.
3 June 2021 Shagufta and Shafqat were acquitted of blasphemy charges by the Pakistan High Court.
July 2021 Shagufta and Shafqat were released from prison and joined their children at a safe place.
August 2021 In mid-August, Shagufta and Shafqat arrived to an undisclosed European country that has granted them and their family asylum.
Read about Pakistan's blasphemy laws. Read more about the persecution of Christians in Pakistan.
(Barnabas Fund, Centre for Legal Aid, Assistance and Settlement, Christians in Pakistan, Christian Today, Deccan Chronicle, Farrukh Saif Foundation, Fox News, International Christian Concern, Morning Star News, British Pakistani Christians, Reuters, World Watch Monitor)