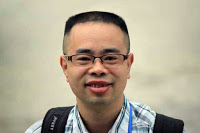 Chinese pastor Yang Hua (44) was detained in December 2015, when he resisted police attempts to confiscate a computer hard drive during a raid on Huoshi "Living Stone" Church, Guizhou province. In January 2017 he was sentenced to two years and six months in prison for "divulging state secrets". He was released on 19 June 2018 after completing his sentence
LATEST NEWS (MAY 2021) On 23 May, after learning that Yang Hua planned to visit Christians in Qingdao, Shandong province, Chinese Communist Party police brutally beat and critically injured him. The authorities then sent him to A&E by ambulance. 
Pastor Yang's birth name is Li Guozi, but he often uses the pseudonym Yang Hua, which means "looking up to Jehovah". In 2009, he co-founded Living Stone Church in Guiyang, capital of China's southwest Guizhou Province, and leads it with Pastor Su Tianfu, who was under house arrest while Pastor Yang was in prison. In recent years, Living Stone Church – a large unregistered house church – has come under severe pressure from the authorities.
Pastor Yang's charge of "divulging state secrets" refers to the allegation that he posted on the internet a confidential government document containing plans to establish a headquarters to persecute Living Stone Church. Titled "The commanding and control centre of Guiyang City to deal with Living Stone Church according to the law", it was issued in early December 2015 by Guiyang City's Peacekeeping Stability Work Leading Group.
The notice stated: "Dealing with the Living Stone Church according to the law is a high-priority political task. Work unit leaders must personally grasp the issue, join the city's overall deployments, and earnestly mobilise to carry the work out to completion… Disposal of the Living Stone Church is a political task."
Huoshi "Living Stone" Church
Living Stone Church is Guiyang's largest house church. It was founded in 2009 with about twenty Christians meeting in an apartment, and grew rapidly. By 2013 it had about 400 members, and now it has about 700 members, including students, businesspeople, bankers, government officials, rights activists and lawyers. They are involved in various welfare projects supporting orphans, people with disabilities and the elderly.
The authorities have pressurised the church to join the government-sanctioned Three-Self Patriotic Movement, but it has resisted and some members have provided advice and support to other churches facing pressure from the authorities. Local government officers have raided services on many occasions and have filmed meetings, confiscated church property and detained some of the Christians, including Pastor Su Tianfu.
In 2014, the church grew too big for its buildings and bought a larger venue. The authorities pressurised the church not to hold an opening ceremony, threatening to arrest all attendees and issuing a notice outlawing Living Stone's religious activities. The opening ceremony went ahead.
In October 2015, the authorities began to fine the church for "illegal gatherings". When Pastor Yang was detained, in December 2015, the authorities announced a ban on Living Stone Church. Its place of worship, a 600 square metre office space on the 24th floor of a new office building in central Guiyang, was sealed and guarded by security personnel hired by the local authorities.
For some time the church met in three locations, but the government closed them all and members now meet in small home groups. The police have pressurised landlords to revoke leases several times, forcing small groups to find other venues, and members have been followed, interrogated and warned not to rejoin small groups.
Another of Living Stone's leaders, Zhang Xiuhong, was arrested in July 2015 and sentenced in February 2017 to five years' imprisonment for "illegal business operations". She was chair of the Board of Deacons and church accountant. Zhang was released in August 2017, following an appeal.
Family
Pastor Yang and his wife Wang Hongwu have two sons, Mu'en and Xiangen. While he was in prison, Pastor Yang  reported that government prosecutors threatened the lives of his wife and children, as well as his own life. Pastor Yang's father spent time in jail in the late 1960s, during the Cultural Revolution, because of his Christian faith.
TIMELINE
9 December 2015 Pastor Yang was detained during a raid on Living Stone church. The next day, he received two consecutive five-day administrative detention sentences for "the crime of obstructing justice" and "gathering a crowd to disturb public order".
20 December 2015 On the day Pastor Yang was due to be released, Wang Hongwu arrived at the detention centre to collect him but saw him being put into an unlicensed vehicle, wearing a black hood. She received an official notice stating that her husband had been transferred to criminal detention on suspicion of "illegally holding state secrets". For more than a month, officials held him incommunicado.
22 January 2016 The authorities announced Pastor Yang's official arrest. The authorities changed the charge to the more severe "deliberately divulging state secrets". The Chinese government frequently imposes this charge on pastors who oppose restrictions to religious practice.
11 May 2016 Pastor Yang testified to his lawyers Chen Jiangang and Zhao Yonglin about abusive treatment he had received in prison. They filed a lawsuit against the authorities in Guizhou province. Documents from the lawsuit allege that officers tortured Pastor Yang and record his description of interrogations on 16 March and 15 April during which prosecutors threatened his life and family.
26 December 2016 Guiyang Nanming District Court opened Pastor Yang's trial. The case was tried in secret; the prosecutor said this was on the grounds that it involved state secrets.
5 January 2017 The court announced that it had sentenced Pastor Yang to two years and six months in prison.
March 2017 Pastor Yang Hua became critically ill with Henoch-Schonlein Purpura, a blood vessel disorder. His legs became swollen and badly ulcerated, and doctors said he might need a double amputation and was at risk of developing sepsis and other serious complications. His lawyers sought medical bail. He was eventually permitted to go to hospital, where a doctor said his condition was critical. Officials temporarily transferred him to another prison, where he recuperated.
April 2017  Yang Hua's wife, Wang Hongwu, visited him in prison and reported that his health was "a little better". He was still unable to walk following severe inflammation of the blood vessels in his legs. She remained concerned for his health and particularly about the prospect of him being transferred to another prison in a couple of months, as he was receiving care in his current prison, including help from fellow-prisoners.
May 2017 Pastor Yang and his co-pastor Su Tianfu were notified that they were being fined 7 million yuan (€911,000), an amount officials claimed the church had received as "illegal income" but which in fact comprised donations to the church from its members.
10 October 2017 Pastor Yang filed a lawsuit against the Nanming District Religious Affairs Bureau and the Guiyang Municipal Ethnic and Religious Committee, claiming that his religious freedom had been violated and that a fine had been wrongly imposed on him. He and Pastor Su Tianfu say church members donated their money voluntarily to the church and argue that it was the church's income, not the pastors', so there are no grounds for administrative action. They applied for a court hearing to contest the case but their request was denied.
January 2018 Baiyun District Court delivered a final verdict that the pastors must pay the fine. On 19 January, church members reported that the authorities had begun the process of confiscating church property. On 23 January, the authorities hired an assessment company that ruled that the church's total property, including three sites and items inside the church building, was worth 5.36 million yuan. Baiyun District Court granted the company permission to auction the property.
11 February 2018 Pastor Su Tianfu received a notice from Baiyun District Court stating that the Nanming District Religious Affairs Bureau had demanded that he pay the fine. The same day, the church property was sold to the state-owned Nanming Investment Group for 5.12 million yuan.
19 June 2018 Pastor Yang was released from prison after completing his sentence. On his release, his wife reported that he broke out into loud worship songs. Friends said he was in urgent need of medical care for several unspecified health problems.
4 August 2019 Huoshi Church was raided again and Pastor Yang and co-pastor Su Tianfu were detained for interrogation. A meeting of the church at another location had been raided on 31 July. 
23 May 2021 After learning that Pastor Yang planned to visit Christians in Qingdao, Shandong province, Chinese Communist Party police brutally beat and critically injured him. The authorities then sent him to A&E by ambulance. 
Read more about the persecution of Christians in China.
(China Aid, China Change, Release International, Voice of the Martyrs)