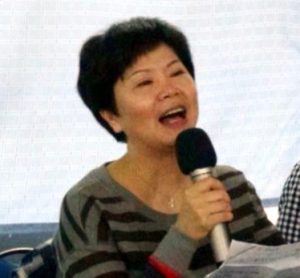 Chinese Christian Zhang Xiuhong was chair of the board of deacons and church accountant at Huoshi "Living Stone" Church. She was detained in July 2015 after allegedly using a cash register in her beauty shop to attempt to withdraw church funds. In February 2017, she was sentenced to five years in prison for "illegal business operations". 
LATEST NEWS (AUGUST 2017): Zhang was released from prison following appeal.
Despite the charge against Zhang, her interrogators' questions mainly focused on the church, its pastors and other core members, rather than her business activities. Zhang claims that the authorities used the charge to target her on account of her religious beliefs.
In recent years, Living Stone Church – a large unregistered house church – has come under severe pressure from the authorities. In January 2017, one of its pastors, Yang Hua, was sentenced to two and a half years in prison for "divulging state secrets". He had been in detention since a raid on the church in December 2015.
 Huoshi "Living Stone" Church
Living Stone Church is the largest house church in Guiyang, capital of China's southwest Guizhou Province. It was founded in 2009, with about twenty Christians meeting in an apartment, and grew rapidly. By 2013 it had about 400 members, and now it has about 700 members, including students, businesspeople, bankers, government officials, rights activists and lawyers. They are involved in various welfare projects supporting orphans, people with disabilities and the elderly.
The authorities have pressurised the church to join the government-sanctioned Three-Self Patriotic Movement, but it has resisted and some members have provided advice and support to other churches facing pressure from the authorities. Local government officers have raided services on many occasions, and have filmed the gatherings, confiscated church property and detained some of the Christians, including Pastors Yang Hua and Su Tianfu.
In 2014, the church grew too big for its buildings and bought a larger venue. The authorities pressurised the church not to hold an opening ceremony, threatening to arrest all attendees and issuing a notice outlawing Living Stone's religious activities. The opening ceremony went ahead.
In October 2015, the authorities began to fine the church for "illegal gatherings". In December 2015, the authorities announced a ban on Living Stone Church. Its place of worship, a 600 square metre office space on the 24th floor of a new office building in central Guiyang, was sealed and guarded by security personnel hired by the local authorities.
For some time, the church met in three locations, but the government closed them all and members now meet in small home groups. The police have pressurised landlords to revoke leases several times, forcing small groups to find other venues, and members have been followed, interrogated and warned not to rejoin small groups.
Family
Zhang Xiuhong is married to Chen Zukai and they have two children (a son and an adopted daughter). Soon after Zhang's detention, Chen Zukai was detained near their home, when he returned from a walk with the children. He was taken into custody, leaving the children in the house with his 80-year-old mother. The house was raided and Zhang's computers, USB drives and hard drives were confiscated. Chen was interrogated for two days and then released.
TIMELINE
28 July 2015 Zhang Xiuhong was detained when, according to a church member identified only as Mr Luo, she was intercepted by police in a car park at the church building after leaving her car, which a police officer drove away. She was taken into police custody and held in detention for a year and a half until her trial.
August 2015 Officials froze the bank accounts of three church members. According to Pastor Su Tianfu, the authorities used Zhang's alleged offence as an excuse to freeze the accounts, claiming they were connected to her case.
1 September 2015 The Procuratorate formally arrested Zhang.
March 2016 Nanming District People's Court in Guiyang initiated trial preparation procedures.
August 2016 The authorities convened a pre-trial meeting with Zhang's lawyers to discuss issues related to the trial, but Zhang was not present.
23 January 2017 Zhang's trial began at Nanming District People's Court. Her lawyers Xiao Yunyang and Li Guisheng maintained her innocence and argued that the transaction was an invalid piece of evidence, since she did not benefit from it.
10 February 2017 The court sentenced Zhang Xiuhong to five years in prison.
17 February 2017 Zhang appealed her sentence. On appeal, the court reduced it to three years' incarceration with a five-year probation.
7 August 2017 The authorities released Zhang. During her five-year suspended sentence, she will not be able to travel freely and will have to report to the police station every week.
Read more about the persecution of Christians in China.
(China Aid, Christian Solidarity Worldwide)