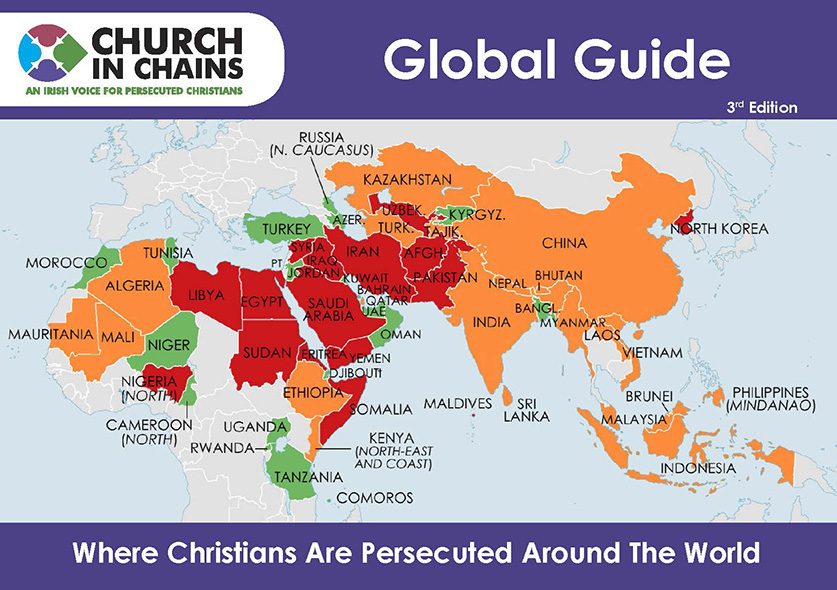 The Church in Chains Global Guide lists 60 countries where Christians face persecution because of their faith. The Global Guide divides the 60 countries into three colour-coded categories – severe (many or all Christians face persecution including imprisonment, torture, murder or violent mob attacks), significant (some, but not all, Christians face arrest, attack or serious restrictions) and limited (some churches or individuals face restriction or discrimination).
Email vasb@puhepuvapunvaf.vr with your name and postal address to receive a free copy (IRELAND & UK only).
Church in Chains is an independent Irish charity (CHY 15443) that encourages prayer and action in support of persecuted Christians worldwide, with a special focus on China, Egypt, Eritrea, India, Iran, Iraq, Nigeria, North Korea, Pakistan, Syria, Turkey and Uzbekistan.
Church in Chains is a member of Aontas, Evangelical Alliance Ireland, The Wheel, the Department of Foreign Affairs and Trade NGO Standing Committee on Human Rights and an associate member of the Religious Liberty Partnership. Read more …