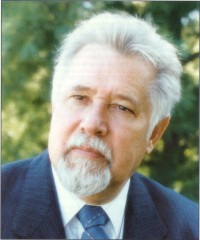 Church in Chains was previously known as Christian Concern for Freedom of Conscience (CCFC) and began in Dublin in the mid-1970s when a group of evangelical Christians joined together to campaign on behalf of Georgi Vins (pictured), a Russian Baptist pastor who had been sentenced to ten years' imprisonment for his Christian ministry. The campaign involved a protest march to the Soviet ambassador's residence, a petition and much organised prayer. After sustained international protests, Pastor Vins was released in 1979.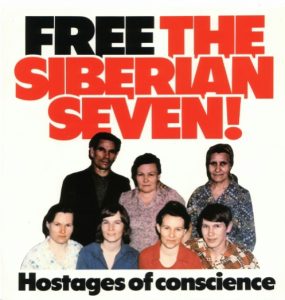 In 1981, CCFC was reactivated to campaign on behalf of The Siberian Seven (seven Pentecostal Christians who took refuge in the basement of the American Embassy in Moscow in a bid to emigrate from the Soviet Union). The Vashchenko and Chmykhalov families remained trapped there for five years and an international campaign supported their release. In Ireland, the campaign involved sending postcards to the Soviet Embassy, engaging the support of TDs, prayer meetings and protest marches. The Siberian Seven were finally allowed to leave the Soviet Union in 1983.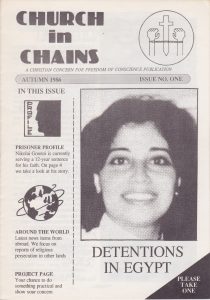 These two campaigns led to a greater awareness in Ireland of the plight of Christians in the Soviet Union and CCFC continued its work, highlighting the cases of three more prisoners, Anna Chertkova, Nikolai Goretoi and Galina Vilchinskaya, all of whom were released after some time. In 1986, CCFC produced the first issue of Church in Chains magazine (pictured) and began to publicise the cause of persecuted Christians in other countries. The work grew and in later years Church in Chains representatives visited persecuted Christians in the USSR, Kazakhstan, China, Egypt, Morocco and Mexico.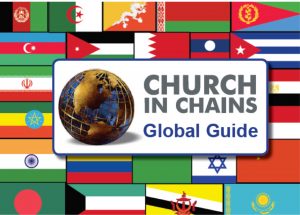 In 2008, the organisation changed its name to Church in Chains and introduced the current logo and strapline "An Irish Voice for Persecuted Christians". The name change coincided with the publication of the first edition of the Church in Chains Global Guide, giving an overview of the situation of the persecuted church in 52 countries. The second edition, published in 2014, covered 60 countries.