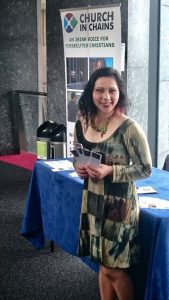 Our volunteers do a valuable job in keeping their groups/churches updated with the latest news and prayer points. We are always looking for more volunteers to support our cause. Depending on what time you have available, you could do any (or all) of the following:
You could begin by distributing Information Leaflets and Global Guides to anyone who wants to learn more.
You could distribute the quarterly Church in Chains magazine or the monthly Prayer Diary and interest others in supporting and praying for the persecuted church.
You could ask if you can use a notice board (or part of one) in your church building and keep it up-to-date with Church in Chains news items and posters.
Why not encourage your group/church leader to promote the Lent Prayer Project?
Or you can encourage your church leader to mark the International Day of Prayer for the Persecuted Church (in November).
You could pass on prayer points from our weekly news emails to whoever is in charge of intercessory prayer.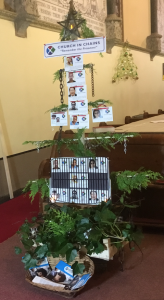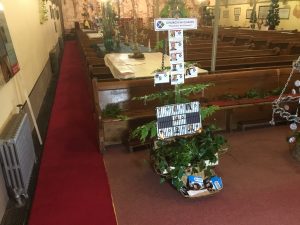 Our longterm supporter Joan and Roy Rohu had this really creative idea of a Church in Chains Christmas Tree for the Westport Christmas Tree Festival and decorated it with pictures of Christian prisoners. What a wonderful idea to  remember our suffering brothers and sisters also during the festive season!
If you have more time you could…
Run a prayer group
Organise fundraising events
Encourage your group/church to take part in postcard and letter writing campaigns
Give a short talk to the group/church
Contact the Church in Chains office if you are interested in volunteering for Church in Chains.