2018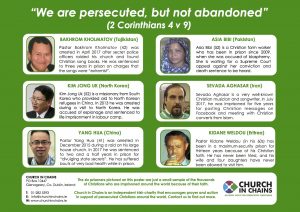 Each week during Lent, we ask our supporters to set aside time to pray for one of six Christians who are in prison because of their faith in Christ.
Church in Chains publishes a Prayer Profile which includes details of the prisoner's arrest and sentence, their family and church, latest news and prayer points. The Prayer Profile is available on this website, via our weekly email and on Facebook.
Prayer Profiles are also featured in the Spring issue of Church in Chains magazine and an A3 poster (pictured) showing the six prisoners is available for display. For more information on the prisoners featured in the 2018 Lent Prayer Project click here.
In previous years we prayed for the prisoners below:
2017
2016