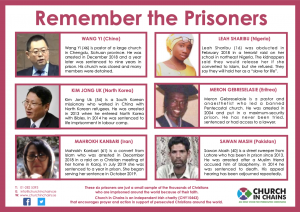 Each week during Lent, we ask our supporters to set aside time to pray for one of six Christians who are in prison because of their faith in Christ.
For each prisoner Church in Chains publishes a Prayer Profile which includes details of their arrest and sentence, their family and church, latest news and prayer points. The Prayer Profiles are available on this website, via our weekly email and on Facebook.
Prayer Profiles are also featured in the Spring issue of Church in Chains magazine and an A3 poster showing the six prisoners is available for display. You can order these by completing the form below or at info@churchinchains.ie.
We also produce a Junior Lent Prayer Project for Sunday schools, children's clubs and families. It contains a craft packing with a small poster featuring the same six prisoners and includes an age-appropriate version of their stories and a prayer for each one. You can either print out the PDF or order a printed pack at info@churchinchains.ie. Let's all share the importance of remembering the persecuted with the children in our lives!
Church in Chains will use the details given to keep you informed about our work. By providing us with your church details, you agree to us holding and using information about religious affiliations. We will never sell or share your data with third parties. You can view our Privacy Policy here.
In 2019 we prayed for the prisoners below: