Church in Chains is an independent Irish charity (CHY 15443) that encourages prayer and action in support of persecuted Christians worldwide, with a special focus on China, Egypt, Eritrea, India, Iran,  Nigeria, North Korea and Pakistan. It is a member of Aontas, Evangelical Alliance Ireland, The Wheel, the Department of Foreign Affairs  Committee on Human Rights and an associate member of the Religious Liberty Partnership.
Church in Chains raises awareness of the plight of persecuted Christians, encourages prayer and action on their behalf, advocates before governments and ambassadors and sends aid to help Christian victims of conflict (including those who have been forced from their homes by extremists), to support prisoners' families and to supply Bibles where they cannot otherwise be obtained.
Raising Awareness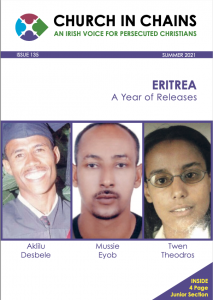 Church in Chains publishes the latest news in a quarterly magazine, weekly email, on Facebook, Twitter and Instagram and on this website. The Church in Chains Global Guide is a 48-page booklet that gives an overview of the persecution of Christians in 60 countries. Church in Chains brings presentations about the persecuted church to churches and other audiences (such as conferences, schools and youth groups), and takes part in media interviews. Also, Church in Chains runs an annual conference in September, featuring a guest speaker from the persecuted church.
Encouraging Prayer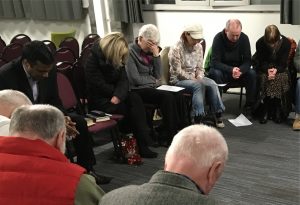 Church in Chains coordinates a network of prayer groups that meet monthly or quarterly. We organise a Lent Prayer Project for Christian prisoners and we provide resources for the annual International Day of Prayer for the Persecuted Church (in November). More information about prayer resources.
Taking Action

Church in Chains runs a Letter Writing Team with members who write to ambassadors, presidents and government officials to advocate on behalf of persecuted Christians. More information about the Letter-Writing Team. Church in Chains also organises petitions, postcard campaigns and occasional vigils during which supporters demonstrate at embassies on behalf of persecuted Christians.
Advocating for Justice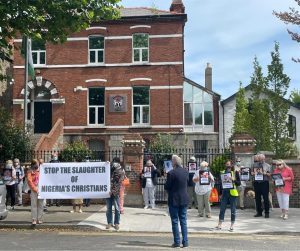 Church in Chains engages with embassies on behalf of individual victims of persecution or entire Christian communities. We also engage with TDs, Senators and Irish government officials to seek support for victims and to bring governments of persecuting countries to account. Read "Actions Speak Louder than Words" (a briefing prepared for the Oireachtas Joint Committee on Foreign Affairs about the persecution of Christians in China, Egypt, India, Iran, Nigeria and Pakistan in the context of their governments' international human rights commitments).
Sending Aid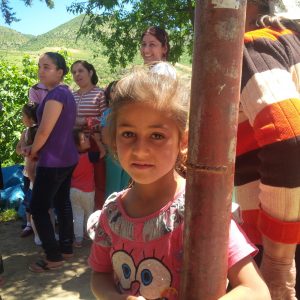 Church in Chains sends aid via international partners to families of prisoners and to Christians in poor circumstances because of their faith. Also, we support the provision of Bibles and Christian literature in countries where they cannot otherwise be obtained.