Christians are ill-treated, intimidated, bullied, discriminated against, unfairly accused and arrested, imprisoned, tortured or even killed in many countries. Persecution can come from within their own family or community and often it is a systematic hostility from political or religious institutions. It can be hard and overwhelming to know what to pray for persecuted Christians. Here are some Prayer Points to help to you intercede on their behalf:
Pray for Prisoners
For a strong faith and perseverance despite the difficult circumstances
For knowledge that God is present with them and they are not forgotten
For comfort, peace and hope from God
For fellowship with other Christian prisoners and their witness to prison guards
For justice to prevail
For their release
Pray for Prisoners' Families
For help with coping with loneliness and loss
For provision for the family with reduced income
For protection from psychological or emotional harm and bitterness
For a real and ongoing experience of God's love and care
For protection from attack
Pray for Prisoners who have been released
For the restoration of their lives
For return to full health – physical, emotional and spiritual
For healing from any trauma they have experienced
For blessing of the family relationships and bonding after absence
Pray for Christians experiencing Persecution
For protection and safety from attacks
For financial provision for families who are being discriminated against
For courage, sustenance and strength through the Holy Spirit
For support and encouragement via TV, Internet and Social Media
Against isolation
Prayer Groups
Prayer groups for the persecuted church regularly meet in Dublin City Centre, Corwillis, Dundalk, Galway, Greystones, Westport and Wexford and in the Midlands region (rotating between Athlone, Ballinasloe, Banagher, Birr, Longford, Mullingar, Roscommon and Tullamore). If there is no prayer group near where you live, you could start a new one! It could be held monthly, using Global Update emails; or quarterly, praying through the Church in Chains magazine. Our Praying leaflet contains some ideas for leading a prayer group – see Resources for Praying, below – and do contact the Church in Chains office for more information about attending a prayer group or starting a new one. Here are pictures from some of the existing prayer groups:

Galway Prayer Group at the Church in Chains conference (left) and at their regular meeting (right)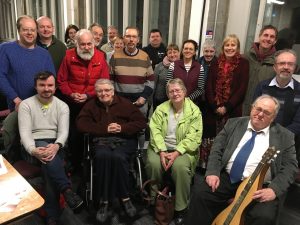 Dublin Prayer Group
Resources for Prayer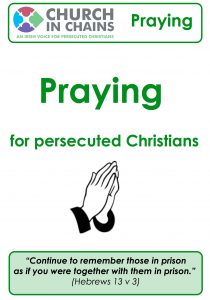 We provide several resources to help you pray for the persecuted church. You could use the prayer points in the quarterly Church in Chains magazine, sign up for weekly Global Update emails, follow us on Facebook or pray through the Church in Chains Global Guide or through the Prisoner Profiles on this website.
We publish a monthly Prayer Diary with prayer points for every day which is available for download here.
Click here to download our Praying leaflet, which contains Bible verses and suggestions for praying on your own, with your church or in a home group. It also contains some ideas for leading a prayer group.