Church in Chains provides several resources to help you pray for the persecuted church: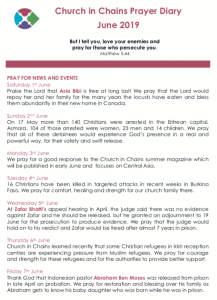 We publish a monthly Prayer Diary with prayer points for every day which is available for download in the sidebar of each page on our website.
Each month we begin with praying for news and events, then we move on to pray for two countries and finish with praying for individual prisoners. It is a really useful resource for you if you want to pray for the persecuted church on a daily basis! Below you can find issues from 2019:
June 2019 including prayer points for the Maldives and Nepal
May 2019 including prayer points for Turkmenistan and Yemen
April 2019 containing the second half of the Lent Prayer Project
March 2019 containing the first half and the Lent Prayer Project
February 2019 including prayer points for Somalia and Sri Lanka
January 2019 including prayer points for Kazakhstan and Sudan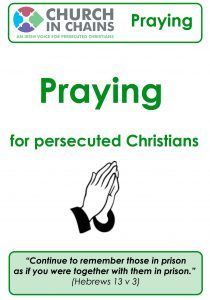 Or you can download our Praying leaflet here, which contains Bible verses and suggestions for praying on your own, with your church or in a home group. It also contains some ideas for leading a prayer group.
You can also use the prayer points in the quarterly Church in Chains magazine, sign up for weekly Global Update emails, follow us on Facebook or pray through the Church in Chains Global Guide or through the Prisoner Profiles on this website.