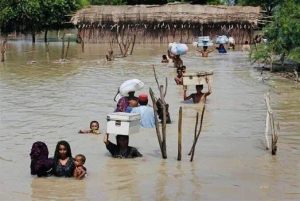 Floods caused by heavier than usual monsoon rains since June resulted in a third of Pakistan being under water by the end of August and leading to a national emergency. The situation began worsening in July but the government failed to respond accordingly and it has cost human lives, caused the destruction of millions of houses and fields as well as the loss of millions of livestock. According to reports, over 1,500 people have died, thousands are injured and millions of people are without clean water, food and shelter. As the water has started to recede people are slowly trying to rebuild their lives, but many families have lost everything and there is a high risk of water borne diseases such as cholera.
CLAAS, our partner in Pakistan, has received many requests from Christians from several areas for support as government and international aid has not reached them. In previous disasters, such as the floods of 2010/2011 and the COVID-19 pandemic, Christians were discriminated against and denied support from the government and some Muslim aid organisations due to their faith.
Our Response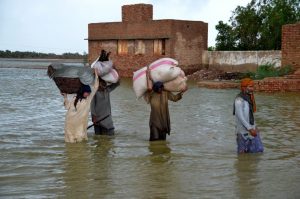 As CLAAS continued to receive requests from Christians, who have not received any help, they decided to initiate a relief programme and in turn reached out to Church in Chains to support them in their efforts. Church in Chains has committed €10,000 to help with the flood relief appeal and has sent an initial €5,000 with a further €5,000 to follow. The money will be used to provide urgently-needed water purification tablets, dry food (flour, rice, tea bags, lentils etc), clothing and blankets. CLAAS is planning to distribute emergency packs containing the most needed items and reach up to 1,000 Christian families.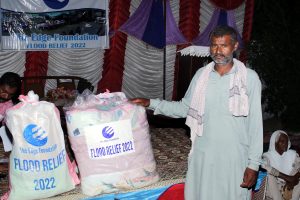 (AID UPDATE  13 OCTOBER 2022) Our partner has distributed 450 gift/relief packs which includes food pack and bedding to Christians in nine villages of southern Punjab and is moving on to another region. Each aid bag contains 4-5 packets of lentils, rice, sugar, ghee (cooking oil), spices, tea bags and flour.
Church in Chains has sent a total of €26,000 in support of the Flood Relief programme. The fund remains open for donations.
How You Can Help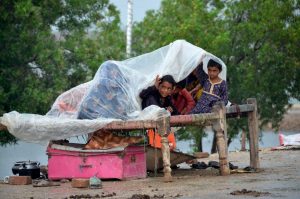 Please give, as you are able, to help our brothers and sisters in Pakistan who are in urgent need of emergency aid at this crucial time. Your gift will be sent, without any deduction, to our partner and allocated to those who are in greatest need.
Three ways to give
By bank transfer using online banking. Include the words FLOOD RELIEF in description (DON'T MENTION COUNTRY NAME). If you don't have our bank details, please send an email to info@churchinchains.ie
By post – send a gift to Church in Chains, PO Box 10447, Glenageary, Co. Dublin.
Please make cheques/postal money orders/bank drafts payable to Church in Chains. Sterling cheques are also welcome. Please include a note that indicates gift is for Flood Relief
By PayPal – click on button below to donate (Note: you don't need a PayPal account to donate by credit card)