Morocco has long been seen as moderate and progressive and King Mohammad VI, who is popular and respected, has shown an interest in human rights. After protests in 2011 linked to the Arab Spring, a revised constitution was introduced which diluted some of the king's powers and which was broadly welcomed.
Over 99% of Moroccan citizens are Sunni Muslims. Estimates of the number of expatriate Christians range from 5,000 to 25,000, and they are free to meet in government-recognised churches, as long as they do not engage in evangelism. The estimated 1,000 – 8,000 Moroccan Christians (the majority of whom are ethnic Berber) are not granted permission to meet, so they worship in secret house churches.
The constitution provides for freedom to practise one's religion, but Article 220 of the Moroccan Penal Code criminalises any attempt to induce a Muslim to convert to another religion. This includes distributing Christian literature and DVDs, and discussing the gospel with an intention to persuade. "Proselytism" is a crime punishable by imprisonment.
Moroccans who become Christians are often interrogated by police and placed under surveillance. They face harassment, ostracism and dismissal from employment. In April 2013, the Supreme Ulema Council (a body of Islamic scholars headed by King Mohammed VI) published a controversial fatwa stating that Muslims who leave Islam "should be condemned to death".
Crackdown 2010

A severe crackdown on Christians was launched in 2010, initiated by two government ministers (Justice Minister Mohammed Naciri and Interior Minister Tayeb Cherkaoui) who were appointed in January. The first major sign of this crackdown was a raid on a home group in February 2010, when 18 people including children were arrested and property was confiscated. Many other Moroccan Christians were subsequently taken in for police interrogation.
Foreign missionaries were expelled on the grounds of contravening the Penal Code regarding proselytism, or on grounds of "threat to public order". Several had been expelled in 2009, but between March and July 2010 some 128 foreign Christians were deported, many of them aid workers. A media campaign at the time vilified foreign Christians, and a Facebook campaign was initiated to target and endanger Moroccan Christians.
In April 2010, nearly 7,000 Muslim leaders signed a document describing the work of Christians in Morocco as "moral rape" and "religious terrorism".
(Barnabas Fund, Church in Chains Global Guide, Compass Direct, Middle East Concern)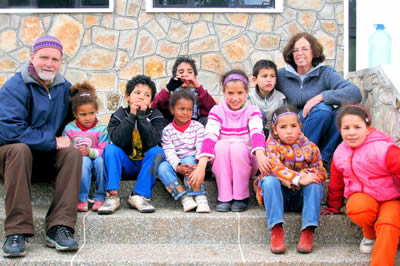 On 7 May the Administrative Court of Rabat delivered a verbal ruling in favour of the Moroccan government, which had deported Village of Hope staff members and their birth children in March 2010 as part of a purge of Christians.