A tropical island off southern India, Ceylon gained independence from Britain in 1948 and changed its name to Sri Lanka in 1972. The country suffered over 25 years of civil war between the mainly Buddhist Sinhalese majority and the mainly Hindu minority Tamils, ending in 2009 when the government crushed the Tamil Tiger separatists.
Sri Lanka is a secular state, but the Constitution states: "The Republic of Sri Lanka shall give to Buddhism the foremost place and accordingly it shall be the duty of the State to protect and foster the Buddha Sasana [teachings of the Buddha]." The Constitution guarantees freedom for other religions, but in practice followers of minority religions face discrimination. Hindus comprise about 12% of the population, Muslims 9% and Christians 8%.
Christianity, introduced by the Portuguese in the 16th century, is considered to be a foreign religion. Militant Buddhism is the main source of persecution, with Buddhist monks often inciting their followers to attack Christians and churches and also to attack Muslim businesses and mosques. Attacks are often carried out by large mobs, and most go unpunished. Non-traditional churches and converts from Buddhism face the most persecution.
Since the 1980s, the growth of evangelical Christianity has met with persecution including burning of church buildings, personal attacks and death threats. Many pastors have been beaten, threatened and arrested.
Persecution since 2012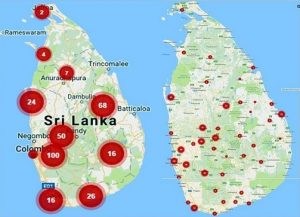 Persecution of Christians began to escalate in recent years, especially since 2012, with the rise of militant Buddhist nationalist groups. The National Christian Evangelical Alliance of Sri Lanka mapped 320 cases of Christian persecution across Sri Lanka between January 2013 and June 2016. These included mob attacks on churches, state-sanctioned church closures, personal attacks, arson, vandalism, intimidation and discrimination (notably in relation to Christian burials being prevented).
Bodu Bala Sena (BBS) or "Buddhist Power Force" is believed to be behind most incidents of violence against minorities in Sri Lanka. The BBS is a Sinhalese Buddhist nationalist organisation formed in Colombo in July 2012 when Buddhist monks broke away from the Jathika Hela Urumaya (National Heritage) party, which had been founded by monks, saying it was not sufficiently militant in protecting Buddhism. The BBS has organised campaigns against Christian and Muslim communities.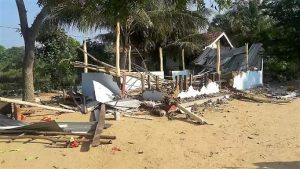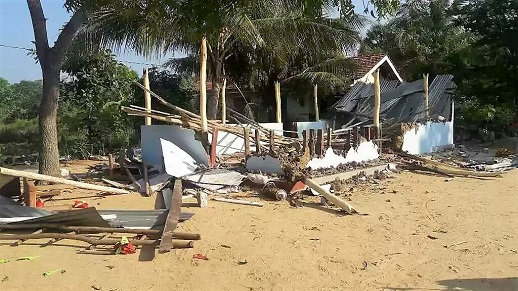 Christians in Sri Lanka hoped to see a change for the better when President Maithripala Sirisena took office in January 2015 (President Sirisena is more tolerant of minorities than his predecessor, President Mahinda Rajapaksa) but incidents of persecution continue, and there has also been a surge in violent attacks on Muslims. The image shows a church building destroyed by a Buddhist mob in January 2017.
On 27 May 2017, the National Christian Evangelical Alliance of Sri Lanka stated, "Since the current government took office in 2015, over 190 incidents of religious violence against churches, clergy and Christians have been recorded." The Alliance called on the government to ensure the protection of minorities and their places of worship.
A religious liberties lawyer in Sri Lanka who spoke to Christian Today on condition of anonymity in 2016 claimed that under the new government Buddhist extremists had adopted a more strategic approach, in the form of legal restrictions, and she noted an increase in persecution carried out by local government officials.
Legal restrictions
Militant Buddhists are pressing for a ban on missionary groups and the introduction of an anti-conversion law. For years, Parliament has been discussing legislation to ban so-called "forcible conversions" – given the impact of anti-conversion laws in other countries, Sri Lankan Christians fear that such laws would be misused and lead to increased persecution.
A circular introduced by the last government in 2008 requires places of worship to be registered, although there is no legal basis for registration. The directive is used not only on new buildings but on places where Christians have met for many years. Many "unregistered" churches have been closed.
(BBC, Christian Today, Church in Chains Global Guide, Constitution of the Democratic Socialist Republic of Sri Lanka (2015), National Christian Evangelical Alliance of Sri Lanka, Open Doors World Watch List, Release International, World Watch Monitor)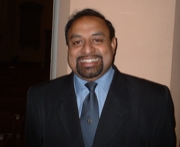 Fresh attempts are being made to introduce an anti-conversion bill in Sri Lanka. The last bill was judged unconstitutional by the Supreme Court in December 2004 – just before the Asian tsunami devastated the coastal regions.
The new bill is at the committee stage where Godfrey Yogarajah (pictured) has led submissions from the National Christian Evangelical Alliance of Sri Lanka (NCEASL) opposing the bill.