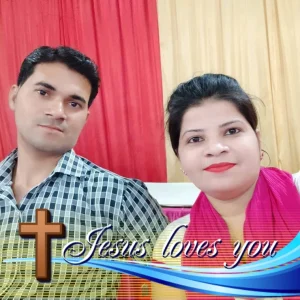 On Sunday 30 July Pastor Harendra Singh and his wife Priya were arrested during a prayer and worship service held in their home in Haidargarh, a town in Barabanki district in Uttar Pradesh in northern India.
Police said they had received a complaint alleging that the pastor and his wife were "luring innocent people to Christianity". It was reported that the allegation was made by members of the Rashtriya Swayamsevak Sangh (RSS), a Hindu nationalist paramilitary volunteer organisation, and the Hindu nationalist Bharatiya Janata Party (BJP), which governs both Uttar Pradesh state and nationally. Indian Prime Minister Narendra Modi is the parliamentary leader of the BJP.
The local Superintendent of Police Dinesh Kumar Singh said material related to religious conversion was recovered from the accused. Pastor Singh denied the allegation but the police took him and his wife and three-year-old son to the police station for questioning and then arrested him and his wife.
On the following day, they were charged with violating provisions of Uttar Pradesh's anti-conversion law and appeared before a local court, where bail was denied.
"It is unfortunate that their three-year-old son also had to go to prison with them," said Dinanath Jaiswal, a social activist assisting persecuted Christians in legal matters. Children up to six years are often forced to live with their incarcerated parents, especially mothers, in Indian prisons.
On Monday 8 August Pastor Harendra and Priya were granted bail by the District Judge of Barabanki.
A Christian leader who did not want to be named said persecution of Christians has become a routine affair in Uttar Pradesh. "The situation has reached such a stage that holding a prayer service or reading the Bible at home can land you in jail," he said.
22 OTHER CHRISTIANS ARRESTED ON SAME DAY
Pastor Harendra and Priya were among over twenty Christians who were arrested and sent to jail in separate incidents reported from Uttar Pradesh on 30 July.
In Ghazipur district, Pastor Amarjeet Ram and fourteen other Christians were arrested during a Sunday prayer meeting in Balapur village. Eleven were released on bail soon afterwards, while Pastor Amarjeet and three others were detained. They were granted bail on 9 August.
A further five Christians were arrested and jailed on the same day in Azamgarh district while two others were arrested and jailed in Jhansi district.
New Delhi-based United Christian Forum (UCF), which records Christian persecution across the country, has recorded 155 incidents of violence against Christians in Uttar Pradesh during the past six months.
During the same period, UCF recorded a total of four hundred incidents of persecution against Christians in the country.
(India Today, Religious Liberty Prayer Bulletin, UCA News and other sources)
Image: Facebook
Share this