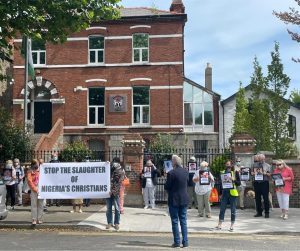 A group of Christians gathered outside the Nigerian Embassy in Dublin yesterday (29 July) to highlight the deep concerns of many Christians in Ireland at the ongoing campaign of violence against Christians in the Middle Belt region of Nigeria, which has resulted in the death of over 2,000 Christians in the past two years.
Church in Chains organised the vigil after the Nigerian Embassy did not respond to a request (in three letters dating back to November 2020) for a meeting to discuss the situation.
David Turner, Director of Church in Chains, described the twin purposes of the vigil: To  remember publicly the lives of the many Christian victims of this "genocidal" campaign so that their suffering and martyrdom is recognised and the value of their lives celebrated and also to give Irish supporters an opportunity to gather at the Nigerian Embassy to stand in solidarity with our suffering fellow-Christians.
View gallery of photos from the event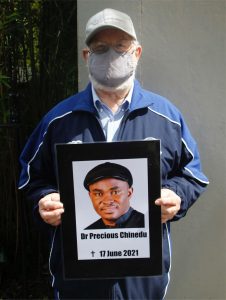 In the light of the Covid-19 Public Health Emergency, the event was organised as a silent vigil with no singing or chanting by participants. Spoken words from organisers were limited to minimal instructions and explanations.
Participants collected a placard and formed a socially-distanced line before standing outside the Embassy where they held aloft placards bearing the names, photographs and dates of death of some of those who have been murdered.
View list of Christian victims pictured on placards at vigil
A time of silent prayer was held in which participants were encouraged to pray for all those who had been affected by the murder of the person pictured on their placard – family, community and church.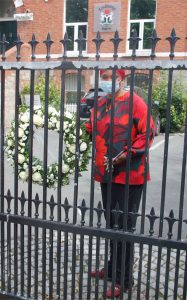 The vigil concluded with the placing of a wreath (in green and white, representing the colours of the Nigerian flag) at the gates of the embassy. The wreath bore the words "In loving memory of Nigeria's Christian martyrs". David Turner rang the intercom at the embassy gate to request that a letter from Church in Chains be  received and a consular official came down to the gate and received it. The official promised to pass the letter on to the Nigerian government and also engaged in a brief discussion about the violence in the Middle Belt region.
The letter explained that the participants had gathered to commemorate these victims of the ongoing campaign of violence being waged by Muslim Fulani militants, so that their suffering and martyrdom is recognised and the value of their lives celebrated.
It stated: "We lament the fact that the Nigerian authorities have failed to take effective action to protect the Christian community in the Middle Belt region and to bring the perpetrators of the violence to justice."
The letter concluded by reiterating the request for a meeting to discuss these concerns and to learn what steps the Nigerian government proposes to take to address the situation.
Share this