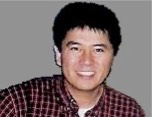 Alimujiang Yimiti (46) is a Uighur Christian from Xinjiang province in northwest China. He has been in prison since January 2008 and is serving a 15-year sentence for "illegally providing state secrets to foreigners". The charge relates to two phone conversations with a Christian visiting from the US.
LATEST NEWS (15 March 2023): It has been confirmed that Alimujiang Yimiti was released from prison after his 15-year sentence was completed. While other details are unconfirmed, he is home with his family.

Alimujiang was born on 10 June 1973 in Hami, Xinjiang Uighur Autonomous Region.  A former Muslim, he became a Christian in 1995, and prior to his arrest he worked as an orchard manager and led a house church in Kashgar. Police repeatedly called him in for interrogation about his Christian activities in the years before his arrest.
Alimujiang's arrest followed two phone conversations from his home with a visiting American Christian friend, in which Alimujiang said that Chinese people are monitored by state security. His phone was being monitored and the conversation was secretly recorded. Lawyers who defended Alimujiang through his trial and appeal were harassed and intimidated. Those close to the case say the reason for his imprisonment is his Christian faith and witness among the Uighur people. He is being held in Xinjiang No. 3 Prison in Urumqi, capital of Xinjiang province.
Most of the nine million Uighurs are Muslims, and the Chinese government fears their separatist ambitions and seeks to stop any activity that could threaten control of the region. Security is very tight in Xinjiang province because of frequent Uighur terrorist attacks since 2009. The few Uighur Christians – estimated to number between 700 and 1,000 – risk ostracism and government suppression.
Family
Alimujiang is married to Guli Nuer and they have two sons. Alimujiang's siblings blame Guli Nuer for his imprisonment and for bringing disgrace on the family. His mother Wuxiuerhan supports him, and over the years has been permitted brief prison visits. Guli Nuer was not allowed to visit Alimujiang for two years after his arrest, and their youngest son was four before he was allowed to visit. The boys have struggled in his absence, and Guli Nuer has suffered from depression.
For a few years, Guli Nuer and the boys visited Alimujiang in prison once a month, but they are not allowed to visit anymore, having been deemed "non-cooperative". This may mean that Guli Nuer talked or otherwise communicated with other Uighur Christians or spoke to a reporter. Security agents follow and monitor her 24 hours a day.
TIMELINE
13 September 2007 Kashgar Municipal Bureau of Ethnic and Religious Affairs of Xinjiang issued a statement saying, "Since 2002, Alimujiang Yimiti has been engaging… in activities of illegal religious infiltration which include preaching Christianity, distributing religious materials and converting people to Christianity among ethnic Uighurs."
12 January 2008 Alimujiang was detained on charges of "inciting separatism" and "illegally providing state secrets to foreigners" and was held illegally for over a year without sentence.
20 February 2008 Alimujiang was formally arrested.
27 May 2008 Alimujiang was tried in secret; his family was barred from attending. The trial concluded that there was insufficient evidence to convict him of divulging state secrets. The case was turned back to the Kashgar police for further investigation.
12 September 2008 The UN Working Group on Arbitrary Detention declared that Alimujiang's detention was arbitrary and based solely on his "religious faith and religious acitivites".
11 July 2009 Alimujiang was again charged with "illegally providing state secrets to foreigners"; the separatism charge was dropped without explanation. His second secret trial was held on 28 July 2009, and again Kashgar Intermediate People's Court barred his family from attending. The hearing was left without a verdict.
6 August 2009 Alimujiang was convicted of "illegally providing state secrets to foreigners" and sentenced to 15 years' imprisonment. His wife and lawyer did not learn of the trial until October 2009, and did not hear of the sentence until December 2009. It was the harshest sentence given to a church leader in China in a decade.
2009 Alimujiang was taken to hospital after reportedly being beaten in prison.
2010 Xinjiang Higher People's Court rejected two appeals filed by his lawyers.
2014 Xinjiang High Court, then under new leadership, approached Guli Nuer to discuss the possibility of an appeal. She applied for an appeal and her application was processed, but the appeal stalled in the court system.
2015 In late 2015, it was reported that Alimujiang's case had come to the attention of officials leading the Chinese government's anti-corruption campaign. The anti-corruption leaders were said to be dissatisfied with the handling of Xinjiang issues, notably the reluctance of the Xinjiang government to address Alimujiang's case. He was offered a pardon on condition that he admit to guilt, but he refused, protesting his innocence and claiming that his sentence was the result of provincial government corruption.
Christmas 2016 A Han Chinese Christian in Urumqi who was involved in helping Alimujiang's wife was detained for a day and interrogated in a hotel.
July 2018 A local source reported that Alimujiang is allowed to call his family once a month and that it is "his happiest moment to talk with his family members". His older son recently completed a college entrance exam, which went very well. Alimujiang was reported to be "in a peaceful and stable state physically and spiritually".
15 March 2023 China Aid reported that Alimujiang had been released from prison after completing his 15-year sentence and had returned home to his family.
Read more about the persecution of Christians in China.
 (China Aid, CSW, freealim.com, Open Doors, Release International, Xinjiang Yanjiu)