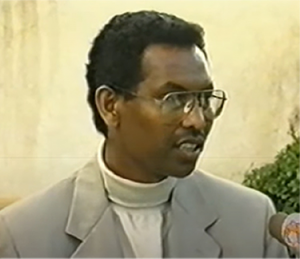 Rev Dr Futsum Gebrenegus is an Eritrean Orthodox priest and psychiatrist who was arrested in November 2004 because of his involvement in the Medhane Alem Bible study group, a renewal movement within the Eritrean Orthodox Church. He has remained in prison, incommunicado, ever since.
Dr Gebrenegus was Eritrea's only psychiatrist and appeared regularly on Eritrean TV as he held positions on many government-appointed commissions. Until his arrest, he was the most senior doctor at St Mary Psychiatric Hospital in Asmara.
Dr Gebrenegus served as a deacon in the Eritrean Orthodox Church from childhood. He was then ordained priest and became one of the organisers of the Medhane Alem ("Saviour of the World") movement, along with Rev Dr Tekleab Menghisteab and Rev Gebremedhin Gebregiorsis. On 19 November 2004, Dr Tekleab and Dr Gebrenegus went to a conference organised by the Ministry of Health at which they were both scheduled to make presentations on their research. Security forces arrested both as they entered the conference venue, and Rev Gebremedhin was  arrested the same day.
Following the arrest of the three Christians, the government closed down the Medhane Alem church in which they had grown up and served all their lives, and the congregation was forced to disperse.
Dr Tekleab, Dr Gebrenegus and Rev Gebremedhin are imprisoned in the notorious maximum-security Wengel Mermera Central Criminal Investigation interrogation centre, part of Asmara's 2nd Police Station, together with several other Christian leaders including Dr Kiflu Gebremeskel, Pastor Kidane Weldou, Mussie Ezaz and Pastor Meron Gebreselasie. It is believed that many of Eritrea's prominent political and military prisoners are also incarcerated in this dungeon-like inner labyrinth of cells.
The Patriarch of the Eritrean Orthodox Church, Abune Antonios, protested about their arrest and accused the government of interfering in church affairs. In 2006 he was deposed, put under house arrest and replaced as patriarch by a government appointee.
 Family
Dr Gebrenegus is a widower with one child, a son he has not seen since his imprisonment. Dr Gebrenegus' wife died while he was in prison and he was not allowed to attend her funeral; his father also died during his imprisonment and he was not allowed to attend his funeral either.
Read more about the persecution of Christians in Eritrea.
(Human Rights Without Frontiers, Immigration and Refugee Board of Canada, In Chains for Christ, Release Eritrea)