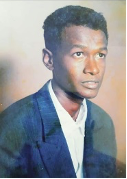 Eritrean pastor and anaesthetist Meron Gebreselasie was arrested in 2004 and has remained in prison ever since. He was a leader in a banned church network.
LATEST NEWS (MARCH 2020): News has emerged from the prison where Meron is being held that his health is stable.
Meron Gebreselasie (also known as Million) was pastor of Massawa Rhema Evangelical Church and worked as an anaesthetist at Massawa Hospital. The port city of Massawa is on the Red Sea coast, about 110 km east of the capital, Asmara.
Pastor Meron, who is not married, was arrested on 3 June 2004, shortly after Pastor Tesfatsion Hagos of Asmara Rhema Evangelical Church visited his church and home. Their churches have been illegal since a crackdown on Christians in Eritrea in May 2002, when the government banned all religious groups except the Eritrean Orthodox, Roman Catholic and Lutheran churches and Sunni Islam.
Pastor Tesfatsion was arrested on 27 May 2004, during his visit to Massawa. He was released in 2010, gravely ill, but recovered and left Eritrea.
Pastor Meron was arrested at a police checkpoint just before entering Asmara, on his way to return Pastor Tesfatsion's belongings to his home. He was taken to Asmara's 2nd Police Station, where he was held for two months before being moved into its notorious maximum-security Wengel Mermera Central Criminal Investigation interrogation centre. It is believed that many of Eritrea's prominent political and military prisoners are incarcerated in this dungeon-like inner labyrinth of cells, as well as 21 church leaders including Mussie Ezaz, Dr Kiflu Gebremeskel, Rev Haile Naizghe and Pastor Kidane Weldou. They, like Pastor Meron, have never been tried, and have been held incommunicado since their arrests.
Family
Meron is not married, and his parents have died. He has a sister who lives in Canada.
Read more about the persecution of Christians in Eritrea.
(Human Rights Without Frontiers, Immigration and Refugee Board of Canada, In Chains for Christ, Release Eritrea)