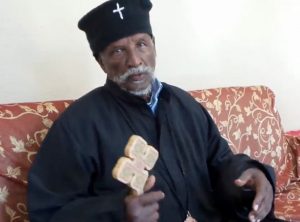 The Eritrean Orthodox Patriarch, Abune Antonios (94), was under house arrest from January 2006 until his death in February 2022. The Eritrean government deposed him after he resisted government interference in the church and asked for the release of some Christian prisoners. 
LATEST NEWS (FEBRUARY 2022): Abune Antonios died on 9 February.
A large majority of Eritrean Christians belong to the Eritrean Orthodox Church, which is one of the three permitted Christian denominations in Eritrea, the others being Roman Catholic and Lutheran. Even the permitted churches face interference (including the imposition of government-appointed leaders) and increasing persecution.
Abune [Bishop] Antonios was ordained Patriarch in April 2004. In the months that followed, he became increasingly critical of the government's interference in the church. He refused to excommunicate over 3,000 members of the Medhane Alem Sunday School Movement, an all-age Bible study renewal movement within the Eritrean Orthodox Church centred on the Medhane Alem ("Saviour of the World") church in the capital, Asmara. The renewal movement attracted thousands of young Eritreans. The Patriarch refused to close down the Medhane Alem church and he demanded the release of three Orthodox priests involved in the Medhane Alem movement, who were imprisoned in November 2004. They have been held incommunicado, without charge, ever since.
In January 2005, for the first time ever, the traditional Orthodox Christmas message from the Patriarch was not broadcast on Eritrean television or radio.
In August 2005, Patriarch Antonios was removed from administrative duties by a congress of the Holy Synod, under pressure from the government. The Synod presented six accusations that Patriarch Antonios was "an obstacle in the work of the Holy Christian Church" and the layman who brought these accusations, Yoftahe Dimetros, was appointed administrator of the Orthodox Church by the government. The Synod allowed the Patriarch to officiate at church services but prohibited him from having any administrative role in church affairs.
In January 2006, a secret session of the Holy Synod formally removed the Patriarch from office. He was placed under incommunicado house arrest at his official residence and his car was confiscated.
In May 2007, Eritrean security forces forcibly removed Patriarch Antonios from his residence to house arrest at an undisclosed location. He was replaced by a government-approved appointee, Abune Dioscoros, and priests and monks seen as sympathising with the deposed Patriarch were detained, harassed and conscripted. His replacement was not recognised by the Eritrean Orthodox Church in diaspora or by the Oriental Orthodox Churches – these churches consider Abune Antonios to be Patriarch. It was reported that Yoftahe Dimetros was instrumental in removing Patriarch Antonios and that he oversaw the appointment of Abune Dioscoros. Abune Dioscoros died in 2015 and Abune Petros (Araya) of Assab became acting Patriarch. In May 2021, the government announced that Abune Qerlos had been elected Patriarch.
Until his death in February 2022, Patriarch Antonios was being held in the servants' quarters of a villa occupied by two pro-government bishops. He suffered from severe diabetes and high blood pressure, and it was reported that he did not receive the medical care he needed.
Background
Antonios was born on 12 July 1927 in Hembrti, north of Asmara, the fifth of six children. His father was a priest and gave two of his children to a monastery, where they grew up and became monks. Antonios was five when he entered the monastery. He was ordained priest in 1942, elected Abbot in 1955, ordained bishop in 1994 and ordained Patriarch on 23 April 2004 in Asmara, by Pope Shenouda III of the Coptic Orthodox Church of Alexandria.
TIMELINE
23 April 2004 Abune Antonios was ordained third Patriarch of the Eritrean Orthodox Church in Asmara. Later in the year, he criticised the government for its interference in the church.
January 2005 For the first time ever, the traditional Orthodox Christmas message from the Patriarch was not broadcast.
6 August 2005 A congress of the Holy Synod was convened, under pressure from the government. On 7 August, the Synod relieved the Patriarch of administrative duties, confining him to a ceremonial role.
13 January 2006 A secret session of the Holy Synod formally removed the Patriarch from office. He was placed under incommunicado house arrest at his official residence and his car was confiscated.
27 May 2007 The Eritrean government sent members of the security forces to Patriarch Antonios' residence at 5 am and forcibly removed him to house arrest at an undisclosed location. He was replaced as Patriarch by Abune Dioscoros of Mendefera, a government-approved replacement who was never fully accepted by Orthodox Church members, although he was supported by senior Orthodox bishops.
31 December 2015 Abune Dioscoros died. No successor was appointed, but a cleric who had been excommunicated by Patriarch Antonios, Abune Lukas, began leading the church unofficially.
8 August 2016 The Eritrean Orthodox Church website published pictures of Patriarch Antonios meeting a delegation of monks, scholars and government officials, and embracing fellow bishops. The website stated that the Patriarch had signed a letter admitting to "every mistake which he committed ten years ago when he was Patriarch, which were the reasons for his dethronement" and stated that he said: "I am apologising with all my heart and willingly to continue in harmony and I confirm that with my official signature."
However, the Diaspora Archdiocese of the Eritrean Orthodox Church (North America, Europe and the Middle East) cast doubt on the report, noting the absence of a written or oral statement from the Patriarch himself.
Christian Solidarity Worldwide (CSW) reported that a delegation initially visited the Patriarch on 5 August, ostensibly to apologise for its members' part in his removal and to begin reconciliation, and that he was taken to the Patriarchate in Asmara on 8 August for further discussions.
16 July 2017 The Patriarch attended a service at St Mary's Cathedral in Asmara – his first appearance in public for over ten years. Since Abune Dioscoros died, Orthodox Church leaders have sought to end division in the church by engaging in a "reconciliation process" with Patriarch Antonios. Some claim that the aim of the reconciliation process is to pressurise Patriarch Antonios into lifting his excommunication of Abune Lukas.
December 2017 CSW reported that Patriarch Antonios currently lives in two rooms in servants' quarters in the grounds of a villa occupied by two bishops. The Patriarch, who has not attended a church service since 16 July, is reported to be sleeping in one room and receiving occasional visitors in the other. He is not permitted to discuss his situation with visitors.
Elizabeth Chyrum, Director of Human Rights Concern-Eritrea (HRC-E), commented: "It is an insult that the legitimate patriarch of the Orthodox Church is confined to the servants' quarters in the same compound where two junior bishops live in a villa. This was clearly and deliberately done to subject him to daily humiliation."
April 2019 In a video smuggled out of Eritrea, Patriarch Antonios said his fellow clergy had abandoned him and did not care for his health or wellbeing. He also said he objected to layman Yoftahe Dimetros leading the church since the death of Abune Dioskoros in 2015. 
17 July 2019 In a move to excommunicate Patriarch Antonios, five pro-government bishops (including Abune Lukas) signed a statement accusing him of having committed heresy and stripping him of all official authority. The statement added that the Eritrean Orthodox Church would continue to provide him with food and shelter. 
24 October 2019 Christian Solidarity Worldwide reported that Patriarch Antonios is being kept in isolation and is not allowed visits, even from family members.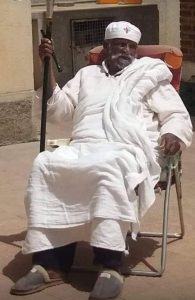 October 2020 A photo of the Patriarch emerged and was published on Facebook. This rare photo shows the Patriarch getting his "allowed time" outdoors in the compound where he is imprisoned. The photographer was not identified as they took a huge risk in taking the photograph and sharing it – if the authorities discovered their identity, they could end up in prison.
Read more about the persecution of Christians in Eritrea.
(British Orthodox Church, Christian Solidarity Worldwide, Human Rights Concern Eritrea, US Commission on International religious freedom, Voice of the Martyrs Canada, World Watch Monitor)