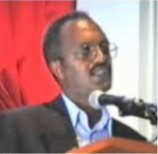 Rev Dr Tekleab Menghisteab is an Eritrean Orthodox priest and physician who was arrested in November 2004 because of his involvement in the Medhane Alem Bible study group, a renewal movement within the Eritrean Orthodox Church. He has remained in prison, incommunicado, ever since.
Dr Menghisteab served as a deacon for several years and was then ordained priest in the Eritrean Orthodox Church. He was one of the organisers of the Medhane Alem ("Saviour of the World") movement, along with Rev Dr Futsum Gebrenegus and Rev Gebremedhin Gebregiorsis. The government closed down the Medhane Alem church in which the three men had grown up and served all their lives. They are imprisoned in the notorious maximum-security Wengel Mermera Central Criminal Investigation interrogation centre, part of Asmara's 2nd Police Station, together with several other Christian leaders including Dr Kiflu Gebremeskel. It is believed that many of Eritrea's prominent political and military prisoners are also incarcerated in this dungeon-like inner labyrinth of cells.
The Patriarch of the Eritrean Orthodox Church, Abune Antonios, protested about their arrest and accused the government of interfering in church affairs. In 2006 he was deposed, put under house arrest and replaced as patriarch by a government appointee.
As well as being a highly respected physician, Dr Menghisteab was well known for his five hundred-page commentary on the New Testament, published in 1999 – the first ever in the Tigrinya language. In 2002, he published a defence of the church's teaching.
In February 2005, it was rumoured that Dr Menghisteab, an insulin-dependent diabetic, was suffering from hypertension. Later reports emerged that he collapsed on at least one occasion and was taken to hospital after he was unable to obtain his medication.
The Eritrean gospel singer Helen Berhane, who was imprisoned in 2004 and held for 32 months in brutal conditions in shipping containers, had been encouraged in her faith through the ministry of Dr Menghisteab. On one occasion, Helen was taken to a hospital where she was heartbroken to see her friend being abused.
Family
Dr Menghisteab is married, with four children. They have left Eritrea.
Read more about the persecution of Christians in Eritrea.
(Human Rights Without Frontiers, Immigration and Refugee Board of Canada, In Chains for Christ, Release Eritrea, Release International)