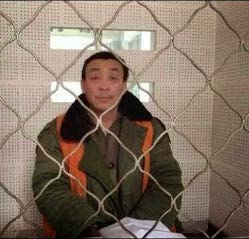 Chinese pastor Zhang Shaojie (55) was arrested in November 2013 after a dispute with local officials who were trying to seize church land. In July 2014 he was sentenced to twelve years in prison for "gathering a crowd to disrupt public order" and fraud. He was local head of the China Christian Council and local president of the government-approved Three-Self Patriotic Movement.
LATEST NEWS (OCTOBER 2021): Pastor Zhang's family received a letter from him saying that he is "in a good spirit in the Lord," and feels peace about his imprisonment. 
Before his arrest, Zhang Shaojie was pastor of Nanle County Christian Church in Henan province, central China. He was forced into the position of local Three-Self Patriotic Movement president some years ago, when the local government made all independent house churches in Nanle County register with the TSPM.
Pastor Zhang was arrested after a land dispute with local Communist Party officials who, according to church members and lawyers, tried to seize land the church had bought for a new building. (Church leaders had drawn up plans to build a new church building, Bible school and ministry centre on the land.) Pastor Zhang and a group of church members decided to go to Beijing to petition for the land, but were stopped by local government officials.
About 23 church members, mostly leaders, were detained the day after Pastor Zhang's arrest. They were held illegally, without access to lawyers, and said they were tortured. Most were released soon.
Church members and rights lawyers believe the government's persecution of Pastor Zhang arose not only from the desire to seize land and limit church growth but also from the pastor's frequent defence of marginalised people who had their rights violated; they also believe the persecution was part of a plan to replace him as local TSPM president.
Commenting on Pastor Zhang's severe sentence, rights lawyer Liu Weiguo said, "I strongly believe Zhang Shaojie is innocent. This is a total set-up by the local government."
Family
Following Pastor Zhang's sentencing in July 2014, his elderly parents were harassed and threatened, and Nanle County Public Security Bureau confiscated a car belonging to his eldest daughter, Zhang "Yunyun" Huixin, now known as Esther. She and her husband Sun Zhulei and their baby Sun "Jesse" Jiexi went into hiding following repeated phone threats from officials, and eventually fled China. Officials violently abducted another daughter, Zhang "Shanshan" Lingxin, and detained her for more than a week. Pastor Zhang's sister Zhang Cuijuan served an eighteen-month prison sentence for her part in the church protests. Pastor Zhang's wife Wang Fengrui is disabled.
TIMELINE
15 November 2013 Several church members were taken into custody on their way to petition the local authorities about a land dispute.
16 November 2013 Pastor Zhang went to the church premises to meet the Nanle County Public Security Bureau Chief and a deputy, in what appears to have been a trap. During the meeting about a dozen police officers entered and tied up Pastor Zhang, without showing any formal documents, and took him away.
His family and church members gathered at the police station to protest his detainment. Some were beaten, Pastor Zhang's two sisters were detained and church members said his parents were hospitalised for high blood pressure. That night, local government officials threatened church members.
17 November 2013 On Sunday morning more than two hundred government agents arrived to guard the gates to the church premises, accompanied by police vehicles. They set up a temporary command centre to monitor the church building and put surveillance cameras in place. About 23 Christians were detained, most of them leaders on the church staff, and church funds were frozen. Government officers were stationed at the pastor's home.
13 December 2013 A mob of several hundred people surrounded and attacked a group of church members, lawyers and Sky News journalists gathered outside the Nanle County Procuratorate. They beat the lawyers and journalists, who were there to report on the plight of the church, and took their mobile phones and TV camera. Government officials expelled the journalists from the area. Local sources said the authorities had hired the mob.
23 June 2014 Pastor Zhang's daughter Yunyun and her husband and baby attempted to fly from Beijing to the USA but Chinese security officials blocked them, citing national security risks. Officers from the Nanle County Public Security Bureau and the Henan Public Security Bureau were at the airport to monitor the family, which was detained and returned to Nanle.
4 July 2014 Pastor Zhang was sentenced to twelve years in prison and fined heavily for "gathering a crowd to disrupt public order" and fraud. When his trial reached court, his lawyers were detained and he had to dismiss them from the case over concerns they would lose their licences.
July 2014 China Aid's "underground railroad" was activated to enable Yunyun and her family to flee China. They travelled overland to Bangkok, whence they flew to Texas.
21 August 2014 Puyang Intermediate People's Court rejected Pastor Zhang's appeal. His lawyers had not been told about the date of his appeal or permitted to attend proceedings.
9 September 2014 Pastor Zhang's sister Zhang Cuijuan was sentenced to one and a half years in prison for "gathering a crowd to disrupt public order". She had gone to Beijing in November 2013 to petition the authorities about her brother's detention.
October 2014 Pastor Zhang was transferred from Baitiaohe Prison in Neihuang County, Puyang, to Henan Prison No. 2 in Xinxiang.
5 November 2014 More than twenty officials violently abducted Pastor Zhang's daughter Zhang "Shanshan" Lingxin and locked her in a soundproofed room.
14 November 2014 Shanshan was released but the authorities went to the Zhang family home, owned by the pastor's parents, to attempt to force the family to leave so the house and car could be auctioned, as Pastor Zhang had failed to pay 700,000 Yuan (€98,000) in restitution for his fraud charge. His mother Mei Xian threatened to torch herself, and the officials left.
December 2014 Local authorities withdrew four million Yuan (€562,000) from Pastor Zhang's church bank account – savings for a new building – and removed the cross topping the building and blocked the entrance.
31 May 2015 Zhang Cuijuan was released after serving her sentence. She described the prison as "hell on earth", but said, "I had joy from God." She said many lawyers and reporters who helped the church were detained, beaten and robbed, and added, "The Nanle County Government keeps bragging to local citizens that they can beat lawyers and reporters." The lawyer who represented her was detained.
September 2016 Pastor Zhang's daughter Yunyun (now known also as Esther) was part of a delegation that met President Obama's administration to discuss persecution in China. She and China Aid's President Bob Fu told National Security Advisor Ambassador Susan E. Rice that Pastor Zhang had not been permitted to read the Bible or any Christian literature, and that prison authorities had installed a surveillance camera in the prison cell.
July 2017 Pastor Zhang's daughter reported that he had been tortured in prison for applying to file another appeal. Torture included starvation and sleep deprivation.
7 July 2017 Pastor Zhang's sister Zhang Cuixia visited him in prison and said afterwards, "He looked like a bag of bones. His eyes were deep-set with very dark circles."
Autumn 2019 Bob Fu of China Aid reported that he had recently heard that Pastor Zhang was "fine".
December 2019 China Aid reported that Henan authorities have been making Pastor Zhang take unidentified medicine. When his wife and sister visited him in prison on 13 December, they asked him to find a way to stop taking the pills but he said the prison doctor had told him he had high blood pressure and must take them. The family reported that his mental state had deeply deteriorated; uncharacteristically, he accused them of not caring for him. His wife Wang Fengrui told China Aid, "I could sense that he became another person."
July 2020 Esther (Yunyun) Zhang shared good news about her father, telling Release International: "Due to coronavirus the family has not been able to visit him in prison – but the good news is that he isn't experiencing as much trouble from the authorities as before. He has stopped taking the medicine that was causing him problems. His voice and manner are normal and his mind sounds much clearer than before."
8 January 2021 Prison officials transferred Pastor Zhang from Xinxiang prison to Zhengzhou prison to serve the remaining five years of his sentence. The Notice of Convict's Admission into Prison reads: "After the Convict's admission into prison, the first two months will be for concentrated education. Within two months of admission into prison, visitation day will be every Tuesday, only one visit per visitor permitted per month… During the visitation, items cannot be passed between convict and visitor. The prison facility provides stations for daily necessities, and the convict may buy items at their discretion." Pastor Zhang's family is concerned by reports of the human rights record at Zhengzhou prison and its concentrated education programme. His daughter Esther commented: "The condition of the prison is unknown because (we) have not been granted visitations yet. Our family feels that the sudden transfer is not a good sign."
October 2021 Pastor Zhang's family recently received a letter from him saying that he is "in a good spirit in the Lord," and feels peace about his imprisonment. 
Read more about the persecution of Christians in China.
(China Aid, Christian Solidarity Worldwide, Release International, Sky News)