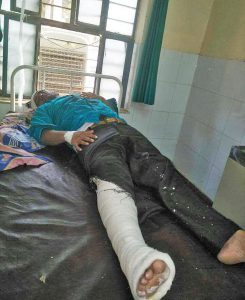 India's anti-conversion laws have led to increased violence against Christians in the seven states where they are in force. Officially called "Freedom of Religion" laws, they are intended to stop Hindus being converted to other religions. The laws forbid conversion by "force, fraud or allurement" and state that those who wish to convert must first gain official permission and that religious leaders must report conversions or risk imprisonment.
Extremists use the laws as a licence to attack Christians, claiming they are forcing Hindus to convert. Typically, attackers burst into church services, beat the Christians and have them arrested on false charges of forcibly converting Hindus. The attackers generally act with impunity and police rarely arrest them.
Anti-conversion laws have been passed in ten states, but in three states they are not active. They have been passed in Arunachal Pradesh (although its government has not framed the rules needed to implement the laws), Chhattisgarh, Gujarat, Himachal Pradesh (parts were repealed after a court challenge brought by the Evangelical Fellowship of India, but in August 2019 the Bharatiya Janata Party-led government passed a new bill adding to the laws and introducing longer prison sentences), Jharkhand, Madhya Pradesh, Odisha, Rajasthan (passed but never signed by the state's governor), Tamil Nadu (passed in 2002 and repealed in 2004) and Uttarakhand.
Indian Christians fear that under Hindu nationalist pressure the laws will be enacted at national level. Since 2015, ministers of the ruling Bharatiya Janata Party government have called for the adoption of a nationwide anti-conversion law, but the Ministry of Law and Justice has advised against the move, saying the constitution stipulates that passing laws on such matters rests with individual states. Critics of the call for a nationwide anti-conversion law see it as an attack on the secular values of India's constitution.
No Christian has been convicted under the laws, but the frequency with which cases are registered (and the associated violence) causes fear among Christians and undermines their religious freedom, which is guaranteed under the Indian constitution and international covenants to which India is a signatory.
The image shows Punjab pastor Harjot Singh Sethi, who suffered serious head injuries and a broken leg when a mob of Hindu extremists attacked a house church he was visiting in Rajasthan state. The mob took him to a police station and accused him of "forceful conversion". Pastor Sethi has since recovered.
(Christian Solidarity Worldwide/Church in Chains India Country Profile/Evangelical Fellowship of India/Library of Congress/UCA News/World Watch Monitor)