Mexico is a secular state with religious freedom and a strong separation between church and state. Most Mexicans are culturally Roman Catholic, but not practising – Operation World estimates that only 10% are regular churchgoers.
Persecution occurs in certain parts of Mexico. In some southern states, evangelical Christians in particular face harassment, evictions and damage to property including church buildings. This has been especially evident in Chiapas, the southernmost state.
There are two main reasons for persecution: refusal of some Christian groups to participate in community religious festivals; and organised criminal gangs, especially drugs cartels, targeting Christians of all denominations.
In addition, there has been a complex case – the longest-running criminal case in Mexican history – in which a miscarriage of justice led to the imprisonment of a group of 79 evangelicals in the Acteal region of Chiapas (see "The Innocent of Acteal" below).
Religious festivals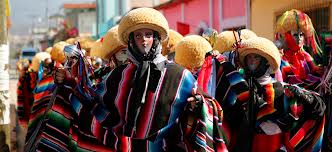 When Spain conquered Mexico in 1521, Roman Catholicism was introduced. In many areas, however, it was merely a veneer over the native Mayan polytheistic religions, the two blending into a folk Catholicism typified by the sacrifice of chickens in churches to banish illness.
In the 1960's, many people in the villages of Chiapas became evangelical Christians. They were seen as betraying their community, and the first evangelicals were killed. Later it became customary to forcibly evict them from their homes and lands – over 35,000 evangelicals have been evicted in Chiapas over the past 35 years. This situation improved greatly in the 1990's.
There are still problems for Christians in rural villages in the southern states (mainly evangelicals and Pentecostals, and to a lesser extent Presbyterians) in relation to festivals. As Protestant Christianity began to spread in the twentieth century, its followers rejected the traditionalist festivals and pagan celebrations that are so important in local communities, because they involve adoration of saints, idol worship and drunkenness – there is heavy consumption of a locally brewed alcoholic drink called posh, sold by local Caciques (mafia-style chiefs).
Refusal to participate in and contribute to these festivals is seen by traditionalists as a betrayal of the community and an attempt to undermine its culture. In the states of Oaxaca, Chiapas, Guerrero, Hidalgo and Puebla this can lead to harassment, threats, fines, imprisonment, expulsion from villages, attacks on church buildings and private property, beatings and even murder. Local authorities often cut off basic services such as water and electricity if contributions are not made.
Traditionalist Catholics, especially in remote parts of the country where there are large indigenous populations, invoke Mexico's "Law of Uses and Customs". It was designed to protect the rights of indigenous communities to practice native rites, but traditionalists use it to force their practices on people of minority faiths. In the states of Hidalgo, Chiapas, Guerrero and Oaxaca, local government officials (municipal and state) cooperate with the Law of Uses and Customs and ignore the constitution. The situation is not helped by the Mexican government's reluctance to involve itself in religious issues, leading to a culture of impunity.
Organised crime
Mexico's powerful mafia-style drug cartels often threaten church leaders, targeting churches of all denominations for extortion and to use as fronts for money laundering. Some pastors and priests have been kidnapped or killed.
As well as seeing churches as a revenue source, drugs gangs consider them a threat because churches teach that that involvement with drugs is not compatible with the Gospel and look for loyalty from their members. Also, some churches support rehabilitation programmes for drug addicts and alcoholics.
On 11 February 2014, in a statement on Mexico to a US House of Representatives Foreign Affairs hearing on "The Worldwide Persecution of Christians", Jorge Lee Galindo, Director of Impulso 18, said that there had been an increase in narco-trafficking criminal networks' extortion aimed at houses of worship over the previous six years. He said that in 2011 the Catholic Bishop's Conference announced that more than 1,000 priests had reported receiving threats. Mr Galindo reported that in December 2013 three priests were murdered, three were forcibly disappeared and another was beaten and left in a critical condition. He said that many criminal groups have adopted a pseudo-religiosity, mandating that all places of worship in villages they control must display a bust of their leader, to be venerated and worshipped, with severe penalties for refusing.
"The Innocent of Acteal"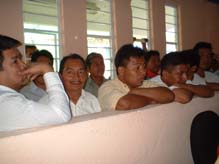 "The Innocent of Acteal" was a group of 79 prisoners, mainly evangelical Christians, from Chiapas. They were unjustly imprisoned in March 1998 on false charges of participating in the Acteal "massacre" in December 1997, when 45 people (mainly women and children) died in a violent gun battle. Most of the men are now free – releases began in 2009 – but one remains in prison, as he is serving an additional sentence.
Lawyers for the men presented convincing evidence of their innocence. This evidence was accepted as far back as September 2004, when the Office of the Attorney General issued a statement recommending the release of most of the prisoners. None was released due to strong, organised local opposition.
In August 2009, the first 20 prisoners were released, and further groups were released in 2010, 2012, 2013 and 2014. They were not allowed to return to their homes in the Chenalho region (which includes Acteal) due to fears of confrontation with local opposition groups. Instead, the state government promised to provide housing, employment and reintegration into society for the released men. However, the prisoners who were released in 2009 and 2010 were left in temporary accommodation until 2013, when the Chiapas state government finally provided permanent housing to 25 of them.
On 10 April 2013, the Mexican Supreme Court ordered the release of 15 more of the "Innocent of Acteal". In 2014, another four prisoners were released in July and November.
Persecution in 2016
Among the many evangelicals driven from their homes in 2016 were an extended family of sixteen who lived near Las Margaritas in Chiapas. Local officials forced them out for non-compliance with local rituals. Family members had become evangelicals from 2008 and suffered death threats, incarceration and fines to get out of jail. In May 2016, local officials arrested five family members, including teenagers; the family could not raise the fine demanded, so officials poured petrol around the wooden jail and tried to set it on fire. They failed, and later released the Christians, who left their farmland and moved away to a small, rented house.
Also in May, 86 families from three Protestant churches in Mitzitón, Chiapas, were expelled from their village after they refused to contribute to festivals. A violent attack also occurred that month, on a church leader in the northern city of Tijuana, Baja California. Pastor Guillermo Favela's attacker demanded that he pay protection money for the church and threatened to cut off one finger for each refusal. The pastor was stabbed, but escaped.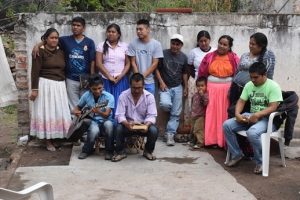 In January, thirty Baptists from seven families were forced out of Tuxpan de Bolaños, Jalisco state. They say they were forced out because they were attracting other villagers to evangelical Christianity, which posed a threat to ancestral traditions. The Baptists, twelve of whom are pictured, ended up living in two warehouse rooms, a three-hour drive from home.
By August 2016, Christian Solidarity Worldwide had documented 29 violations of freedom of religion or belief in Mexico since the start of the year, including four mass forced displacements in Chiapas, Jalisco and Oaxaca.
(Christian Solidarity Worldwide, International Christian Concern, Impulso 18, Morning Star News, Operation World, Voice of the Martyrs, Voice of the Martyrs Canada, World Watch List)
Church in Chains in Action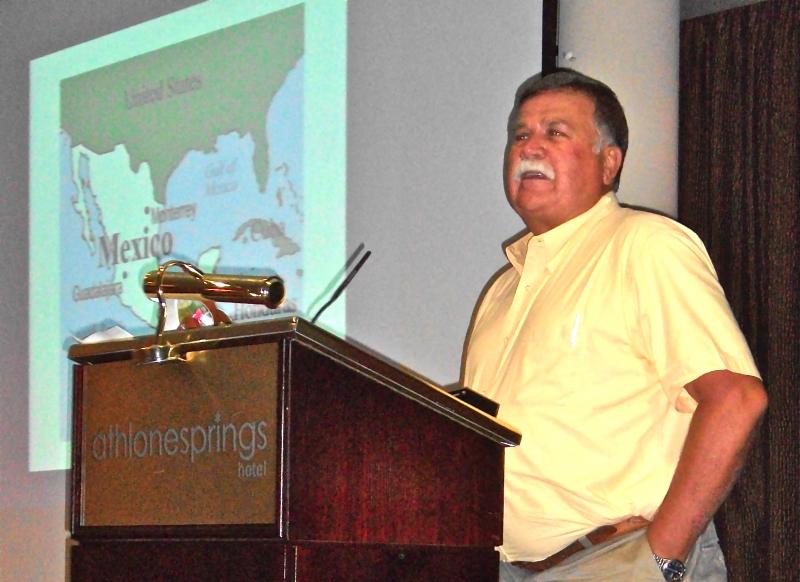 Since the mid-1990's, Church in Chains has engaged in dialogue with the Mexican Embassy in Dublin, the main focus being The Innocent of Acteal. Church in Chains delegations have met the Mexican Ambassador to Ireland on five occasions, one of which included a meeting with Vicente Fox, then Mexican President.
In 2003, David Turner of Church in Chains went to Chiapas to visit the prisoners and meet their families, pastors, lawyers and the government officials involved in the case. Church in Chains has sent aid to help the families of the prisoners and has organised letter-writing and postcard campaigns.
In September 2010 Al Schreuder (pictured), chaplain to the Innocent of Acteal prisoners, visited Ireland to speak at the annual Church in Chains conference.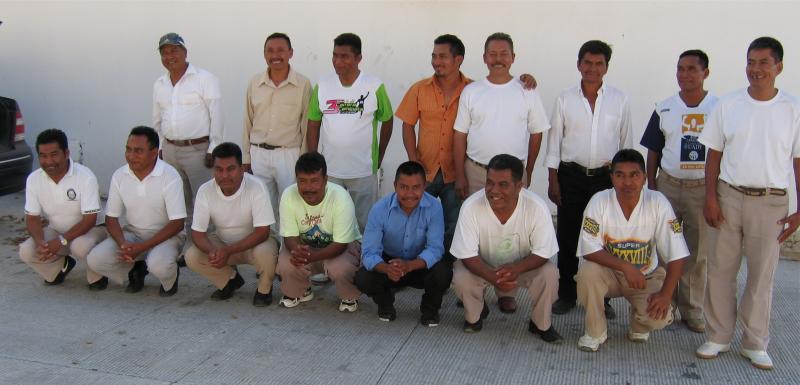 On Wednesday 10 April, the Mexican Supreme Court sitting in Mexico City ordered the release of 15 of the "Innocent of Acteal" group of prisoners who have been imprisoned since March 1998. The 15 men were released from Amaté prison late on Wednesday night and taken to Tuxtla Gutierrez, the state capital of Chiapas. Their families have travelled from their homes in remote villages to Tuxtla to greet them.